Base pic: Misty morning, Laguna Bay, 29Oct14 (pic by sunshiner)
PUBLISHED 04NOVEMBER14

Hi there yakkers
Communication, critical to success of humans working together for a common goal, is what makes Noosa Yakkers a viable group. Reading this small online publication you are reaping the benefit of the efforts of Noosa Yakkers members who have gone to some trouble to share information about kayak fishing which perhaps entertains, and certainly informs you. This information is shared primarily so that Noosa Yakkers' members have a better chance of catching fish from your kayak in the Noosa area.
So, how long since you provided useful kayak fishing information to your fellow Noosa Yakkers? Within the group we have numerous ways of sharing info. Firstly, at the most timely level, is information contributed as it is happening with your radio on our own channel while out on fishing trips. To your companions, your announcement of the capture of a snapper or sweetlip or other species is not just idle bragging (a little bragging is surely OK and gets the competitive spirit going), it's also confirmation that fish are present and biting. So pass on a little more info such as approximately where you are, the depth you're in, and the technique used to get the hookup. And of course, please turn your radio on as soon as you launch so that you can help your mates if they call for assistance and to share the fishing info. Remember also that on-water and on-beach pictures are worth the small trouble necessary so if you have a camera with you, take a few shots, as they will sometimes be even better than words to pass on the info about your fishing trip, even if it is after the event.
Once you're ashore (and for some, even while on the water) you have the ability to tell us all about your trip and experiences via your smartphone, tablet and computer. While the simplest and easiest method is to use the group email facility, accessible only to members, one problem with email is that the information conveyed is seldom stored for future reference and another is that a deluge of unwanted emails is usually not welcomed by recipients. So better to send your email about your trip to one or two of the committee members and ask that the info be published in our blog. Note that we are always happy to have ordinary members contribute to the blog (and this newsletter) and quite a few have taken up this offer and have been given clearance to post their information directly to the blog. If you are interested in doing this just contact a committee member and you'll soon be on the way to blogging directly (some useful computing skills will be acquired in the process).
Then, of course, there's our Facebook page which is available only to Noosa Yakkers (through gemini). At this time we have 46 members who are able to communicate within the group using Facebook. Some are regular contributors while others seem content just to hang around and soak up the info. It's very noticeable that timely and useful information, such as the presence of feeding pelagics in Laguna Bay as weeksie passed on during October using Facebook, is appearing very quickly on our Facebook facility. If you're a Facebook user or lurker I recommend you consider joining our Facebook page. As for me, I was not involved with Facebook at all until this page was created. I joined up just to find out how it worked and whether it is useful, and still my FB activities are restricted to that single page. So clearly you don't have to do the whole range of life-dominating Facebook stuff if you sign up with Facebook. Want to be part of it? Just contact one of the committee members (Matt, mainly).
So, to reiterate my first point, Noosa Yakkers thrives on useful yak fishing info and everyone can contribute. Next time you're out there and catch something interesting or find out something you reckon would be useful to fellow members consider passing on the info. Think about how often you've used the info passed on willingly by fellow yakkers in our blog, by email and on our Facebook page, then make the small effort to spread the word.
See you (and hear you!) on the water
Kev (sunshiner)

G'Day Yakkers,
Looks like it's been a reasonable month of fishing with six official outings and a number of decent fish caught and one incredible fish hooked but not landed by one of our members. This was achieved in a fairly windy month with a DIP average of 12.7 knots and a strongest of 50 knots.
DeeCee kicked things off with a couple of fresh water trips; one on the Maroochy River and the other on Ewen Maddock Dam. The river trip resulted in a single 35cm flathead, but the EMD trip resulted in a number of quality bass. All fish were released to fight another day.
Picturesque Maroochy River
DeeCee's 35cm flathead caught in the Maroochy River
The largest of DeeCee's four bass caught in EMD - all four were between 25-30cm
Mid month Pedro and Jimbo headed out to A-Bay and JS respectively with Jimbo landing a keeper 40cm Squire and Pedro two keeper Sweetlip two Flathead and a Squid. No pics unfortunately.
The 24th saw a small flotilla head out to Jew Shoal. The Bonito had been hanging around a while and Diesel landed a 55cm specimen, but honours of the day went to the mighty Sunshiner who landed a 65cm Snapper and a 43cm Sweetlip on his usual soft plastic rigs.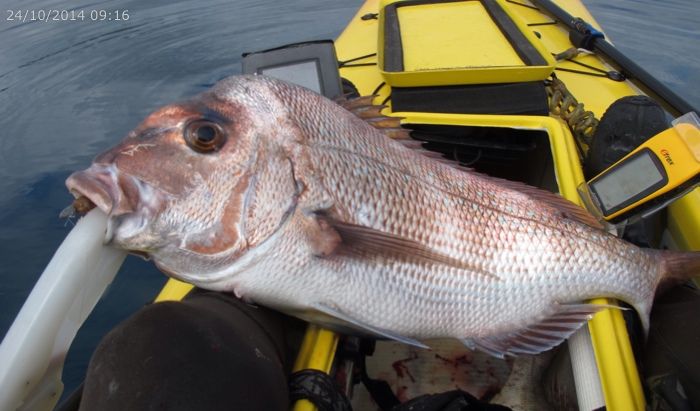 Sunshiner's 65cm Snapper caught on a soft plastic at Jew Shoal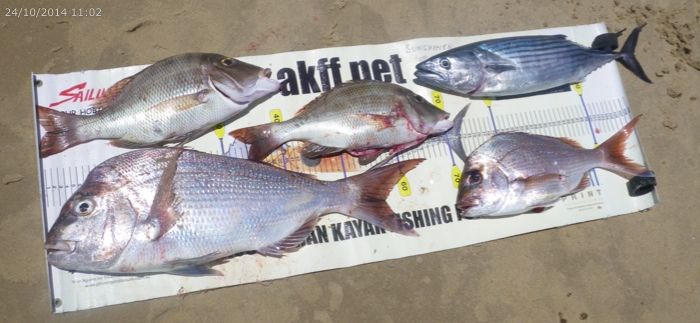 Sweeties, Snapper and Bonito caught at Jew Shoal
With some nice fish under the belt, Sunshiner gave Jew Shoal another crack on the 29th joined briefly by Weeksie. Sunshiner again came up trumps this time with a very decent 57cm Snapper.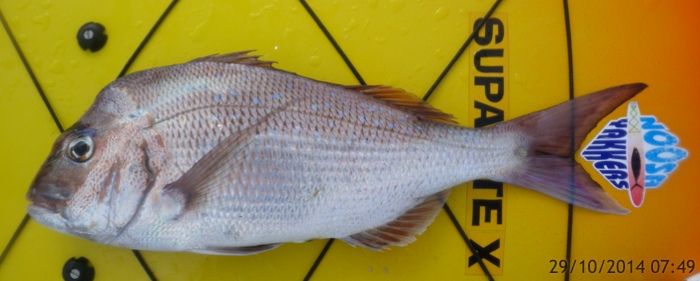 Sunshiner's artistic shot of his 57cm Snapper caught at JS on a soft plastic
On the last day of the month, four yakkers hit the open water in search of some fishy treats and they were not disappointed. There had been reports of small kingies around and Tunny collected some hard evidence.
Kingies has been reported in the bay. Tunny picked up this little fella.
The Bonito were still kicking around and both Diesel and Sunshiner picked one up each. Diesel came out the winner with what looks like a new NY record. No size was mentioned in the report but from the brag mat it looks to be in the high 50s. Sunshiner also bagged his third Snapper in as many trips, this one a bit smaller than the others at 47cm and Josh boated a keeper Grassie.
Sunshiner's Bonito caught at Jew Shoal on a trolled HLP.
A nice haul from Jew Shoal

Josh, Tunny, Diesel
And that's it for the official recorded trips. I think there was a trip I was involved in that did not get written up, but only Pedro came away with anything and this may have been due to the incredible number of hours he puts in but also that he takes the time to catch livies. Anyone looking to improve their catch rate should perhaps consider the livie option.
A few people including Sunshiner have tipped an early pelagic season and with some unconfirmed reports of spotties in the bay November could turn out to be a good month if the wind will play ball.
There is one more tidbit… NY member Tarzan hooked but didn't land a Marlin up at the Boneyard on the North Shore. Anyone looking for more info on this story can go here:
Boneyard Marlin
. Note you will need to signup before you can view the articles.
Tarzan hooked up to a leaping Marlin at the Boneyard.
Just to note the NY committee recommends wearing a PFD at all times when out kayak fishing.
That's it for this month. Good luck for November everyone.
Redwood

No new members this month (maybe we've peaked?).
Matt (gemini)

No new record claims for October, but from a read of the last TR of the month, one should be forthcoming.
Doc Dog
---
The Committee (in callsign order)








From top left, doctor dog, eyetag, gemini, jaro, jimbo, pedro, redwood, sunshiner, turtleboy.