Welcome to the first issue of Noosa Yakkers News. This small online publication is created entirely by your hard working committee, and anyone else we can rake in. We aim to pass on, monthly, info of use to or amusement of all Noosa Yakkers. Each month, the previous issue will pass into archives and thus will be available for continued reference to all on this blog as we build up a history of our activities and a bank of useful articles. We hope you get use out of it and encourage you to contact the committee if you have a contribution you'd like to make.

The Committee
(in callsign order)





From left, eyetag, gemini, jaro, jimbo, richmond,
sunshiner, turtleboy.


Fishing in March 2012
By Turtleboy
March 2012 started with "What a Blast" when Pedro, dressed in his best Hari Krishna outfit and Sunshiner in more conservative apparel, hit the bay with great success. This was followed up on the second day by Richmond and again on the 3rd with new boys Carlton and Helveticus both with good catches. Gemini chimed in also.
From there however, the local conditions deteriorated severely, characterised by high winds, untidy swell and a significant rainfall, circa 600mm. The climatic impact is reflected in the lower than average number of trip reports for March 2012 versus prior years. In desperation, Gemini and Richmond haunted the lakes.
Luckily, we could at least turn our attention to reports from our roving colleague Doctor Dog, based in Albany on the south western tip of Australia. Being a Perth boy myself, I really enjoyed seeing the SW again having stayed previously at Emu Point Caravan Park. The townships of Albany and Esperance are well worth a visit if you ever travel to WA.
Here is my pic of the month (Carlton, junior member, hooked up to his first tuna on his first trip with us during the month) and here's hoping for a successful April in Noosa.


Membership
By Jimbo
New member in March 2012 - Martin Rellstab
(AKFF & radio callsign: Helveticus)

Martin moved to Australia in 2001 from Switzerland and now lives in Brisbane. His fishing experience really only started about a year ago following a successful beach fishing trip to Teewah. Although Martin tried (land-based) fishing around Moreton Bay with little success, his interest in kayak fishing was sparked by an AKFF trip report by another Noosa Yakker, Brad Taylor (Indiedog), about a bunch of yak fishos who paddled between the Gold Coast and Brisbane.
Martin quickly bought a second hand Tarpon 140 and joined Indiedog on a trip to Jumpinpin, a famous estuary fishing spot in SE Qld. Although he has had only limited success to date, Martin is building up his knowledge and skills in kayak fishing and is paddling offshore more often, mostly to Brays Rock off Caloundra.
Martin joined Noosa Yakkers following a successful trip out on Laguna Bay with us in early March when he bagged his first ever tuna.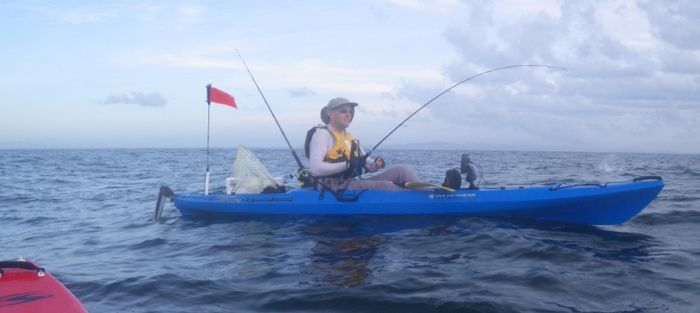 VHF and you - The safety and social reasons for using a VHF radio on the water.
By Gemini
As a beginner, the long list of tools, tackle, and safety gear for blue water kayaking can seem daunting at first. It does pay to be prepared, but I can honestly say there has only been one time on the water where I have not felt safe. That time was my first trip out… and I did not yet have a VHF radio.
The humble VHF radio is a lifeline for the ocean kayaker. It has multiple uses on the water, from the obvious safety aspect which allows communication with the Noosa Coast Guard (channel 22), to a purely social function allowing the Noosa Yakkers to communicate with one another (channel 9). For the beginner it is a must.
If you are unfamiliar with ocean kayaking, the isolation you experience when a reasonable distance from the shore can be oppressive at first without a communication tool. Becoming separated from your kayaking group by distances which inhibit unaided voice communication is also very common once the hunt for fish has begun. As a beginner, these are things you will need to be mindful of. Ocean kayaking has a much different dynamic to it than estuary, freshwater, or lake fishing due to the distances and conditions you are likely to experience. Finding a fellow yakker while both are bobbing up and down in a 2 metre plus swell at distance towards the horizon can be a mighty fun challenge without a radio I can assure you!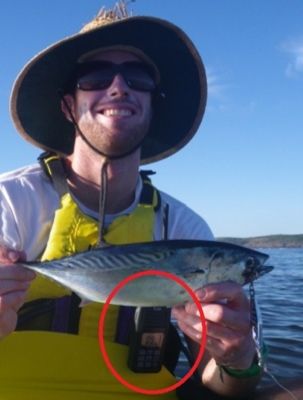 Aside from safety, a VHF will also enhance your chances of catching those whopper fish. Chatter between yakkers spread over a wide area will alert you to possible fishing opportunities. This tends to be most prevalent when the tuna schools are patrolling the bay, making for easy sighting and reporting via radio. The radio also gives you a conduit for bragging about your latest catch, or venting your anger over that 3 metre tiger shark which snapped your new rod.
Your VHF radio should always be attached to your person for safety. I find it best to attach it to my PFD at shoulder height where I can keep it handy, but swing it over behind me to keep it out of the way while paddling. The VHF must also be waterproof and float. The Noosa Yakkers' VHF radio of choice is the ICOM IC-M34, and I can personally vouch for the durability of this model as it has survived several sandy rollovers in the surf upon return to shore without skipping a beat.

Noosa Yakkers Record Fish
By Richmond
Since the inception of the NY record fish list in mid December 2012, we've managed to secure 10 fish that are on the specie list as records.
10 species so far might not seem a lot to some, but for the amount of times we've been able to fish due to the paltry weather conditions we've had, I reckon we've done ok.
Our luck has to change soon for the better in relation to the weather!
One specie that was accepted as a record claim but was not on the original list, was the Striped Tuna. Seeing that they were around in numbers last summer, I thought it appropriate that they were a definite eligible specie as they are a true pelagic and a worthwhile and exciting catch.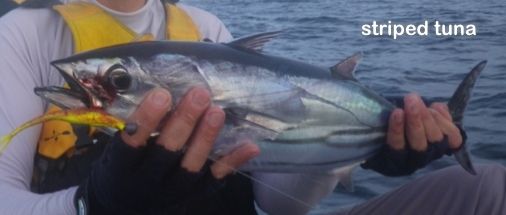 The Striped Tuna is a good example of a record fish being accepted as a record even though it was not on the original list.
If you happen to catch a fish that you deem suitable to be claimed as a record fish that is not on our current list, by all means send me an email with a clear photo showing total measurement and follow the claim method and adhere to the rules as listed.
Of course though, common sense must prevail as to fish species. No rays, sharks, toadfish, catfish or hard to identify species will be accepted.
Keep up the good work guys, and good luck in securing a Noosa Yakkers record fish.
May your reel scream.

Trip Reports blog has world wide audience
Our Trip Reports have a wide readership. These two snapshots from the blog's statistics for the month to 02Apr12 speak for the blog's popularity, even outside of Noosa Yakkers themselves. Note also the level of access from mobile devices.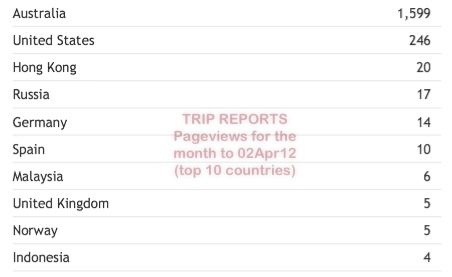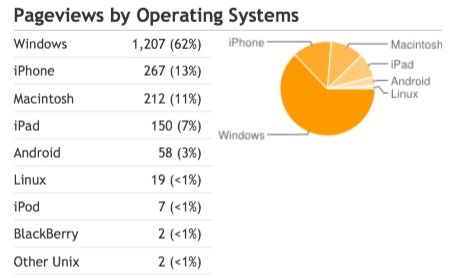 Yellowfin tuna, a delight on the plate
By Sunshiner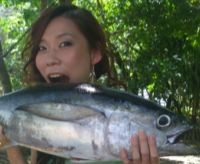 So good is yellowfin tuna (YFT) that many will prefer to eat it raw, immediately after capture. But for those who want to eat it cooked, here's one simple method that I used recently.
I'd like to point out that my capture of a 79cm YFT on 01Mar12 was my first ever, as far as I can recall, so it's a matter of interest that YFT have been encountered by us more in the last couple of years than previously. It will be interesting to see whether they continue to turn up in numbers.
Anyway, back to the cooking… I dismembered and filleted my fish out in the back yard, where I have a bench and a hose nearby. As is my usual habit, I did not bleed the fish straight after capture, and the filleting process was started several hours after the fish had been captured, including some time it had spent in my beer fridge as soon as I got home.
I took the fillets off in two or three pieces each side, leaving the frame consisting of the head, backbone and tail. The flesh on the fillets was paler than other tunas' flesh, but still pink-tinged. I then skinned the fillets leaving me with 2-3 kg of boneless flesh. Some of it, particularly close to the backbone was very red and I decided to remove that and then trim the fillets longitudinally into long skinny pieces whose cross section at the thickest was about 50-60mm diameter, tapering at one end. Once this was done I cut one "medallion" off one of the skinny pieces by cutting it like taking a slice off a sausage so the medallion was about 50-60mm diameter and about 20mm thick. On examining this medallion I found I could readily see the grain (growth rings?) of the flesh and thought that it looked a lot like a medallion of pork in colour at least. It looked so good and easy to cook that I then treated the remainder of the fillets the same way, finishing up with seven or eight meals for two people, each meal consisting of seven or eight medallions.
My wife is fussy about fish and was sceptical of my claims that this would be really good to eat but agreed that she'd try it that night as it was my turn to cook anyway. After consulting richmond about how he (or maybe Jenny) had cooked the record YFT he caught recently I decided to cook it the way I'd cook a snapper fillet.
Evening meal time came and I brought out one bundle of the medallions from the fridge. These I coated in seasoned breadcrumbs (as bought in supermarket) without any other treatment, the breadcrumbs adhering due to the natural moisture of the flesh.
Next, just enough EV olive oil to coat the cooking surface of the frying pan. With the pan heating up I placed the breadcrumbed medallions into the pan, noting that the whole lot neatly covered the cooking surface, then put on the glass lid. Two minutes one side, then a quick turn and another two minutes or so. The flesh had now turned white, again similar to pork.
I had also cooked some veges and stuff to go with the tuna but I have to say that my sceptical wife was very pleasantly surprised at the taste and texture of the tuna. And so was I -- undoubtedly a very tasty meal. Since that first experience we've eaten most of the remainder, which I'd bundled into flat packages wrapped in Gladwrap and placed in the freezer. We both agree that freezing the flesh made little difference to the quality.
So I'm out to nail another YFT just as soon as the wind drops and the swell lets me. And I hope it's bigger than Jeff's, pictured below.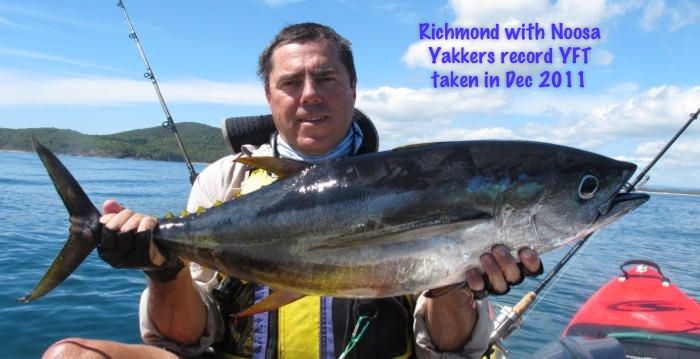 Snippets
Offshore winds not always good for fishing…
** Russian ice-floe anglers rescued **
More than 600 Russian anglers stranded on an ice floe off Sakhalin, in the country's far east, are rescued in a huge operation. [
read/watch video
]
Will future kayakers benefit from this military innovation?
** Smart fabric for soldier uniform **
British soldiers' uniforms could soon use conductive yarn woven directly into clothing to replace cumbersome batteries and cables. [
read
]

And that's all for this issue. We encourage, in fact hope for, contributions from any of you. If you have something you think worthwhile for inclusion in Noosa Yakkers News, contact one of the committee and outline your ideas.
Sunshiner, on behalf of the committee.