Here in Noosa the last couple of weeks have reminded us that winter, such as we have here only 26 degrees or so from the equator, is on its way. Just last Friday I donned my battered wetsuit for the first time in about seven months and was glad of its protection against the breeze and the spray. Winter days can be magnificent here, with bright sunshine and all-day light winds (remember them?) offering the chance for a mid-day shot at the local reefs. And those same light winds offer the chance for a launch from Sunshine Beach. Just keep an eye on the weather forecast for SW to westerlies and small swell and be prepared to paddle out to Doggie Beach reef at short notice. There, the snapper and sweetlip await your offerings. If you decide to go, even at short notice, a quick email to the Hookers about your intentions will often result in having a friendly companion along.
Whether you're a Hooker, a Looker or just one of the many blog visitors we get each month who aren't members, we hope you get some useful and interesting information from our efforts on this blog. If you feel you'd like to contribute don't hesitate. We don't pay, but you get to help and entertain present and future kayak fishers. Just contact us, via the link on this page or through a committee member.
Thanks for visiting
Sunshiner

April's improved conditions saw an increase in fishing trips, participants and locations. Reported trips were up in number, 13 against April 2011's 7 and against March 2012's 6 trips.
The boys also travelled further afield including Double Island Point, Hall's Reef and Borumba Dam, bagging a good selection of Longtail Tuna, Spanish and Spotted Mackerel, Snapper and Sweetlip, and delicious redclaw crayfish (jag-one is our specialist freshwater crustacean catcher). Pedro did well at DIP alone on the 9th, boating a Spaniard and a spotty mac, after cutting off a large shark.
Richmond also boated, recorded and released a record 42 cm Yellowbelly in Lake McDonald caught by jigging a River to Sea Baby Vibe.
It was also good to see Brian (Whalebait) back in action in the bay, but my photo of the month has to be Eyetag's mighty Spaniard.
Well done mate, it had to be a good fish to top the other catches over the Easter break.
TurtleBoy

Filleting longtail tuna
By richmond
Longtail Tuna are great to catch. They are a very worthy target, fight hard all the way to the yak and never give up. They are also very good to eat.
When you get your Longtail home you might think, "Bloody hell, how am I going to fillet this thing?"
The Longtails we catch are generally around 80 to 100cm long, approximately 8 to 10kg in weight. It might seem a daunting task to fillet at first, but once you've done one it becomes easier.
Below is how I fillet my tuna in preparation for the table. This is not the only way to do it of course, it is how I do it. This process works for me.
Firstly, quite obviously, catch your tuna.
Place your tuna on a large flat surface. Luckily my wife lets me use the kitchen bench. I use two knives, a boning knife and a filleting knife. I sharpen my knives before I start a filleting session. My knives are very sharp, a blunt knife is more dangerous than a sharp knife.
I then take off the first fillet. I use the boning knife to cut through behind the head along a diagonal line to just behind the pectoral fin. Still using the boning knife I turn the knife on an angle and cut through the rib bones. Once through the rib bones I then use the lighter filleting knife to take off the fillet, cutting towards the wrist of the fish.
Then the second fillet comes off.
I now have two fullsize fillets. I now cut the bloodline out. With the skin down, I run my knife along the outside edge of the bloodline, cutting through the skin. This gives me 2 smaller fillets from each side fillet. The cutout bloodline is discarded, but may be useful pet food.
This now leaves me with four half fillets which I now skin. It's much easier to skin these smaller fillets than to skin the whole fillet. I use a fork to hold down the skin. When skinning you should always start at the head end of the fillet. All the sinews and muscle fibres run from head to tail, so go with the grain. I place the fork on the skin, the tines pinning the fillet down. Slide the filleting knife down the backside of the fork tines and slice towards the tail of the fillet keeping the knife flush with the skin. Keep going until you've skinned the whole fillet. It becomes easy once you've done a few fish.
After the four fillets have been skinned, I clean them in cold water and pat them dry with paper towel. Once dry they are now ready to chill down in the fridge. I let all fish chill for a day or two in the fridge to let the flesh firm a little. I find they are better to cook and definitely better to eat.
Bon appetit!

Our recently re-designed Noosa Yakkers blogs must be achieving success in spreading the word about our happy "little" band of kayak fishos. I say "little", a bit tongue in cheek, as the five new members inducted during April have brought the number of Noosa Yakkers to a total of 80 comprising 65 Hookers and 15 Lookers. A brief profile of the five interesting new members welcomed during April follows. We don't have pictures of Adam Ellis or Allan Dudley yet but hope to soon, after they join us on their first outings with the NY.
(Stormin) Norman Dalangin
Norman is a 37 year old from The Philippines (with Australian residency) who lives in Sippy Downs with his two teenage children. His first experience of land-based fishing began in New Zealand, and this continued at every opportunity after he moved to Australia six years ago. Norman became "hooked" on kayak fishing (excuse the pun) after viewing a YouTube video of a Hobie fitted with a Mirage pedal drive system and it was only a short time later that he purchased a Hobie Outback in February this year. Although he had used his kayak in the Maroochy River with moderate success, Norman was busting to join us on his first trip into Laguna Bay, but unfortunately his first three attempts had to be aborted due to fickle weather and/or his shift work commitments. However, his first chance finally came
last week
when he experienced the thrill of landing his first tuna and finished by being rolled in the testing surf on returning to Middle Groyne (as most of us have).
Adam Ellis
Adam is a 31 year old self-employed draftsman based at Kawana Island. He is a super keen surfer, ie, he surfs six days a week, and is a volunteer lifesaver at Kawana Beach. Adam is relatively new to fishing, having tried his luck with rock fishing at Point Cartwright, Noosa Heads and Double Island Point over the past four years. Having discovered the NY blog about 12 months ago, he decided that kayak fishing would be a great way to increase his enjoyment and productivity in his new-found leisure activity. Adam purchased a Viking Tempo Fisherman and over the latest Xmas-New Year break had a ball catching saratoga and bass out at Cania Dam. Adam is now setting up his Tempo in preparation for his first outing with the Noosa Yakkers with the help of photos supplied by fellow Tempo owner, NY Matt Reid (gemini).
Allan Dudley (KiwiAl)
Allan is a 52 year old Kiwi who works for Howard Australia, distributors of agricultural equipment throughout Australia. Allan is the area manager for southern Queensland so work commitments may limit his kayak fishing primarily to weekends. However, he comes with the considerable experience of 15 years sea kayaking and 10 years kayak fishing in New Zealand. He already has a VHF radio and an Ocean Kayak Prowler Elite fitted with depth sounder. He is experienced in surf beach launching and returning having lived at Tauranga in NZ, including paddling 9 km to an off-shore island fishing ground. He is presently tied up with work commitments and moving house but is keen to discover the fish species available to us on the Sunshine Coast.

Ido Bar (isobar)
Ido (pronounced "Edo") is a 32 year old Israeli PhD student who has come to the Sunshine Coast to conduct research into the reproduction of blue fin tuna. Ido's impressive paddling and kayak fishing experience is described by him in an
article
published online in the American Kayak Fishing Magazine. A brief summary follows. When only 17 years old Ido began using an old tandem kayak as a means to explore more distant off-shore locations in the eastern Mediterranean for snorkelling and spear fishing from his base in Tel Aviv, Israel. His "professional" paddling and kayak fishing career started in 2003 as a white water rafting guide. From this he progressed into sea kayaking as an instructor, and then naturally into sea and white water competitive paddling. Check out some of his amazing exploits in this
YouTube video
put together by his club several months ago before he left Israel. It is most likely in this environment he met his wife who is currently tripping back and forth between Australia and Israel for training and competition in her quest to represent Israel in the London Olympics in K1 sprint paddling. Ido already has a GPS and has purchased a Stealth Evo 495 fitted with a sounder. With a busy schedule of research and study on week days, together with writing articles on kayak fishing in both Hebrew and English for the Israeli versions of AKFF, he is likely to be able to join us on weekends only. He also has plans to use his kayak to explore Moreton and Fraser Islands.

Dave Gleeson
(DaveyG, pronounced daveygee)
Dave is almost 44 and will be moving from Sydney to Sunshine Beach with his wife and two young children this week. Dave could be the most credentialed kayak fisho within the NY group. He has been kayak fishing for six years, mainly off-shore around southern Sydney but has travelled extensively with other Australian Kayak Fishing Forum (AKFF) members to the Whitsundays, South West Rocks and off-shore FADs. Dave was one of the administrators of the AKFF website until about mid last year and has had a number of articles on kayak fishing published in several magazines. He owns an Ocean Kayak Prowler Elite 4.5 together with a GPS and VHF radio. In addition to being a keen surfer, he has an Australian Canoeing Coastal Guide Certificate, holds a surf Bronze Medal, is a qualified water safety (surf club) volunteer, so is familiar with the safety requirements for planning and conducting coastal rescues and handling a kayak in rough water conditions.
If you think you might be going to get into strife out in Laguna Bay, I would suggest you have DaveyG and/or IsoBar nearby.
Jimbo


All washed up?
by Sunshiner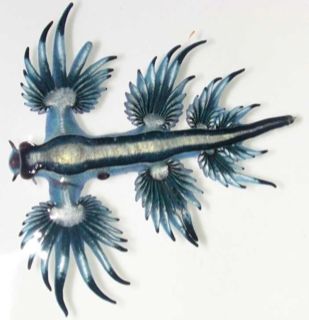 If you're an observant and curious beachgoer you will have seen this little (up to about 4cm long) creature on the local beaches, particularly on the east facing beaches. As far as I'm aware they have no connection with fishing but they are magnificent and are top predators within their realm. Usually by the time they've hit the beach they're a bit battered and worse for wear (like some of us, sometimes, I suppose) and you may not at first recognize them except for their striking colour pattern. If you find a good specimen scoop a little hole in the sand near the water's edge and gently place it in in the puddle that forms there. In that environment and presuming it's still alive it will unfold to assume its normal floating orientation, as in the pic (taken by me, a few years ago, at DI Point while my subject floated in a saucer). From my experience they seem harmless to humans but handle them with care because they just might be able to deliver a sting, and besides they are very fragile.
"Glaucus" is what you can call this beautiful denizen of the ocean and you should now
look up
what sort of animal it is, what it eats (surprise!), what its sexual preferences are and which way is up.

Hi Yakkers,
The month of April has seen three new records and two upgraded records.
The three new records were
(1) Eyetag's fantastic Spanish Mackerel that went 150cm long. Well done Ian, that is an awesome catch!
(2) Richmond secured a 42cm Yellowbelly from Lake MacDonald
(3) Gemini scored a 31cm Australian Bass also from Lake MacDonald (see upgrades below).
The record upgrades were from Pedro who knocked off Gemini's Spotted Mackerel by 7cm. The Spotted Mackerel record now stands at 83cm. Gemini also upgraded his own Australian Bass record from 31cm to 41cm.
Well done to all anglers.
Keep up the great work Noosa Yakkers and get into those fish.
Jeff (Richmond)


Get a grip!
by Sunshiner
When I first started kayak fishing I was sceptical of the value of lip grippers but am now convinced, after trying out these for over a year, that they are very useful. I have used and carry on my yak the "stainless steel" grips which seem to be very popular but found that they become clogged by fine sand, something we Noosa Yakkers encounter often.
I still prefer a gaff to initially secure my fish but as soon as the fish is pinned and basically under control I get these lip grips on ASAP, followed closely by a tail rope for large fish.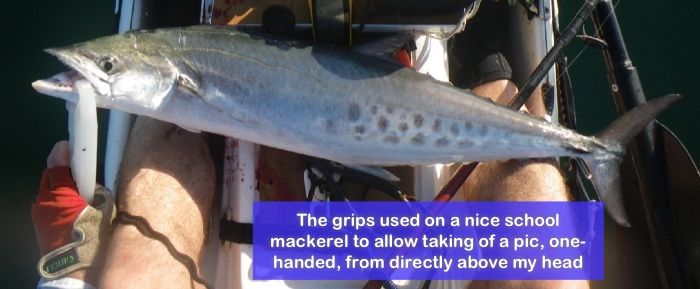 These grips offer several very good features. Made in the USA, they are very light, made of very strong nylon or plastic with metal hinge pins which so far have not rusted. They float, come in at least two colours and glow in darkness. Of course, mine is leashed to the yak (a very good but short leash was included with the one I bought) and it resides on the back deck where it happily sits until needed. At under $30, these grips are great value, I reckon. Hobie dealers sell them (Mal, at Sunstate Hobie, Cooroy, can probably sell you one) but be careful of ordering them from local tackle shops unless the price matches the Hobie dealer's. I found that they are generally unavailable at local tackle outlets unless specially ordered and then almost doubled in price.

The Committee
(in callsign order)






From left, eyetag, gemini, jaro, jimbo, richmond,
sunshiner, turtleboy.

That's all for this edition folks. Thanks for reading.