PUBLISHED 05Jun12

This month I'm assembling this newsletter in cold and windy Victoria, using my iPad on a Wi-fi connection. Coordination of content and pulling it all together is my role in newsletter production but of course the newsletter body relies on contributions from the members, with committee members being prominent in this role. We'd like to see some contributions from the general membership so if you have something to say about any aspect of kayak fishing don't hesitate to get in touch with me and I'll help you put it together. Perhaps your contribution could be about a new piece of equipment which you've tried out, or about an unusual kayak fishing adventure you've undertaken at some stage. Note that any such contributions become a permanent part of Noosa Yakkers' history so get cracking and contact me with your ideas.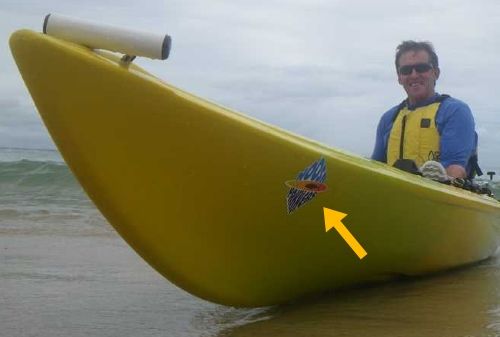 One thing I've been meaning to remind people about is our Noosa Yakkers stickers. Hollywood (see pic), world famous paddler and esteemed Noosa Yakker, acquired our supply of these a few years back from one of his mates in Victoria at mate's rates. We decided that we'd allocate two stickers (one for yak, one for car) FREE to anyone who joined us and who subsequently participated in two of our "organized" fishing trips. It is possible that there are sticker-qualified members reading this who haven't received stickers. If you are one of these, please let me know and I'll try to sort the matter out. Anyone who formerly received stickers but needs replacement sticker/s please also contact me. Note that we will need new stickers in the near future and will likely have to pay for them, unless we can get them free again. If this situation arises I reckon we'll have a quick whip-around to raise the money.
Kev (sunshiner)

Whilst the trip reports in May showed the members travelling to Halls, Little Halls, A Bay reef, Jew Shoal, Coolum and Lake MacDonald, the catches were dominated by the usual seasonal haul of longtail tuna, grassies and snapper. Carlton also boated a tusk fish and Gemini a few bass from the lake.
The eight May trips this year were roughly matched by those for the prior few years for the month of May and we had some new members join us for the first time this month, but I will leave those details to Gemini's membership report.
We also had a few firsts during the month. Jess joined us for a paddle in the bay, Eli showed us his compact fishing craft which looked to require a great degree of balance and skill, some of the members witnessed a wedding on MG, Pedro conquered the surf at Coolum and Sean (Yakfinn) caught his first longtail tuna.
I had plenty of unique photos to choose from this month but my pic of month is Richmond's haul of tuna. It was a tough paddle back from Halls Reef that day into a strong southerly wind and chop and I can still hear Jeff calling out on the radio "My forearms are burning". Must have been all that extra weight on board mate. See below.
Until next month
TurtleBoy.

Jimbo has ventured off into the wilds for a few weeks, so I have taken over the task of welcoming the new recruits in his absence. May has seen a continued steady flow of new members to fill our ranks. Another three yakkers have been added to our hookers list, bringing it to a total of 68. It's good to see a few more younger members joining us for fishy adventures too… after all, someone has to tow Jaro back when there's no wind for his sail. ;)
Without further ado, here are the new recruits for the month.
Eli Johns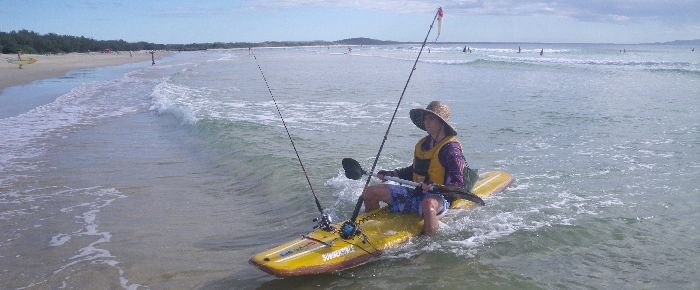 Eli, 19, has lived the majority of his life in Kin Kin, and is a first year mechanical engineering student. He has spent most of his fishing life in a tinny or casting from the jetty, but decided to try kayaking with the family loaner. After few successful voyages, he went looking for his own craft to use. Being the enterprising young engineering student he is, he quickly modified a surf ski to include rod holders and hit the water in style.
Izak Van Schayk
Izak, a friend of Carlton, is 16 and resides in Sunshine Beach. Having just acquired a Viking ProFish 45, he has been eagerly practicing his surf launches and returns in preparation for his maiden voyage with the Noosa Yakkers. Some of us have already encountered Izak during some of his practice manoeuvres on the bay.
Sol Cookson (Solman)
Sol has been fishing up and down the NSW coast for most of his early years. Mostly beach, bank, or rock fishing, Sol has chased almost every fish available to us using land based methods. After moving to Coolum for work, he noticed the pelagic action very close to shore. Not being able to land any from the solid edges, he took the plunge and bought an Ocean Kayak Trident 13 to expand his options. A friend of Yakfinn, and an AKFF member, Sol will no doubt bring more fishing experience into the collective.
A few more happy faces for the trophy photos. Tight lines, and welcome gents!
Matt (Gemini)
---

Whale Season
by Sunshiner
The first humpback whales from the annual migration northward then southward again along our coast have already appeared. Every year Noosa Yakkers have close encounters with these magnificent animals so I thought it might be timely to bring the matter up. The fact is that if you fish offshore at Jew Shoal and Sunshine Reef during the period June to November you will almost certainly encounter whales so be prepared. Sometimes the first indication that there are whales about is that you'll hear them snort, especially if they're behind you. Mostly, however, you'll see them blowing, breaching, holding their enormous pectoral fins up, or tail slapping (in which case you'll hear the loud slap, too).
So, what to do? Firstly, warn all of the other yakkers by radio. Tell them where the whales are, what they're doing, and if travelling, which direction they're travelling in. All of us who have fished these areas a lot have had close encounters, sometimes within 30 metres or so. As you can imagine, a whale sweeping past close by or even directly underneath poses a unique snagging danger.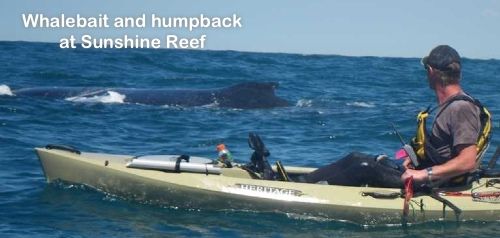 Noosa Yakker "Whalebait" got his nickname after a whale passed so closely that it snagged up at least one of his drifting lines, leaving him with a howling drag and being towed toward the Southern Ocean. The lesson here is to retrieve all lines and your drogue if whales are very close. Also make sure you have a knife handy to cut fishing or drogue lines should it be necessary.
I personally had an unforgettable experience at Sunshine Reef when a whale dived steeply nearby in 30m of water then breached very close to me. I'd just hooked a fish and was playing it out but when the whale breached again a few seconds later, leaving the water fully, about five yak lengths away, I just put the rod in a rod holder and paddled away as fast as I could. I didn't find out until about 100m later that I still had my drogue out!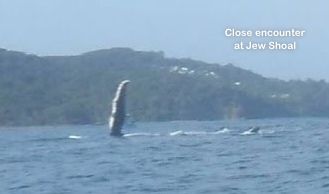 Pedro recently told me that he once had a pod of whales coming straight for him, travelling on the surface. When they were about 30m away and still heading straight for him he decided, in desperation, to bang with his hand on the hull of his Hobie. This apparently did the trick as they dived under him and turned at right angles directly below. Phew!
So, be warned and be aware that you are required by law to stay at least 50m away from whales (but the whales have no such law forbidding them to approach kayaks). If you have a camera aboard, try to get some pics, even though your hands may be shaking.
---

Luscious Longtail
by Gemini
With longtail tuna stuffed into nearly everyone's freezer, some extra recipe ideas couldn't go astray. I've experimented a little and come up with the following. Enjoy!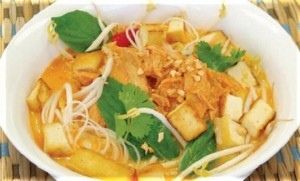 Longtail Laksa
Because laksa is essentially a soup, there isn't much preparation involved. I used a slow cooker for this version, but the only difference if you were to use a stove would be to lightly pre-cook the tuna, and to reduce the overall cooking time to 40 minutes or so.
Ingredients:
1x jar Pandaroo laksa paste (very mild, kid-friendly paste; other brands will vary in spice intensity)
2 cups coconut milk
2 cups fish or vegetable stock
1 cup water
1 cup bean sprouts
1 onion (diced)
2tbsp fresh coriander
2tbsp fish sauce
400g diced tuna
Diced fried tofu (amount will vary depending on your tastes, but I used around 250g)
A portion of vermicelli noodles for each serving
Peanuts and bean sprouts for serving
Method:
Fry the laksa paste in 2 tablespoons of vegetable oil for a few minutes until it smells quite strong.
Put the fried laksa paste, stock, water, coriander, bean sprouts, onion, tuna, and tofu into the slow cooker. Cook on a low heat for around 5 hours.
Add the coconut milk and cook for another hour.
Stir through the fish sauce and allow to rest while the vermicelli is prepared.
Soak the vermicelli in hot water for 10 minutes, then place a handful at the bottom of each person's bowl for serving.
Serve enough of the soup so the vermicelli is lost in the bowl. Just be aware that the tuna will be quite pliable by this stage, so it may fall apart if aggravated too much.
Place the bean sprout garnish on top, and if you're lucky some of the peanuts will float on top with them.
There's no reason why you couldn't add more greens or meats to this dish. Typical seafood laksas have all sorts of goodies hidden within, but the flavour of the tuna may overpower a traditional version of the dish. Fool around with it and let me know how you go!
"Canned" Tuna
I scoured the internet for ideas I could use to turn my raw longtail into flakes similar to "canned" tuna which could then be used for sandwiches and mornays etc. A few recipes were quite in depth and allowed for long term storage without refrigeration, but these required specific bottling techniques and a pressure cooker, something which I lacked. I decided then to put faith in my experimental kitchen science abilities, and went to work…
The following recipe is for a tasty tuna you can use for pretty much anything. This method produces tuna to be stored in the fridge ONLY, so I would only make enough in each batch for yourself to use comfortably within a few days. I made four smallish bottles which my family and I used within 4 days.
Ingredients:
Smallish empty bottles with popup lids, boiled to sterilise. I used old jam jars.
Enough sliced raw tuna to fill each bottle 2cm from the lid.
Extra virgin olive oil.
Ground sea salt
Ground pepper
The amount of ingredients above will vary depending on the size of your bottles and the number of bottles being prepared.
Method:
Add the tuna to your sterilised bottles so it is no more than 2cm from the rim. Before adding the tuna you can also place flavourings at the bottom of your jar, such as chilli or garlic. (I made two bottles of garlic tuna and it was magic!)
Add a teaspoon of ground sea salt to each jar, and a hit of cracked pepper to taste.
Pour enough olive oil into the jar to fill all the gaps and remove the air pockets. This should take your level no more than 1cm from the jar rim.
Place the lid on each jar and twist it on so it won't undo easily, but is not sealed.
Place the bottles into a large saucepan filled with enough water to reach the oil level in your bottles.
Bring the water to a VERY slow boil and leave your tuna to cook for around two hours. If you're using bigger bottles you may need to adjust this cook time.
Remove the saucepan from the stove and don some heatproof gloves.
Take each bottle from the saucepan and seal the lid properly.
Allow to cool briefly and then place in the fridge. If the seal is tight the lid will depress itself as it cools in the fridge.
Once cooled they are ready to enjoy, but I'd leave them overnight (especially if they've been flavoured).

Hi Yakkers,
May saw two changes to the Noosa Yakkers record fish list. One new record and one record upgrade.
The upgrade was a Grass Emperor caught by Pedro, it eclipsed Eyetag's fish by 1cm. Good job Pete.
The new record fish that was added onto the list was a Venus Tuskfish that went 42cm in length. This fish was caught by relatively new member Carlton Klerck, callsign: Carlton.
Great work Carlton, hope to see a few more additions from you in the near future.
As a few of our members regularly fish around Caloundra, notably Brays Reef, Moffats etc, remember that this area is in our boundaries for you to claim a record fish.
The southernmost boundary is the mouth of Bells Creek, the northern boundary is Inskip Point with the western boundary being as far west as Borumba Dam. Any river, creek or freshwater impoundment within these boundaries will enable you to submit a claim. Keep it in mind.
To submit a claim, it's as simple as following the rules and procedures we have set and I'll deal with it accordingly. (See
here
for boundaries and rules and procedure for record submission).
As I write this the weather is looking very bleak again. Gee we've had a bad run with weather haven't we?
Let's hope things change for the better soon and we start getting the gentle westerlies that winter is known for.
When that happens, lookout close reefs and look out Snapper, the Noosa Yakkers are coming for you!!
Good fishing, Jeff (Richmond).
---

Gannet time
by Sunshiner
The appearance of gannets here is a sure sign that winter is upon us. Sure enough, in the last few trips I've seen them, as we do every winter, sweeping along the swells often at about yakker head height or soaring up high and diving headlong into the ocean at amazing speed. Hang on, this is a kayak fishing blog; why am I writing about gannets?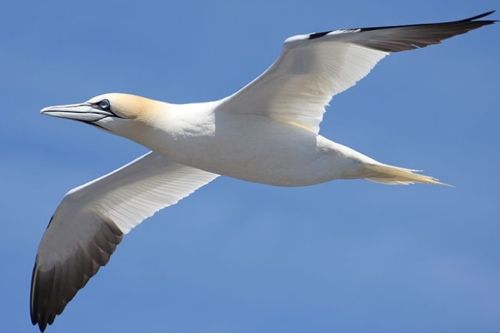 Because they're bloody dangerous to kayak fishermen, that's why. Sometime this winter at least one of us will catch one accidentally. They are particularly keen on diving onto shallow running lures and also will dive after SPs if they see one splash into the water nearby. Having done this they will usually become hooked (often in the foot, strangely enough) and will try to fly away. These are protected birds so what can you do if you hook one?
Your aim should be to release the bird with as little harm as possible, to you and the bird. To do this, you'll need to stay calm, although the gannet certainly won't. Given the constraints you're working under, alone, in a kayak, a large angry bird in your lap, this is not easy. Being prepared provides the best chance.
Firstly, if you're a right hander, retrieve the gannet to the left side of the kayak, because you're going to grab it with your left hand leaving your right hand free to wield your pliers and knife. That beak is very sharp so you must make sure that it never gets close enough to your face that the gannet can peck at your eyes. I'd leave my sunnies on if I were you.
With the gannet next to the yak, make a sudden grab at its neck with your left hand and take a firm hold as in the pic without strangling it. This grip is the only thing stopping the gannet from attacking you, so make sure you keep the squawking fluttering bird at arm's length. If possible you can now place your hat or a towel over the gannet's head to try to subdue it, but note that you should remove the hat or towel before releasing the bird.
Once you have your gannet under control you need to find out whether a hook is embedded somewhere or whether line entanglement is the sole cause of the close encounter. Either way, you'll need pliers and/or knife, remembering that you must continue to keep a firm hold on the bird with one hand. Work systematically to cut away all restraining fishing line and to remove the hooks (some brute force and minor surgery may be required here). Do your best to ensure that all fishing line is removed from the bird as to leave any at all may have fatal results. Then, if you have antiseptic aboard, dab it on any wounds either of you has sustained. Then set your gannet free. If possible, get a movie of what you've just done!
---
The Committee
(in callsign order)







From left, eyetag, gemini, jaro, jimbo, pedro,
richmond, sunshiner, turtleboy.