PUBLISHED 04Jul12

Looking at our membership list recently I was reminded that many Noosa Yakkers are not also members of AKFF (Australian Kayak Fishing Forum). For those unaware of AKFF I'd like to suggest that you take a look (link on this blog, at right). There you'll find a great bunch of fellow kayak fishers scattered all over Australia and other parts of the world. You'll also find heaps of searchable useful information and advice on every imaginable aspect of kayak fishing. And it's all free.
Some of you may know this already but in case you don't I thought you'd be interested that we have a Noosa Yakker serving with the Australian Army in Afghanistan. Windy is back there for a second tour but is not getting much kayak fishing in, I believe. Windy, we wish you all the best and assure you that we'll turn the fish on for you when you get back.
Kev (sunshiner)

Following two very productive years for the month of June in 2009 and 2010, June this year followed the dismal 2011 pattern in terms of very few outings, with three for the month of June for each of the last two years.
Catches this month were few and in the main limited to the usual seasonal snapper and sweetlip.
The highlight of the month was the return of Doctor Dog picking up a 15 kg longtail tuna on the 4th June. Whilst we witnessed individual bust ups later in the month, the activity dropped off significantly from last month where Yakfinn, Richmond, Eyetag, Jimbo and Ben all weighed in with good catches.
At 1110 mm, Doc Dog's catch has been confirmed as the current record for longtail, knocking off sunshiner's record which had stood since February. Well done Doc!
Below is my photo of the month. Look at the shape of the head. Unfortunately we cannot see the unique tail structure in this photo, but when combined with the bullet shaped head, the longtail tuna can accelerate from zero to 60kph in 3 seconds flat. What a design!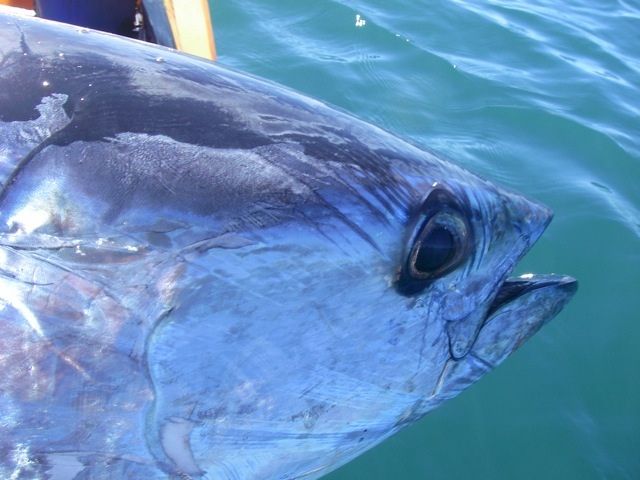 and again below, a very proud Doctor Dog at MG.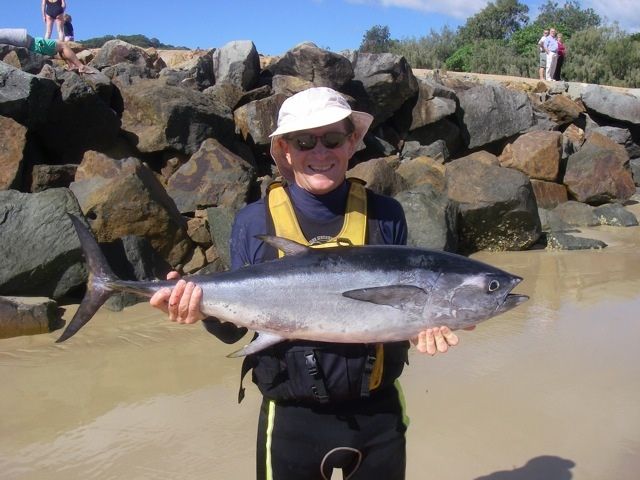 Until next month
TurtleBoy.
---

Cobia
by Eyetag
Cobia or black kingfish (
Rachycentron canadus
) are probably the toughest species we're likely to encounter in our waters on a regular basis. They are caught using all fishing methods and are found throughout the water column from top to bottom, with a couple of favourite locations being where reef meets the sand and travelling under large Manta Rays. They are tenacious fighters that never give in, even when on the end of a gaff. For this reason you should never attempt to land a green fish as they can cause a lot of damage to you and your gear by twisting and arching, not unlike small sharks. They have a nasty row of short stiff dorsal spines that are responsible for causing some very bad injuries to unaware fishos. Their diet consists of all food types with some favourites being crab, prawn, stingrays and squid. Not only are they a terrific sport fish but they taste great too with a slightly oily flesh that lends itself to all manners of cooking and smoking.
Above: Taken on banana prawn, A-Bay Reef, November 09. Pic by sunshiner.
I've been lucky enough to have had a few cross my path over the years, resulting in two broken gaffs and a lot of memorable moments. The stand out event was early one morning while bait fishing on Little Halls Reef. I had a rod with a soft plastic just off the bottom dead sticking in the rod holder when suddenly the rod buckled over almost rolling the yak. I managed to get the rod out of the holder and give it a few good strikes making sure the hook was set then the fight began. It was almost an hour before I saw what looked like a shark, then as it got closer I realised it was a big cobia. Unfortunately I'd left my gaff behind so I thought my best chance was to tail grab it and with my third attempt I managed to hang on to the exhausted fish. I dragged him across my lap, covered him with a wet towel and paddled home with my prize.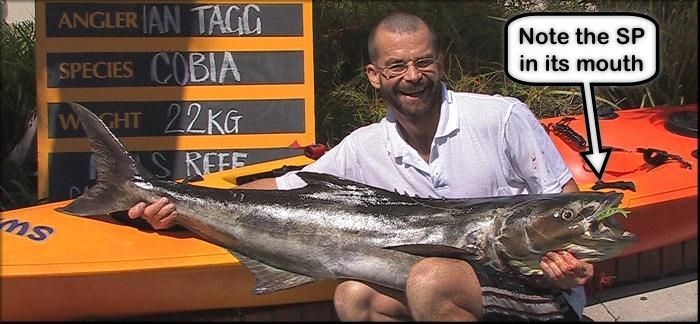 [From editor. Other Noosa Yakkers who've boated cobia, mostly within one km of Main Beach are sunshiner, jaro, jimbo, whalebait, turtleboy. HB lures have accounted for quite a few. When are you joining the cobia club? Size limit min 75cm; possession limit two.]

This will be my last report for now as temporary membership guru. A big welcome back to Jimbo, who has returned from his trip just in time to hopefully see some improved weather here in Noosa.
June has seen the addition of two new members, and two existing Lookers move to the Hookers mailing list. Our movers and shakers were Iain Gibson and Mark Powell, who will now see their email inbox contents double.
A warm welcome to our two new members below, who are also joining the Hookers mailing list.
Darren Cole
Darren is a New Zealand ex-pat (we'll try not to hold that against him) who made his way to the Sunshine Coast after spending a boozy evening here in 1988. Fishing the estuarys and freshwater has been his main focus thus far, but he has outfitted a Prowler for offshore use and will join us soon. He mentions that catch and release has been almost mandatory for him, as his fishing partner (his daughter) would gently box his ears for hurting anything fishy. Darren is also a very keen surfer, so that may assist him with avoiding the sand monster on re-entry to the shore.
Greg McEnerny
Greg is 53 and lives in Gympie. He has two teenage children and works for Red Cross recycling cardboard and providing supportive employment for people with disabilities. Greg has previously used a Viking Pacer and a tinny for estuary fishing and was tossing up between buying a larger kayak or another tinny. A chance visit to the Viking store in Warana combined with some Google research lead Greg to the Noosa Yakkers blog. The advantages and versatility of a kayak offering the opportunity to experience off-shore fishing became obvious to him. To quote Greg… "I… owned a tinny for a while but I wasn't using it much as I found the fishing results were disappointing for the effort and expense. I much prefer the kayak as it takes hardly any effort to get ready to go, can't break down, costs nothing for fuel and rego and is stealthy and relaxing to fish from". Greg has now purchased a new Viking Espri Angler and is preparing it for his first off-shore venture with Noosa Yakkers, possibly with assistance from Geoff Stolberg, also a Gympieite.
Have a think about call signs for your VHF too, guys. You don't want us making them up for you…
Cheers!
Matt Reid (Gemini)
---

So you reckon you know about waves?
by Turtleboy
This article discusses the different types of waves and rips which we encounter in Laguna Bay, Noosa.
Of particular concern is the dumping wave that we often encounter leaving, and in particular, returning to Noosa West Beach at Middle Groyne. Some understanding of the wave types and the structure of "sets" is important.
Waves
Waves are formed by the wind blowing across the surface of the ocean. There are three factors that affect the size of the waves and three different types of waves, all of which are present at Noosa. There are four different types of Rips but I will only focus on one being the "Permanent Rip" in this article.
The
Size of Waves
, excluding extraordinary events such as tidal waves created by tectonic plate movements etc., is determined by three factors.
1. The Intensity of the Wind,
2. The Length of Time the wind blows, and
3. The Distance the wind blows.
This is why you will see a relationship between the wind and swell forecasts on the Bureau of Meteorology website and associated weather sites with predictive graphical models such as Seabreeze and Willyweather.
They all use the same basic data and principals. Also watch Liveo Regano on Local 7 News at 6pm for a good explanation of the current conditions and how the patterns actually work.
Waves travel in Sets. The Sets become closer together, more defined and apparent as they approach shallower water and eventually the surf zone. Sets can vary in number, usually three, four or five waves in a set. The number of waves in a set is consistent within a certain time period, as is the time between sets.
The size relationship of the waves is also consistent from set to set. So for example, in a five-wave set, the wave size relationship may be small, medium, large, largest, and then medium in height. This pattern will be repeated in the following sets.
All of this information is important if you are attempting a launch from or return to shore through the surf-zone. So it's a wise move to stand back on the beach or hang out the back of the surf-zone for a while and observe the patterns, before attempting your manoeuvre.
Mastering the ability to surf your kayak to shore is a separate practical topic and not a part of this paper. Needless to say it takes years of experience and sometimes a lot of luck to escape from the clutches of the sand monster.
Different Types of Waves
The three different types of waves are Spilling, Surging and Plunging. They are very different and present different challenges, opportunities and risks.
Spilling Waves
occur when the crest of the wave tumbles down the face of the wave. They are generally the safest waves and the one that the local surfers look for on the Noosa National Park Points.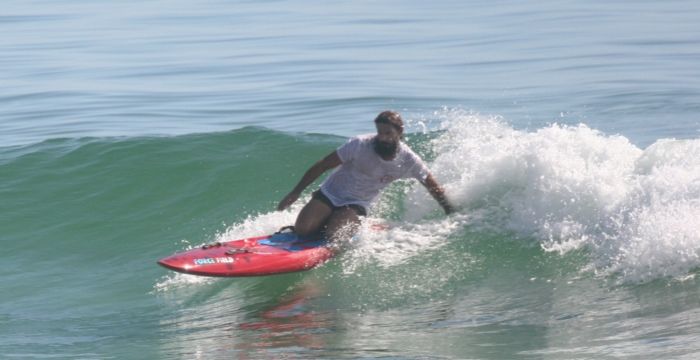 Above: Photo of one of my club mates carving up a spilling wave on a paddle board. Note the white foam in the right of the photo, rolling down the face of the wave.
Surging Waves
may never actually break. They are formed where the swell meets a rock ledge or rock wall that faces into deep water. The best example of this is at Hell's Gates near the ultimate headland of Noosa National Park. They represent a hidden danger for kayakers in that they produce a backwash so you need to look out on both sides for waves that can potentially roll the kayak.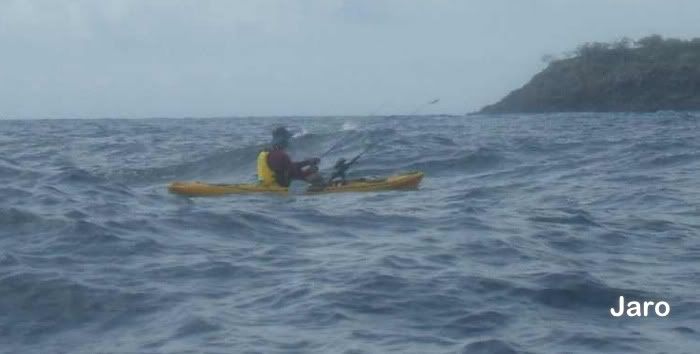 Above: Although the photo of Jaro above does not show the full impact of surging waves, you can see the washing machine effect which would be greater in closer to the Noosa National Park headland.
Plunging Waves
or "Dumpers" are the most dangerous as they break with tremendous force into, quiet often, shallow water as demonstrated by Whalerider below.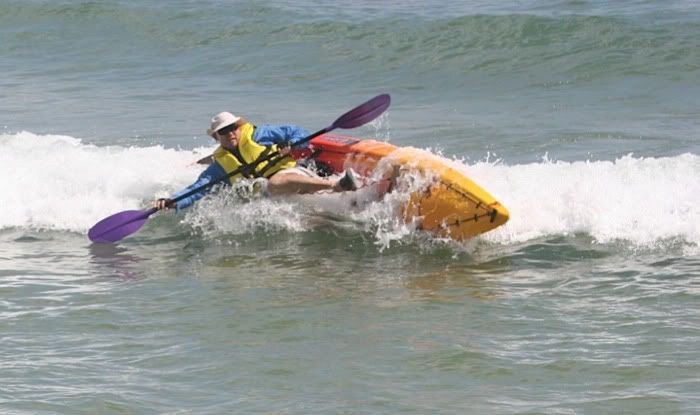 Above: Grant becomes acquainted with the sand monster.
In fact, this is probably the greatest risk facing swimmers and users of water craft at Noosa's beaches. Each year approximately 35 members of the public are transported by ambulance to Noosa and surrounding hospitals with suspected spinal injury. This number excludes broken limbs, broken noses, joint dislocations, cuts and other injuries requiring first aid and or advanced medical attention.
Please Note -
The Risk of being injured by a Dumper in our environment is real so please do not ignore this point. Take your time and assess the situation.
Rips
There are four types of rips – Permanent, Fixed, Flash and Travelling but the one I will focus on is the Permanent Rip as this is what we can use to aid our launch on the western side of Middle Groyne.
Here is a photo of that Rip in action at Middle Groyne providing both an aid to launch and return to shore even though you need to paddle back in against the current and close to the rocks.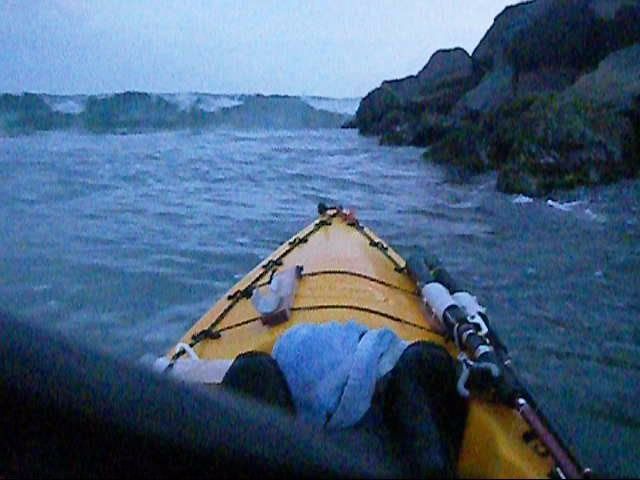 In Summary
, whether launching or returning to shore, take your time to observe the conditions, count the number of waves in the set and understand the type of wave that you are dealing with.
Avoid large dumpers as these represent our greatest risk!
Acknowledgement
The Source of information for this blog is the Surf LifeSaving Australia Public Safety and Aquatic Rescue Manual 33rd edition as applied to local Laguna Bay, Noosa geography and surf conditions.
---

Wonky lure?
by Sunshiner
Any bibbed lure is prone to go out of "tune", especially if it's been involved in a taxing encounter with a big active fish. The most likely symptom you'll see is that the lure will no longer swim straight. As you troll or retrieve it it will swim consistently with one side down and may even roll completely (always in the same direction) or flip out of the water. Sometimes you may even encounter this with a brand new lure, especially the cheaper models.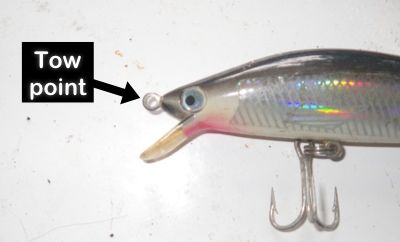 Don't chuck it away. It's probably fixable, even during a kayak fishing trip, without going ashore. All you need is a pair of pliers, which you should have with you anyway, and knowledge of what is causing the problem.
I learned this useful tip many years ago (source: unknown, forgotten) and have used it countless times to quickly fix unruly bibbed lures.
The tow point is the problem. It's been bent sideways thus putting the lure out of balance. The fix is easy: bend the tow point slightly toward one side of the lure. But which way, port or starboard? The lure shows you. Watch it swimming and you'll see that it swims with one side down initially, getting worse and possibly even spinning as you increase speed (easier to do on a pedal kayak than a paddle kayak).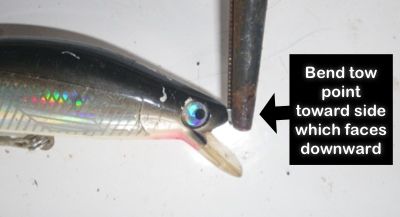 Bend the tow point toward the downward side. So, if it swims with the port side down, bend toward that side. Make small adjustments until it's swimming satisfactorily. Easy if you have your pliers with you. I don't recommend using your teeth to bend the tow point but it is possible with smaller lures.
If you can't fix it bring it to me rather than throw it away.
Kev
---

G'day Yakkers,
The month of June has seen five changes to our record fish list. We've added three new records and have had two upgrades.
Doc Dog came home from holidays and didn't waste any time knocking over a record. He upgraded the Longtail Tuna record from 105 to 110cm. Good work Mark.
Pedro upgraded his own record of a Grassy Emperor from 50 to 52cm. Well done Pete.
The three new records saw Eyetag submit two and one from Richmond. Eyetag's records were a Bigeye Trevally of 49cm and a Giant Trev that went 38cm. Richmond submitted a tiny bream of 32cm.
Above, eyetag's bigeye trevally
With a list of 35 eligible fish, we have it 50% filled as we have records for 17 fish so far, with 18 vacant records.
C'mon Yakkers, let's fill those 18 vacant record spots!
Good fishing,
Richmond.
---
Interesting pic…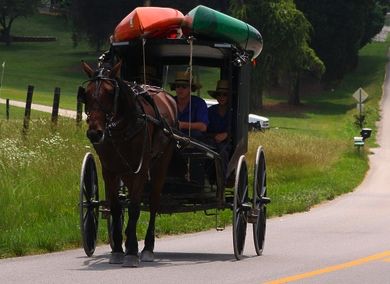 Amish kayakers, USA. Contributed by Nick Long, Sydney.
---
The Committee
(in callsign order)







From left, eyetag, gemini, jaro, jimbo, pedro,
richmond, sunshiner, turtleboy.