PUBLISHED 04Aug12

Hollywood dropped in to say hello a couple of days ago, a package clutched in his hand. I knew immediately what it was as he'd dropped a hint by email a couple of weeks ago.

He handed over a new pack of Noosa Yakkers stickers, supplied free by his mate, Fuddy, in Victoria. This is wonderful generosity from Fuddy and I've sent him a thank you email. If you have a need for stickers, please consider using Fuddy's business, contactable
here
. Thanks from all of us, Fuddy and Hollywood.
As I write this it seems the weather has turned. For the first time in a while I've got snapper fillets on the menu at home. The turn around in the last couple of weeks has been remarkable and I'm hoping that we're about to have a great snapper season. Just out of interest, the latest two snapper I've caught have been females, each with roe, so I'd be interested in hearing from other snapper catchers whether their fish were also laden with roe.
Kev (sunshiner)

Well what a month! Most of it, especially leading up until the last week, was wet, wild and windy.
As a result we saw very little activity for at least two thirds of July. Fortunately however, the last week changed for the better. We had a run of great days from the 26th through to end of month producing a good variety of snapper, sweetlip, tuna and Pedro's black kingfish (aka cobia), thus giving him entry to the Cobia Club.
It was also very pleasing to see the young guns, Eli, Carlton and Izak all contributing to the trip reports, providing some great photography, whilst weighing in with some quality catches. An example of this below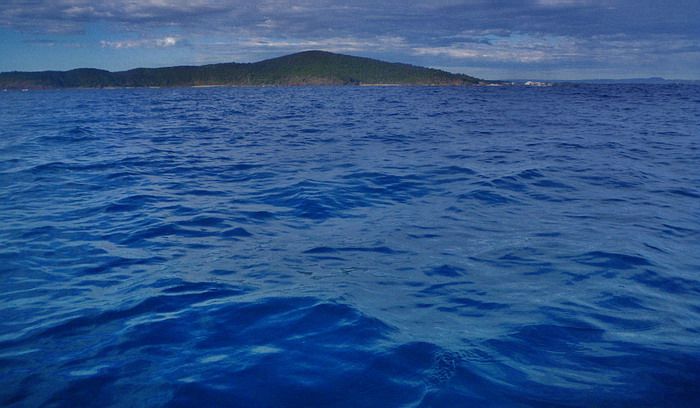 The View
Choosing the fishing pic of the month was difficult given the contenders: the selection of Carlton's and Izak's panoramas, the Frauleins' snapper pose (you old devil Kev), Eli's Longtail Tuna and Pedro's Cobia.
In the end I decided on the photo below. Well done Tarzan!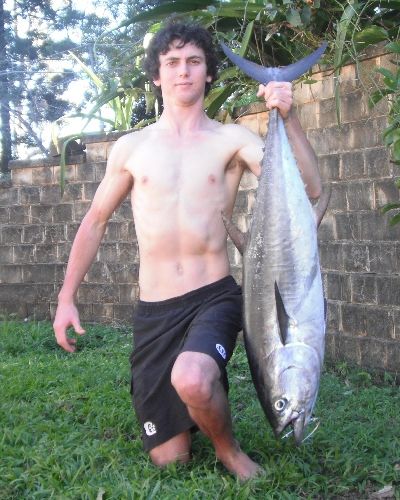 Tarzan of Laguna Bay
Until next month
TurtleBoy.
---

Got your lipgrips ready?
by sunshiner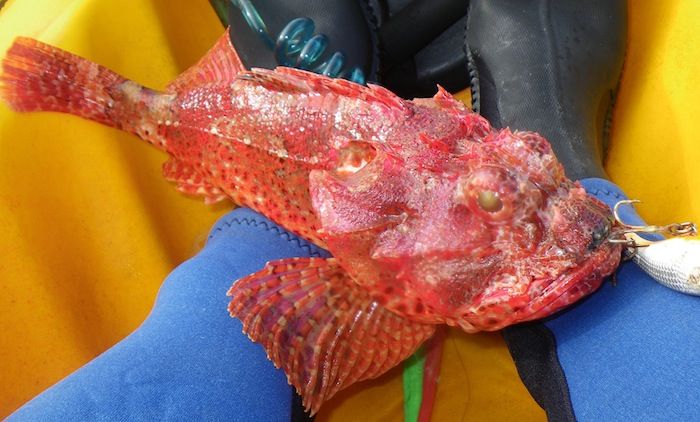 This quite pretty fish can bugger up your day. The pic above was taken by me in my Espri out at Sunshine Reef a few years back, when I was deep trolling the lure to see what would respond. It's an Eastern Red Scorpionfish and in the past was also called Prickly Heat among other names. This scorpionfish is a fairly common catch around the Noosa reefs and if there was ever a good reason to have lip grippers and/or pliers aboard your yak, this is it. On the written recommendation of the late and great Ern Grant, I've actually knocked the fillets off one of these and eaten them to find them very palatable but not worth the potential danger of handling them. Imagine stuffing this fish in your fish bag/box and then absentmindedly putting in your hand later to pull out fish. Yikes!
To quote the Australian Museum webpage:
"Danger to humans and first aid
The twelve dorsal spines of the Eastern Red Scorpionfish are toxic. A sting from this fish can be excruciatingly painful, and last for half a day. The poison is denatured by heat so immersing the affected area in very hot water is the best first aid before consulting a doctor."
Hmmm, difficult to heat water up in a kayak.
More info
Kev (Sunshiner)

Winter isn't usually known for its offshore kayaking friendliness, but we have still managed to have another two new members sign up this month. Including our new additions from last month, we now have 74 "Hookers" and 15 "Lookers" in our ranks. Read about our fearless winter additions below!
Brock Agnew
Brock is married with two kids, and has recently returned to kayak fishing after a small hiatus in Ireland. Prior to that he had a Viking Nemo and fished around Old Woman Island, just north of Maroochydore. He now has a new Viking rig, and is looking forward to getting back into the action.

Rob Gordon (callsign: kahuna)
Rob is an experienced journo recently returned from a 12 year stint in Hong Kong. He has plenty of kayaking and surfing experience, but states that fishing was pointless in Hong Kong as the fish have all been eaten. Based in Coolum, he plans to make the trip up to paddle the bay with us on a regular basis to hone his fishing skills.
Rob owns a Barracuda Ultralight, which he has already blooded on his recent first trip (late addition, and his second) with us, and is currently rigging it for fishing use.
A big welcome to our new recruits! Tight lines Gents!
Cheers
Matt (Gemini)
---

Salted tuna for bait
by pedro
I've had some success on the snapper and sweetlip recently using salted mac-tuna for bait.
Firstly catch your tuna -- a good flesh bait when used fresh, but when used once frozen it doesn't hold together well.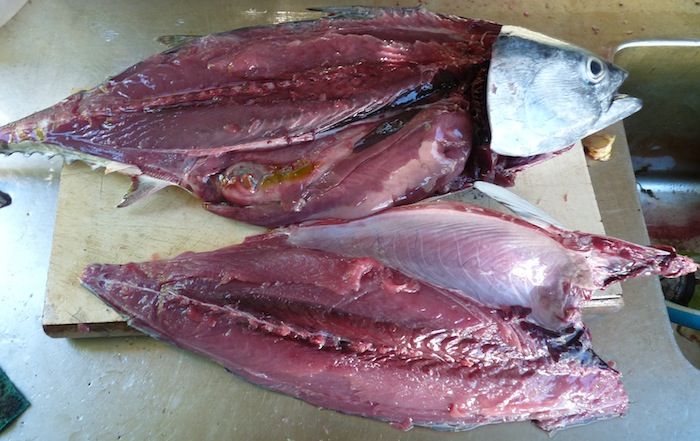 So take the the fillet off including the ribcage.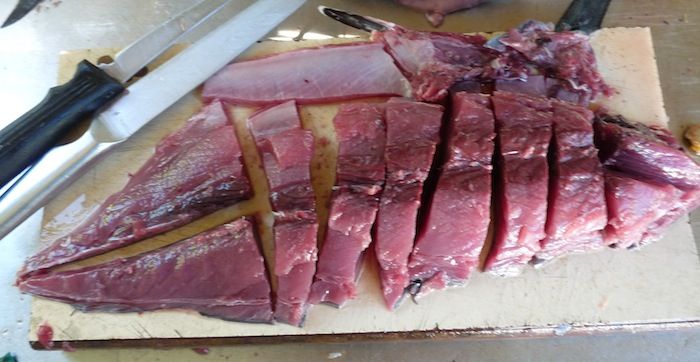 Since taking these pics I've changed the way I cut the bait pieces. Except for the tail pieces and a slice off the dorsal section they all include a tail end of belly flap for the hook.
Layer the pieces in a container with cooking, rock or pool salt and refrigerate. The salt gradually draws out most of the water in the fish. Drain off the accumulated liquid daily until no more is formed. Typically, this takes about four or five days. Now you have a fairly tough bait that can be frozen, taken fishing, frozen again and still look and perform well.
As shown above I like to use minimum lead and plenty of hook exposed. The circle style hooks hardly ever hook up on the bottom thus saving more time for fishing. I fish with the bail arm open and line between finger and thumb, giving the fish a few metres before closing the bail to set the hook. Zing! goes the drag and the fight is on.
Cheers
Pedro

Hi Yakkers,
Well it certainly has been a good month for some, one fella in particular.
Pedro's been on fire this month with two new records and one upgrade. The upgrade was a Grass Emperor which record Pedro already held.
He upgraded from a 52cm fish to a beautiful fat 55cm fish. His two new additions were a Cobia of 107cm and a Hairtail that went 114cm.
Great work Pedro, pass some of that mojo to me will you please! lol!
Carlton Klerck (Carlton) has also added two records for himself. He replaced eyetag's Giant Trevally record with a 48cm fish and he also upgraded Richmond's Bream record to a respectable 38cm fish.
Carlton's two records were caught on 29 June but the record claims weren't submitted until a couple of days later in early July, hence the reason they weren't in the June record report.
Good job Carlton.
So, five alterations to the record list this month, good job fellas, may there be plenty more for us all.
Tight lines,
Richmond.
---
The Committee
(in callsign order)







From left, eyetag, gemini, jaro, jimbo, pedro,
richmond, sunshiner, turtleboy.