PUBLISHED 04Sep12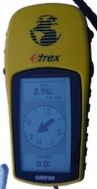 My faithful Garmin Etrex GPS which has been with me on every offshore fishing trip since soon after I started kayak fishing (that's several hundred trips) has just gone on the blink. I think the on-off switch has failed but I can still get the device to start up just by inserting the batteries. But this experience reminded me that it's useful to have a back up of your hard-earned personal waypoints. A simple way to do this is to record them on your computer using Google Earth, and you can also convert them to .kmz files which you can email to yourself. How do YOU backup your waypoints? Incidentally, I found that I can buy a new replacement Etrex on ebay for just over $100. In the meantime I have a backup GPS which I bought a couple of years ago because it was a great price at the time.
One of the many spin-offs to being part of a group such as Noosa Yakkers is that, especially with today's communications technology, useful information can be easily shared. Demonstrating this well this month in Noosa Yakkers News is imax's article about making hardbody lures. He's gone to a lot of trouble to explain the process he is using and will follow up next month with an explanation of how he finishes the lure off. Hopefully, the following month he'll have a pic of one of his home made hardbodies with mackerel teeth marks on it!
If you have something you reckon is worth sharing with your fellow Noosa Yakkers we'd certainly like to hear from you. Such items as reviews of new products that you've come across and had experience with are always useful and will always be appreciated. When I look around all of the various accessories on the kayaks (eg sails, Shark Shields, anchor arrangements) in our fleet I can see lots of opportunities for spreading the word about good products or ideas and possibly also commentary about others which didn't work out as well as you'd hoped. So come on yakkers, if you have something useful to say about a special accessory on your boat or among your fishing equipment let your mates know about it here.
Kev (sunshiner)

Hi Hookers,
It's that time again for the Noosa Yakkers record fish monthly report.
August has been a tough month fishing wise with a lot of trips being put in for little return.
We've had great weather, there's been a bit of bait around but generally, the larger fish haven't been wanting to play.
Having said that, there have been two new record additions and one upgrade.
The upgrade was a Longtail Tuna caught by Richmond. It eclipsed the old record by the bare minimum of 1cm. Sorry Mark (Doctor Dog). The Longtail Tuna record now stands at 112cm.
The two new records were a Dusky Flathead of 54cm caught in the Noosa River near Makepeace Island by Richmond and my pick for the fish of the month, a beautiful Coral Trout caught by Eyetag on A-Bay Reef that measured 58cm. Lovely fish Eyetag!
Just remember Yakkers, there is a huge area to fish in which to claim a record. As far south as the mouth of Bells Creek in the Pumicestone Passage, to the tip of Inskip Point to the north and as far west as Borumba Dam at Imbil. You also have 14 days to submit your claim by email to me.
Good luck for the month of September, hope you land a few.
Tight lines,
Richmond
---

Making your own moulded HB lures
by Imax
Part One: Making the mould
Want to make your own? Check out this contribution from imax, who has been known to lose a lure or two!
Teaser. The finished product.
Take your lure body that you want to copy and make sure it is really smooth. Any little imperfections in your master body will show up in your cast body. I have removed the bib from my master so that I can change the bib to suit my desired swimming depth. This may require cutting or grinding out the bib or in the case of the lure I have used, knocking out the locking tab and pulling out the bib. If you leave the bib in place you will end up with the bib becoming part of the moulded shape. Do that if you want to tow from the bib.
These are the materials you will need to make your two part mould.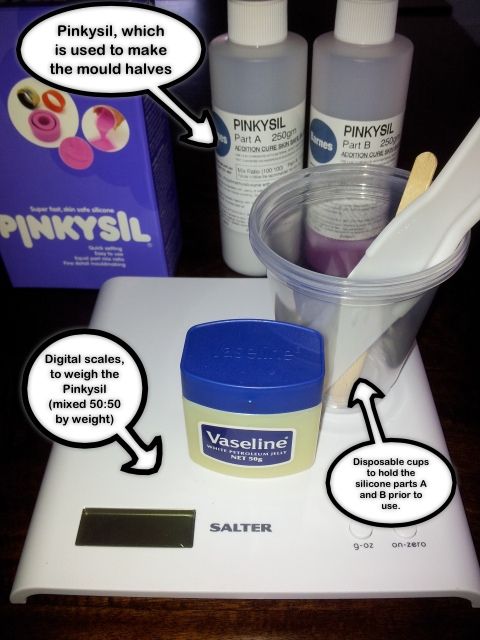 Materials
Starting at the back of the picture is your choice of Room Temperature Vulcanisation (RTV) silicone. I have used a product called Pinkysil. Disposable cups are necessary to measure out Parts A and B of the RTV silicone. You'll also need something to stir the two parts when combined. Digital scales are necessary to weigh Parts A and B of the RTV silicone (mixed by equal weights). Vaseline or mould release agent is needed to apply before pouring the second part of your mould.
Not shown in this picture, but shown below are a mould box and/or modelling clay to build up around your master lure.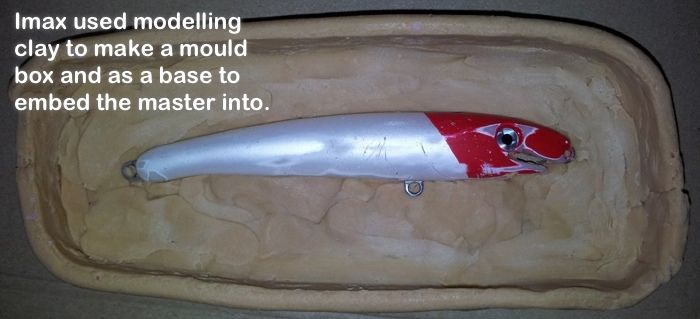 Take your master and build up a base to half the lure height. I have used modelling clay to make up the walls of this mould box but you can use whatever is handy as long as you can get it watertight. Use your clay to get in really close to the master because the RTV silicone will get into any gaps and cause cleanup problems later. You need to have the clay/lure mating surface as clean as possible. This makes future casting easier and results in less flashing.
The final step is to push in some keys. It is easiest to do this with a pen or pencil. Whatever sticks out in the first half of the mold will be an indent in the second half and vice versa. Making one key bigger than the rest means you can't accidentally put the mold together the wrong way.
Once you have your master setup and your mould box assembled you are ready to pour the RTV silicone.
Measure out equal weights of Part A and B and mix until well combined. Next you need to pour the mixed silicone into the mould box. When pouring the RTV silicone start in one corner and leave it to flow from there. If you try pouring over the whole area you are more likely to trap air bubbles against the master. Leave to set for as long as possible before removing the clay to pour the second half (overnight is plenty).
When the first pour is set you can flip the mould box over and remove walls and the clay from the first half of the master. Be careful not to move the master out of the silicone. It is important to not even break the seal between the lure and the first pour of silicone. Make sure that all of the clay is removed from the silicone and master. Put the mould box walls back in place and cover the silicone with Vaseline or mould release. This is to stop the two halves from sticking together as silicone will stick to itself.
Now you have poured both halves of the mould you are ready to split them apart. Separate the two halves of the mould and remove the master.
The mould is now ready to cut in the sprue hole (hole to pour your polyurethane, which is the material from which the finished lure body is made) and air vent. Make sure these holes line up when the mould is closed ready for pouring. Use a very sharp scalpel and cut a hole at the highest point of the lure cavity and big enough that you can easily pour the urethane in. Cut at least another smaller hole for an air vent. It may be necessary to have an air vent at each end of the mould. The mould is now complete and you are ready to pour an exact copy of your master lure.
More info
here
.
This place sells everything needed to make the mould and pour your new lures in polyurethane. They also have some good videos showing the process on the site.
Part Two next month...

The month of August has seen an all-time record of seven new Hookers inducted into Noosa Yakkers. I think we must give credit to the new blog format for this very high number of new recruits, as it most certainly has not been due to good fishing catches of late.
Maybe the welcoming nature of the Noosa Yakkers is spreading through the Australian Kayak Fishing Forum (AKFF), given the high proportion of AKFF members amongst this month's inductees. Even with two deletions from the email distribution lists in the last month, we now have a total of 90 Noosa Yakkers in our happy band, comprising 78 Hookers and 12 Lookers. A brief résumé of each of the new inductees for August follows.
Trevor Gynther (AKFF: Kayakone)
Trevor is a fit 62 year old from Brisbane. He has extensive whitewater and surf kayaking experience but has only turned to kayak fishing using SOT kayaks in the last year or two. Trevor has two fishing kayaks, an Anaconda Adventurer and a Barracuda, both variously fitted with GPS and/or sounders, and he also has a VHF radio. Unfortunately we haven't met Trevor yet as he is presently recovering from minor surgery, but he is looking forward to joining us in the coming months.
Ryan Gear
I can best introduce Ryan by letting him introduce himself… "I am 17 (turning 18 in a bit over a month) and have just bought a brand new Cobra Fish 'n' Dive as my first kayak. I am an apprentice diesel fitter with Leighton Contractors and am currently living in Brisbane for work but am originally from Gympie. The only kayaking I've done is a bit around the Tewantin stretch of the Noosa River. Last Sunday [August 5th with NY Eli Johns (Tarzan) and his brother] was my first trip outside the river. I plan on getting both a GPS and radio by the end of the year so will be fully set up after that. I look forward to venturing out again and hopefully getting my first fish from a yak. Thanks, Ryan."
Greg Stevenson (Salty)
Greg is a 55 year old Noosan with an interesting array of work experiences including signwriter, artist, builder, painter and share market trader. He classes himself primarily as a surfer (over 40 years and still on short boards) but has more recently had a go at kayak fishing. Having purchased a Mission Catch 420, he has tried his luck in the Noosa River and ventured off-shore "around the edges" of Laguna Bay, with minor success. A chance meeting with Kev Long (Sunshiner) at Middle Groyne a couple of weeks ago resulted in Greg asking to join our group.
Brock Wunsch (AKFF: Raptor79, Nickname: Brocktopus)
Brock is 32 and lives in the Brisbane suburb of Aspley with his wife and baby daughter. He has an Anaconda Venturer and has been kayak fishing for only six months mainly in the creeks and rivers in his area, although he has ventured off-shore a couple of times to the Scarborough Reefs off Redcliffe Peninsular. Having discovered the Noosa Yakkers blog when searching the web for fishing locations in the Noosa area, he is now keen to attempt a surf beach launch and return, with the assurance of guidance from experienced Noosa Yakkers.
Adrian Tan (AKFF: Baptism)
Adrian, originally from Singapore, is 26 years old and lives on Brisbane's southside. He has been off-shore quite a few times in his Hobie Revolution, and is accustomed to driving up and down the coast to get his kayak fishing "fix". In mid August he joined us on a trip out into Laguna Bay after bumping into turtleboy in a Singapore tackle shop in July. Adrian was then so keen to join Noosa Yakkers he "sprayed" the committee and all the Hookers with email requests to be included on our email distribution list, which he duly was, after receiving our customary "welcome" email describing the modus operandi of the Noosa Yakkers group.
Mark Williams (AKFF: Bogey)
Mark is a relatively experienced kayak fisho based at Kawana Island on the Sunshine Coast. He had already been out fishing in Laguna Bay on a couple of previous occasions in his Hobie Outback when, like Greg Stevenson, a meeting with a couple of Noosa Yakkers at Middle Groyne prompted Mark to ask to join our group. Looking to pick up on bit of local expertise, Mark again went out to Jew Shoal a couple of weeks ago accompanied by Carlton and Stormin but the fish, typically of late, were not responsive. Mark has indicated he will be keen to come back to Noosa in the pelagic season, since he can access plenty of snapper and sweetlip grounds closer to home.
Jamie Downey (Jamie-D)
Jamie is a 36 year old painter and decorator who lives on Brisbane's northside at Narangba with his wife and three young children. Even with family responsibilities he is a self-confessed "mad keen weekend warrior" taking every opportunity to wet a line in his nearby stamping ground of the Scarborough reefs off the Redcliffe Peninsular. Jamie regards himself as an experienced yak fisho having undertaken numerous surf beach launches to get out to Old Woman Island off Mudjimba where he has bagged out on snapper a number of times in the last 12 months. He has also ventured out to Brays Rock. Jamie has an Ocean Kayak Prowler 4.3 fitted with a combined sounder/GPS and he also has a VHF radio. His goal this summer is to land a longtail tuna and a mangrove jack from his kayak… a goal shared by many, Jamie!
---

Under the Sun -- Sun-Safe Yakking
by gemini
With the warmer weather approaching it's time for a reminder on how to stay safe from the sun out on the water. Skin cancer is not a pleasant thought for anyone, and it affects too many people in Australia to ignore. Most of the items I''m going to cover will be very familiar to most of you, so think of this small article as a refresher. Let's keep the sunburn away this season!
Hat
There are a couple of different types of hat we see on the water. A broad brimmed hat such as the one modelled by Richmond here…
…and the legionnaire style cap we see modelled by Jimbo here: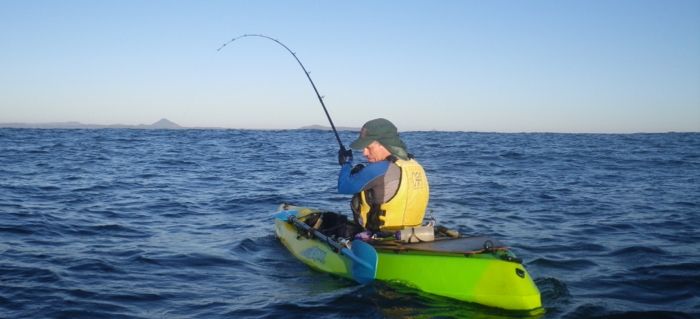 Both of these offer excellent protection from the sun from most angles. An additional benefit of some legionnaire caps is the flap (if long enough) can be pulled around the face to offer greater protection.
Upper Body
A long sleeved shirt, preferably with a collar and made of close weave fabric, is ideal for yakking. Dark colours are best in summer and help to absorb as much UV as possible. Some yakkers opt for a long sleeved wetsuit or rashy top instead. Gloves also assist in keeping the sun at bay for the back of the hands.
Lower Body
Keeping the lower body sheltered from UV can be tricky at times. For the legs some people choose to wear a set of long wetsuit (or similar) pants, while others use a cover, such as a towel, to do the same trick. The pants are the better option for sun protection, but some find them uncomfortable over long periods.
Feet can be protected by a pair of reef shoes or similar, and are also good protection from hooks and flailing fish.
The below photo features Eyetag wearing a long sleeved shirt, gloves, shoes, and a towel over the legs.
Eyes and Skin
Even with all the cover mentioned above, some parts of your skin will be exposed at some stage (for example if sunshiner wants to take a photo of you with unshaded face). A good quality SPF 30+ sunscreen applied to any exposed part of the body not covered with clothing is a must. Cover all possible gap areas too, such as the area where your gloves meet our shirt sleeves, or where your shorts ride up the leg etc.
A pair of UV rated polarised sunglasses are also a must for eye protection. The Cancer Council of Queensland recommends glasses that meet the Australian Standard AS 1067. It gets awful bright out there, and the glare off the water burns just as much as the stuff coming from the sky.
Here's a pic of Yakfinn rocking a pair of shades.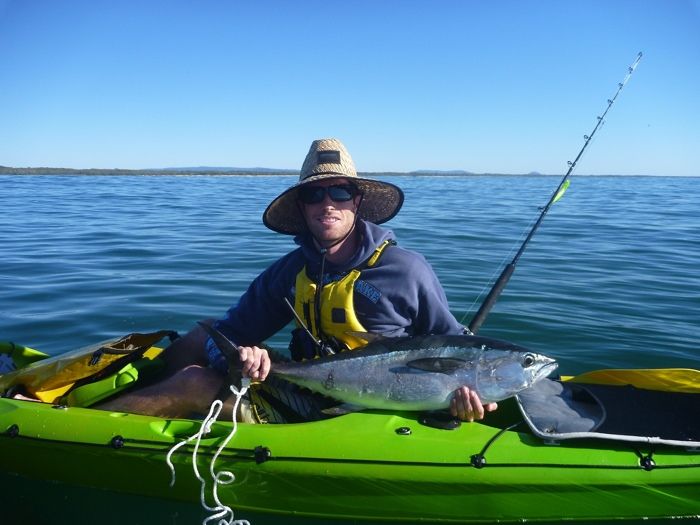 Above all be mindful of your time spent in the sun. Dehydration can also be a factor in the summer months so ensure you have ample water on hand as well. Too much time in the sun can negate even the best protection, so if you're planning on extended trips, keep sunscreen in your tackle box and extra water on standby!
Cheers!
Matt (Gemini)

Well, what a busy month August 2012 has been in terms of the number of trips, locations and the variety of fish landed, including Richmond's new record Longtail Tuna and Eyetag's Coral Trout.
In total, we have added 18 new trip reports in August from almost the full spectrum of our immediate fishing grounds including Halls and Little Halls, Jew Shoal, Sunshine and A-Bay reefs, Weyba Creek, Lake MacDonald, Stumers Creek (launch point for reefs near Coolum) and Point Arkwright.
The variety of species caught, whilst not being large in individual numbers, makes an impressive list. They include longtail and mac-tuna, snapper, tusk fish, squire, grassies, whiting, grinner and coral trout. Kevin even saw a large flying fish on Sunshine Reef.
With such a large volume of great material, it was a tough choice with the pic of the month, but in the end I decided on the two old fishing mates Richmond and Pedro with their booty. See below.
And for a bit of light entertainment click below to view Gemini's adaptation of "Popeye the Sailorman".
Lastly, we have also generated a lot of interest and activity with several new members joining us on the water.
Until next month,
TurtleBoy.
---
The Committee
(in callsign order)







From left, eyetag, gemini, jaro, jimbo, pedro,
richmond, sunshiner, turtleboy.