PUBLISHED 04Oct12

Hi Noosa Yakkers
This month we established the final leg of our planned four-legged blog as jimbo put in place our Members List blog. With the Main blog, the Trip Reports blog, the Record Fish blog and now the Members blog, we now have the structure on which to place everything else newsy and of interest to Noosa Yakkers. Here's a big thank you to Google for giving us the free facility to do all of this and of course a huge thank you to the committee members who have stepped up to implement and learn how to run these blogs.
Noosa Yakkers Surf Day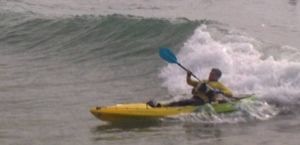 New committee member, but well known kayak fishing identity, DaveyG, has offered to organize a Surf Experience and Training Day for those crazies who use fishing kayaks in the surf. It's planned that this will be FREE and will happen between now and the end of the year up here at Noosa, and we have a promise from the guys at Stealth Kayaks that they will attend with several boats available for use by members. But first we need to find out the level of interest among Noosa Yakkers. Click
here
to automatically generate an email (make sure you send from the email address that you normally use to send to the ny-members group) to all members registering your interest in the Surf Day. Depending on the level of interest, Dave will then start planning the event. Come on, be in it!
Longtail tuna
A couple of years ago a scientific survey into Australia's longtail tuna population was conducted, using contributed info from fishos like us. The results are now out, and are very interesting. Just go
here
to find out amazing facts about our longtails. Thanks to Paulo on AKFF for posting this info recently and reminding me of it.
Happy yakking
Kev (sunshiner)

Hi Hookers,
It's that time again for the monthly wrap up of Noosa Yakkers record fish capture claims.
Things are heating up with five alterations to the record chart, four being upgrades and one being a new record submission.
The first record submission was a claim submitted by Tiberium for a Sand Whiting that went 31cm in length. This fish was the first Whiting we have had submitted, well done Izak.
The second record amendment was a submission put in by Turtleboy for a cracking Longtail Tuna that smashed my old record by 10cm (thanks Steve lol). Steve's ripper Longtail stretched the tape to 122cm, a top catch and a fine capture, well done Steve.
These two claims aforementioned were in the first week of September. Things went pretty quiet until the last week of the month where three claims were submitted, all record upgrades.
Geoff Stolberg (Jag-One) submitted a Grass Emperor that was 59cm long! That's a great fish Geoff, I reckon you'll hold that record for quite a while, but records are meant to be broken. Congratulations.
A few of the Noosa Yakkers always fish the Davo's Fishing comp. I always expect a couple of submissions from these blokes, they haven't let me down on this occasion either.
Carlton Klerck (Carlton) upgraded the Dusky Flathead by 4 cm to 69cm, taking the record off Eyetag, but Ian has turned around and upgraded one of his own records. He submitted a Bigeye Trevally that measured 56cm on the mat, eclipsing his old record by 3cm. Well done to Ian and Carlton.
That's all the submissions I've had for the month of September, I've added a pic of Geoff Stolberg's 59cm Grassy. The picture doesn't do this fish justice.
Well done Yakkers, keep the submissions rolling in.
Screaming reels and tight lines,
Jeff (Richmond).
---

Need a GPS? Got $105?
by sunshiner
As a guy who spent 23 Army years using printed map and compass to navigate on land, sea and in the air (at low level), I revere my GPS, which is a relatively recent innovation (about mid 1990s) gifted by the taxpayers of the USA to the world. Although I've had a backup GPS for a year now, thus indicating that I had an inkling that my first GPS, a basic Garmin Etrex, might be reaching the end of its life, I was saddened but not surprised to find that the Etrex would not start up one evening recently (as with all equipment, I'm in the habit of testing …Army again… my GPS the night before a fishing trip). The backup GPS had all of my fishing marks on it, and it went on its first kayak fishing trip the next day.
The backup, a Garmin Map 60c, is a nice GPS, one of those with heaps of functions, that I mostly never use. It's a colour model with very fine hi-res track lines, which I can't easily see in bright sunlight wearing sunnies. This is unlike the Etrex whose coarse resolution provides nice thick track lines visible from half a mile away. The newer one is as rugged and nearly as compact as my Etrex, but it's not so easy to select waypoints. So, never wanting to be without a GPS again, I went in search of a new backup GPS.
I'm on ebay again. There it is, the updated version of my Etrex, which is probably not being made anymore, for $105, new, delivered free to Queensland addresses. I ordered it one afternoon and had it in my hands the next morning! Gotta love online shopping (another great innovation)!
Guess what? My new Etrex is now my main kayak fishing GPS and the previous backup (the more expensive one) is back in the backup drawer.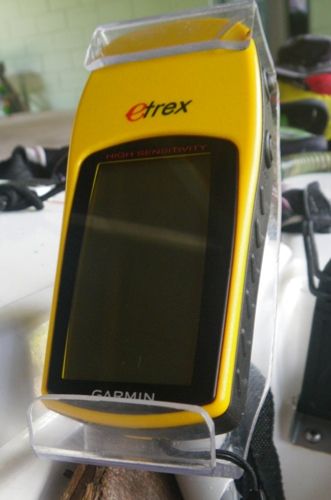 And better still, I can mount it in my one-off polycarbonate holder made for the Etrex by jag-one, the guy famous for shifting the groyne a little to the east. Some time soon I'll tell you about my $100 fish finder.
Sunshiner

Unlike the month of August where we had a very wide diversity of fishing locations and variety of species caught, September really focused on the Noosa North Shore, and specifically, Halls and Little Halls reef.
Statistically, we have seen a gradual increase in the number of trip reports which reflects the increasing number of members fishing and contributing, either directly or indirectly, to the blog. As at the end of September (75% of the calendar year) we have 90 trip reports registered and only require one more to exceed the full year of 2011 and six more to top the full year 2010.
On the 23rd we had 14 members paddling plus two visitors. That's probably more kayaks than stink boats in the bay. We also had some of our members including Eyetag, Carlton and Izak competing in the local Davo's fishing competition.
September was also memorable for some large catches and some records broken. For more details please see Richmond's record report.
Baptism chimed in with the season's first Spaniard (14kgs) which all of the local experts agree is early.
Other varieties included Mack and Longtail Tuna, Sweetlip, Whiting, Snapper, Bass, Hairtail, Trevally and Gemini's entry to the Cobia club.
My pic of the month is the photo below of Kahuna, now unofficially to be known as the "Big Kahuna". Well done Rob. Great display of patience and persistence to land this fish. Special mention also to Pedro for riding shotgun for both Rob and me in our recent conquests. Thanks from both of us.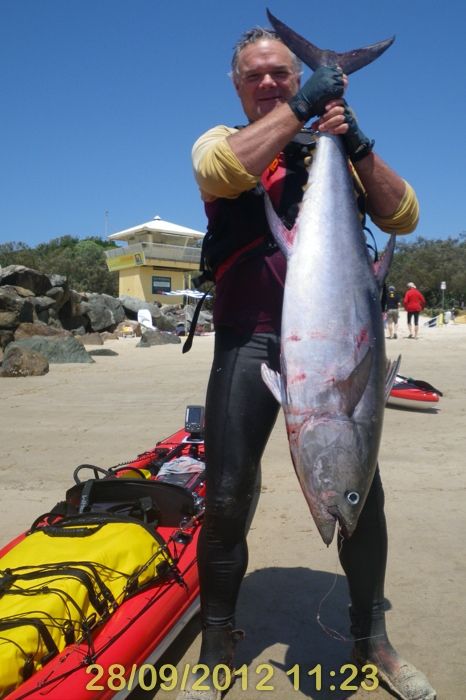 Photo by Kev Long of the BIG Kahuna and his Longtail Tuna.
Cheers
Turtleboy

Hi Yakkers
September has been a busy month for our jolly membership department. During the last committee meeting it was decided that we should consolidate and tidy our membership lists (hookers and lookers), and utilise an online system for keeping track of said list. This has resulted in a new look "Noosa Yakkers Members" mailing group courtesy of Google. After the tidy and consolidation, the total membership numbers as of the end of this month is 67.
Another new membership feature is the added blog. Jimbo has been tirelessly working on the new membership section behind the scenes, and this month it has gone live for your viewing pleasure. It features a brief bio on each Noosa Yakker member, including, where available, a mugshot and image of the individual's kayak. It is still a work in progress, but we thank Jimbo for his mighty efforts to pull it all together from our archives. Check it out
here
.
Now, to our new members this month…
Mick Drahm (Bomber)

Mick is 38 years old and is a police officer in the bomb squad (yes, he still has all his fingers). He has always been a keen angler, however after selling his tinnie and 4WD most of his fishing (until recently) has been shore based. Having paddled outrigger canoes, surfed and rowed surfboats, bomber is no stranger to ocean paddling. He recently purchased an Emotion Grand Slam Angler, and has already had his maiden voyage with us earlier this month.
Douglas White (Couta)
Douglas (AKFF name "Couta101") is 37 yrs old and lives in Brisbane. He's a dental technician by trade and owns his own lab (which means he can sneak off for fishing adventures at will). Before becoming involved with kayaks he did a lot of LBG (Land Based Game) fishing, although the lure of the big blue was too much for him. He now does most of his kayak fishing on the Gold Coast, Scarborough, and Caloundra. Douglas owns a Stealth kayak.
Louis Louwrens (Simba)
Louis is a 28 year old mining engineer from Mountain Creek. He has ditched his stink boat for a Hobie Adventure Island and decided to take up the more financially responsible kayak fishing instead. He is looking forward to nailing a few of the elusive reef fish his noisy boat failed to assist with.
Welcome aboard, guys.
Cheers,
Gemini
---
Noosa Yakkers Safety Article

by Turtleboy
Safety is all about Risk Management. If you can proactively identify the risks, then you can assess and take measures to control, or if the risk is too high, then abort.
So, what are our hazards and associated risks? We are faced with a number of hazards whilst engaged in kayak fishing. They include:
1. The environmental conditions sun, wind, rain, temperature extremes
2. Sea or surf conditions, rocks and obstacles, river mouth crossing and tidal movements
3. Manual handling of kayaks on and off vehicles and to the water's edge
4. Sharp and dangerous equipment on board
5. Damaged or worn equipment
6. Motorised water-craft in close proximity
7. Dangerous sea creatures
8. Potentially being isolated and unable to call for help;
Whilst all of these are important, I am going to focus on a few that I think need further discussion.
The Hazards
Environmental Conditions and the need for Protective Clothing and Hydration
We need to wear protective clothing to suit the conditions. Protection from UV exposure, cold and physical barriers to equipment and sharps are the key items.
By protective clothing I mean long sleeve and collared shirts, a broad brimmed hat, sunglasses, paddle gloves, reef type shoes, board length shorts as a minimum and towel or equivalent to prevent sunburn to the front of the legs, plus application of 30+ sunscreen. A warm thermal top and rain jacket are essential during cold and wet conditions. Some yakkers wear wetsuits in the colder times.
See below photo of Eyetag and Pedro both covered up even during the winter month of August. Note also Eyetag's flag which is easier to see in lumpy conditions. His face is shaded by a broad brimmed hat.
Pic by Kev Long
Hydration is also a big concern especially during the peak summer season. Make sure you have plenty of fresh water on board and something to eat if you need it. I carry two bottles of water and breakfast bars as a quick and easy snack.
Sea, Weather and Surf Conditions vs Your Personal Fitness and Capability
You will need to assess your equipment and personal capability including general health and fitness against the risk associated with the prevailing conditions. This is one of the reasons we have a trip coordinator (currently Jaro, featured below) who constantly reviews the weather conditions and forecasts from a number of different sources for safe windows of opportunity to paddle. The current general rule is less than two metre swell and less than ten knots wind makes for relatively safe and comfortable conditions.
See the video below of one of the few days each year that we could launch at Sunshine Doggie Beach with Jimbo leading the way. Even the best paddler can get rolled as our trip co-ordinator will demonstrate.
Video by Kev Long
General health, fitness and capability is an individual responsibility and should not be taken lightly.
Whilst not an everyday event, Queensland is famous for its lightning storms. There is a general 30:30 Flash to Bang rule used by the Surf Clubs. That is, once a Lightning flash is followed within 30 seconds by the sound of Thunder, then the centre of the storm is within ten kilometres and can be upon you imminently. Be wary of holding what could potential be a lightning conductor such as your paddle or fishing rod.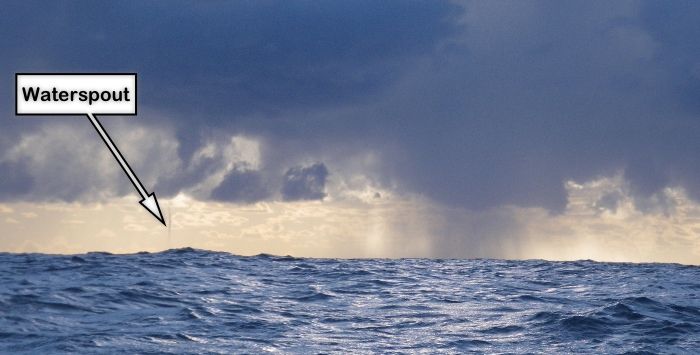 An impending storm, high winds and associated rough waters. Pic by Kev Long, from his kayak, in Laguna Bay.
The Noosa River Mouth can also be a dangerous zone due to tidal movements, surf and motorised watercraft crossing the bar.
Communication
We strongly recommend that yakkers purchase and learn to operate a waterproof marine VHF radio. As a broadcast device, this will allow you to remain in contact with your fellow yakkers (for details of VHF channel usage for Noosa Yakkers, contact me or any other committee member) and also with the Noosa Coast Guard (Channels 16 for emergencies and 22 for general advice).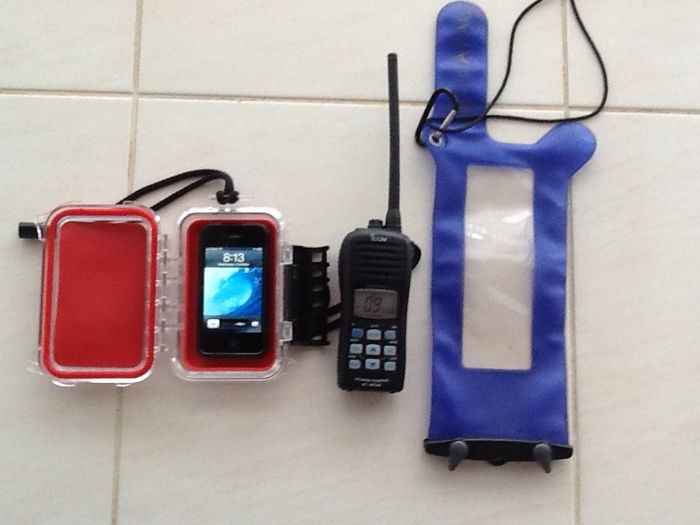 A mobile phone is a good backup but network coverage is variable depending upon your provider and it only offers peer to peer voice communication. That limitation and the fact that storing every other yakkers cellphone number (even if they carry one on the water) is not easy, is why we recommend the use of a VHF radio.
Equipment
Regularly inspect your craft and equipment for seaworthiness. It's not much fun being "all at sea in a leaky boat" or "up the creek without a paddle" because you haven't secured the paddle to your kayak with a lanyard. A small bailing bucket or sponge is also handy to remove any excess water from inside the hull.
Even more embarrassingly dangerous is a poorly fitted and unsecured life jacket (PFD) that could drown you when your arms end up locked above your head as you slide down and underwater because the PFD floats and you don't. Don't laugh, Richmond and I have witnessed this at MG in an ordinary rollover which was potentially fatal because of a poorly fitted PFD.
We also carry sharps on board such as knives, hooks and gaffs. Make sure they are safely secured during surf zone transits along with rods and other items you don't want to be impaled upon.
A few yakkers use a Shark Shield electronic shark deterrent device. Fortunately we have not had to test the effectiveness of such a device. For more information, contact Pedro.
Fish lip grippers and long nose pliers are also essential when removing hooks from sharp toothed mouths. See this being demonstrated by Sunshiner in the photo later in this article.
First Aid Kit and Knowledge
Whilst I don't know of anyone who actually carries a first aid kit in their kayak, it is worthy of note and consideration, especially in the application of a compression bandage to arrest bleeding.
Man Overboard - The Three plus One Most Important Things you need to have and know if you fall out of the Kayak
If I need to narrow it down to the four most important things I want with me if I fall overboard, I would select these:
1.
PFD
. A properly fitted and compliant Personal Floatation Device. Preferably a bright colour so that, if you become the centre of attention in a search and rescue mission, all of your mates can recognise you on the national Nine news that evening.
2.
A Knife
to cut myself loose in the event I become tangled in lines or cords. For this reason I strap a scabbard diver's knife to my leg, and trust that this leg is not the first thing taken by a shark.
3.
Waterproof VHF Radio
. Knowledge of my position, direction of the current drift, the time and a waterproof VHF radio. I carry an Icom M34 and it's connected to me at all times. I also have a GPS connected but I don't consider this as a necessary attachment if I know and can clearly communicate my position and general drift direction.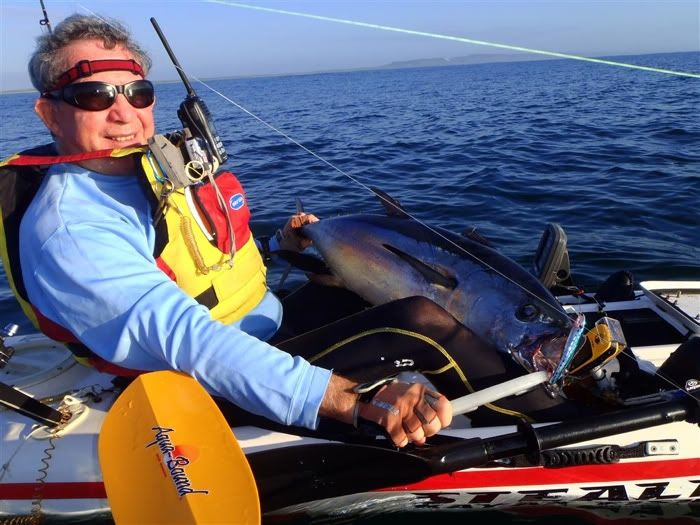 Note the brightly colour compliant PFD and waterproof VHF radio attached. What you can't see in the photo is his knife in the event he needs to cut the lines. It's on his left hand side obscured from view. Pic by Jeff Adams.
4.
The Ability
to get myself back into the kayak in potentially high winds, rough seas and in a depth of ten metres.
For this last point, I strongly recommend that you practice righting and remounting your kayak in calm and controlled conditions. The river is a good place to practice. You don't want to be learning this for the first time at Jew Shoal, Halls or Sunshine Reef.
In Summary, the Essentials
1. Understand your capabilities, i.e. skill, knowledge, health and fitness level
2. Regularly check your equipment for operational readiness before each launch. Perform maintenance or replacement as necessary
3. Wear protective clothing and remain hydrated at all times
4. Check and understand the conditions, especially within the surf zone
5. Make sure you can communicate with other boats and/or the Coast Guard
6. Have an exit strategy in place
7. Lastly, Drink, Drugs and Water don't mix.
Safe Paddling, happy ending.
Turtleboy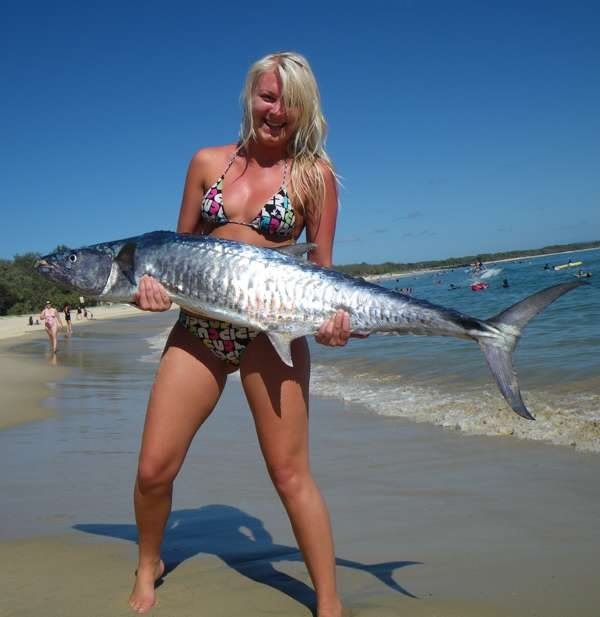 Pic by Kev Long
---
The Committee
(in callsign order)








From left, daveyG, eyetag, gemini, jaro, jimbo, pedro,
richmond, sunshiner, turtleboy.