PUBLISHED 04Nov12

Hi Noosa Yakkers
I'm just waiting for the first confirmed marlin capture among Noosa Yakkers. It could be any of us, out there trolling a jaro special or some other HB or even a big SP. There you'll be, paddling (or pedalling, wouldn't want our pedallers to miss out) when there'll be a screaming reel and a splash as the marlin hits the afterburner switch and leaves the water on what could be the first of many jumps. Got a camera? No? Photo opportunity of a lifetime gone! Maybe you should put in your order for a basic waterproof digital with your local Santa. And if he delivers, learn how to use it so that you can respond rapidly.
Noosa Yakkers Surf Day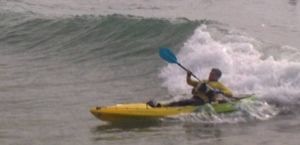 Well, it's on at this stage. Sat 10Nov12, Main Beach, 3:00pm to 5:00pm. This will be a rare chance to pick up some useful skills. Even if you only go offshore on calm days, one day you'll find that the swell, tide and wind have conspired to turn your launch point into a maelstrom of spray, white water and steep waves. Thanks to DaveyG for organizing.
Happy yakking
Kev (sunshiner)
---
Schoolie or Spottie?
by Richmond
It's quite easy for new players to mistake the species of mackerel they have caught, particularly between the school and the spotted mackerels. On more than one occasion I have seen anglers make the wrong call, thinking their freshly caught school mackerel was a spotted mackerel.
Pic below is a juvenile school mackerel
Pic below is an adult school mackerel
It's important to know the physical differences between the two species as you wouldn't want to get caught with an undersize fish, thinking that a spotted mackerel was a school mackerel.
The minimum legal size for a spotted mackerel is 60cm whereas the minimum legal size for a school mackerel is only 50cm. The Fisheries Patrol officers would expect you to know this. Fisheries will also expect you to know that the current bag limit for spotted mackerel is 5 and for school mackerel it is 10. Hence the reason to know exactly what type of mackerel you have just caught.
To make matters more confusing with their names, the schoolie is quite often called a doggy mackerel. For this exercise though, we'll call them schoolies.
The spotted mackerel has no other names to confuse us with but are quite commonly called spotties, a variant from their real name being spotted.
Pic below is a spotted mackerel
In reality, it's quite easy to tell the difference between the two. We could go all scientific and speak in ichthyological terms such as counting dorsal spines, the colour of anal finlets, the colour of pectoral fins etc., but we don't need to do that.
They do look similar at times, especially younger fish. The schoolie has fewer and bigger spots on its flank than the spotted, whereas the spotted has smaller and more spots on its flank. I wouldn't trust this information though as to your only form of identification.
The main differing factor in determining if your fish is a spottie or a schoolie is a very pronounced and obvious white patch on the schoolie's dorsal fin. The spotted mackerel does not have this white patch.
Pic below is the white patch on dorsal fin of school mackerel
As you can see from the accompanying photos, it wouldn't be hard to confuse the species, especially if you're onto a hot bite and don't check the identification properly.
The white patch on the dorsal fin of the schoolie is a 100% sure-fire identification method.
Remember, there is a 10cm difference in minimum legal size and the bag limits differ, so it's imperative that you know how to identify between the two fish.
(All photos taken from Department Agriculture, Fisheries and Forestry website)

Hello again Noosa Yakkers,
The month of October saw the record chart change with four amendments. All upgrades, no new record additions.
The Longtail Tuna record fell again. The new mark now is a very respectable 124cm. A great fish caught by Rob Gordon (Kahuna), it beat Turtleboy's record by a mere two cm. Two cm is enough as you only need a fish to be one cm greater than the existing record. Top fish Rob!
Brian Lewis (Beejay) hit the record charts for the first time with his record School Mackerel that was 72cm long, a 10cm upgrade on the old record. Congrats Brian, nice fish mate.
Jeff Adams (Richmond) managed a Hairtail from the river that went 124cm long. This also was a 10cm record upgrade from a Pedro caught Hairtail in August.
Ian Tagg (Eyetag) fished the river last friday night and scored a very nice Giant Trevally that went 59cm in length. Nice fish Ian, it added 11cm on the old record.
Congrats to all anglers for their new record fish, we are consistently turning over about four records a month, whether they be upgrades or new record additions.
The photo I've added this week is of the scary mouthful of teeth that Hairtail possess.
See you on the water guys,
Tight lines and screaming drags,
Jeff (Richmond).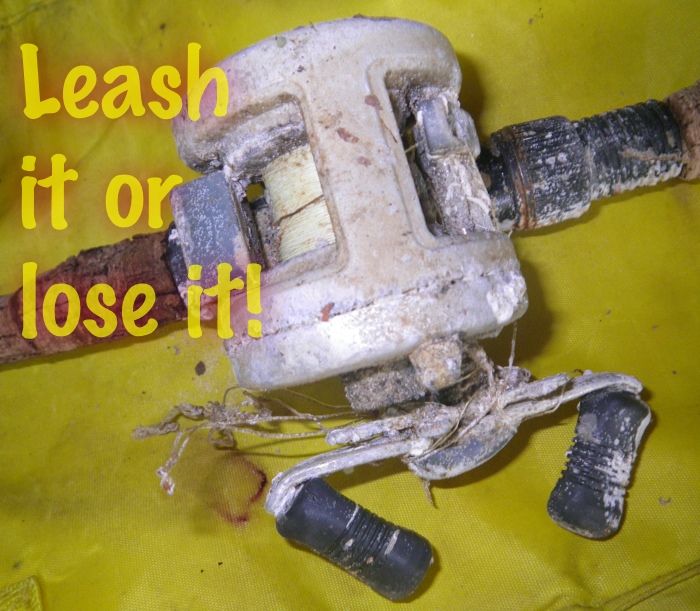 Rod and reel washed up at A-Bay (found by sunshiner).

The weather pattern for month of October 2012 was really dominated by high winds. As a result, the catch rate in the bay and our usually visited in-close reefs was pretty well limited to the perennial Grassies, Snapper and seasonal Bonito.
Despite the conditions, our recorded trips totalled 14 during the month, which is twice the number for the same period in 2011. We also passed the landmark 100 documented trips for this calendar year to date.
Other recorded catches included Bass, Grinner, and Beejay's School Mackerel. Pedro also claimed a Marlin hook-up only to watch the fish leap out of the water and spit the lure. Would have been fantastic to see.
Nothing much else to report for now, except for what I think is the highlight of the month, being an image by Sunshiner. Simply magnificent capture of a different kind!

Until next month,
Turtleboy.

Hi Yakkers
Once again another month has passed us by, and while the fishing has slowed a little, our memberships are still growing strong. Our newest recruits cover a wide geographical area between them, and bring a diverse range of fishing skills to bolster our already bulging bag of tricks. With one loss and six additions, the total number of Yakkers is now 72. Keep those bodies coming fellas, there may even be enough fish to go around soon!
Alistair Kelsall (Spook)
Known as Spook from KFDU and other forums, he intends to fish Noosa a lot more often since hearing of our exploits through a friend. He owns a Hobie Adventure Island and uses it every weekend without fail (weather permitting).
Andrew Land (Whiblah)

Andrew (AKFF: Whiblah) is a 34 year old meatworker from Minden. He has been fishing since he was young, hitting the estuaries and mud flats for whiting etc, but is now looking to have some fun chasing the big boys a little further out! He has spent the last few months paddling around Wivenhoe Dam in a Prowler Ultra 4.3, while trying his hand at both freshwater and lure fishing for the first time.
Paul Weeks (Weeksie)
Paul (AKFF: lagunabay), from Doonan, has been reading of our exploits for some time, but has now decided to join the fray. Having participated in a couple of trips already (both salt and fresh), he is well on his way to becoming a regular face amongst the crew. Paul owns a Perception Swing 400 and a Hobie Revolution.
Peter Klein (Kingy)
Peter is a Business Manager for Australian Associated Press in Brisbane where he is based. He has been yak fishing for around ten years, and took up fishing as an alternative from wave skiing if the swell was too small. Since shifting from Victoria to Brisbane he has been alternating between Kingscliff and the Sunshine Coast for his fishing adventures. Peter currently paddles a Stealth Evolution.
Thomas Tocknell (Tom-T)
Tom is a keen yak fisher and the owner of Australian Kayak Specialists. He visits Noosa several times per year and hopes to get out fishing with us as often as possible. He's an experienced surf launcher and is already a member of the cobia club.
Dennis Tocknell (Dennis-T)

Dennis is 24 years old and started kayaking at the beginning of 2012. He is the Sales and Admin supervisor of Australian Kayak Specialists. Dennis paddles a Stealth Supalite X and is lucky enough to have a girlfriend who paddles for recreation as well (so go easy on him if you ever see him on a pink Stealth Evo... or not).
Welcome aboard, guys.
Cheers,
Gemini
---
Seeing things
by sunshiner (for beejay who needs it)
If you live long enough it'll happen to you, too (usually starting around age 50). Tying fishing line knots, even in bright sunlight, becomes a frustrating challenge. The small text on your GPS device is no longer readable. You have to get glasses or laser surgery to focus on close objects.
I already had this affliction before I started kayak fishing and at first used to carry a pair of cheap magnifiers in my PFD pocket to help me deal with the problem. But it was fiddly removing my sunnies to don the magnifiers just to read my GPS. Yes, I could wear both simultaneously with difficulty but surely there was a better way.
A lady member on AKFF several years ago pointed out to me that there was a better way, and, better still, provided by a Queensland company. The next day I was the owner of Barz Optics' Straddie sunglasses and have used them on the kayak ever since. These are polarised sunglasses with a clear magnifying lens built into them. No longer do I have difficulties seeing the line to tie knots, and easily read the fine text on my GPS.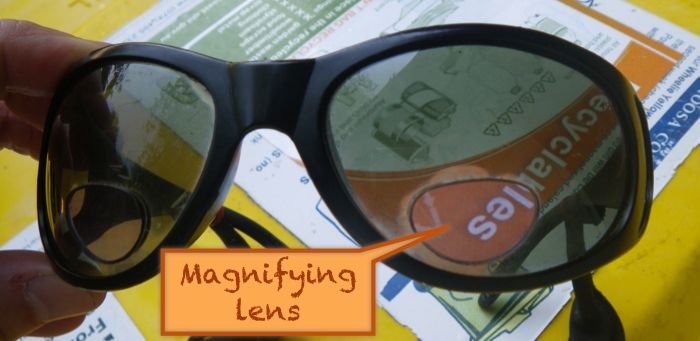 The sunnies displayed above are at least two years old, and are getting to the end of their lives as the plastic lens inevitably starts to deteriorate and the steel hinges corrode. But they are one of the indispensable items I carry on the yak. They cost around $75 plus delivery, but come with a neck strap that causes them to float and a zip up case which can be easily attached to your PFD.
Just google "barz optics" and take your pick. Kevin Barr, the owner of the business is a good man to deal with, I've found.
Kev (sunshiner)
---
The Committee
(in callsign order)








From left, daveyG, eyetag, gemini, jaro, jimbo, pedro,
richmond, sunshiner, turtleboy.