PUBLISHED 04Dec12

Hi Noosa Yakkers
This time last year we were just in the throes of establishing our Record Fish list. Richmond had raised his hand to take responsibility and I clearly recall the effort he put into writing the rules and learning how to establish the Record List online. What a great job he's done, and as you can see, by clicking on the link in the panel to the right, there's an impressive list of species. In case you weren't aware, these fish were all taken locally, attesting to the huge variety of fish available to kayak fishers here in Noosa.
For me personally a significant milestone disappeared into the past this month with completion and publication of my book,
Kayak Fishing Manual
. Numerous Noosa Yakkers appear among the smiling (mostly!) faces which shine out from the pages so I wish to thank all who cooperated, often posing in difficult conditions at sea, in creating the scenes used in KFM. Thanks, guys.
Now, if only the mackerel gang would turn up in numbers. As anyone who has paddled in the bay recently can verify, there's heaps of bait in there just waiting to be eaten. I just hope we get the first arrivals before I have to leave for family reunions down south in mid December.
Have a great Christmas, all. And take care, especially if driving long distances in the next month.
Happy yakking
Kev (sunshiner)
---

A fresh take on fishing around Noosa - Lake MacDonald
by Gemini
When the bay is choppy, the river is full of flotsam, and the lack of fishing is about to make you cry, don't despair my friend! There is still hope for you yet, and that hope lies on the fabled waters of Lake MacDonald.
"But that's an evil freshwater lake!" I hear you cry. It is indeed, but let me tell you why it is not to be dismissed so lightly. Within the waters of Lake Mac lurk some prized fishy specimens of the sporting order. Bass the size of D10 dozers, saratoga which could eat your family whole, yellowbelly armed with head mounted lasers, and the fabled Mary River cod with its magical powers of invulnerability…
…OK, so I might be slightly exaggerating (except for the Mary River cod, no take laws make that bit true), but the sporting nature of these fish is not to be dismissed.
Lake Mac is primarily a bass stomping ground, but as we have seen recently other species can be found there too. Bass are an excellent fighting fish on light gear, and strike hard on both surface and diving lures of many types (flies, poppers, spinners, minnows, SPs). If you're keen to try one in the pan, bass have a light flesh with an earthy freshwater flavour, but it really needs herbs or spices to complement it.
A healthy bass from Lake Mac.
What makes Lake Mac a great place to begin your freshwater fishing escapades, amongst other things, is the lack of nasty snags. The weeds (Cabomba caroliniana) of the lake are extremely soft, so getting your lure back in the event of a snag is a piece of cake. These weed beds are home to a large number of the fish found in the lake, and they are also visible on the surface making the finding of structure dead easy.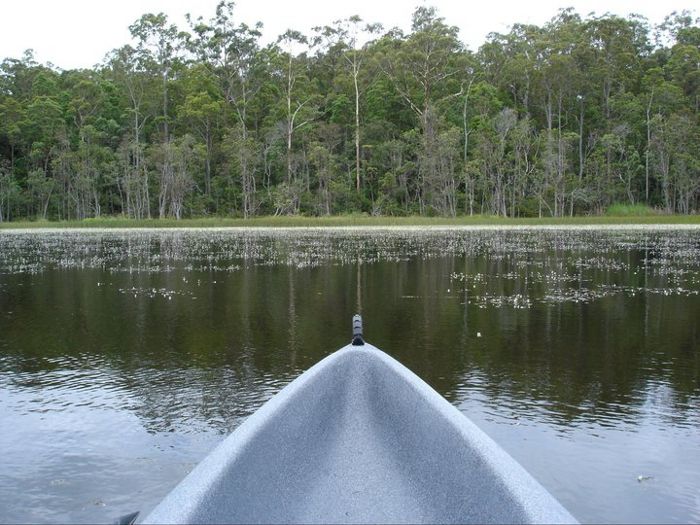 Here you can see the weed beds clearly.
The lake is most active at dusk and dawn. Surface lures in particular are best at dusk, as the insects are out in numbers driving the fish into a feeding frenzy. Overcast conditions are also beneficial, as the bass come out from cover when the sun isn't so bright. Cast along the edges of the weed and lillies and you can't go wrong!
Lake Mac can be fished in a few ways. The north side features the wall, bubbler, and the deepest sections. Here you will want a sounder, as there are many steep banks and depressions hiding the fish down low (up to 10 metres), and the weed is well below the surface. Deep diving lures are your best option, and during the cooler months the bass of spawning age will school up at the wall hoping to find their way downstream.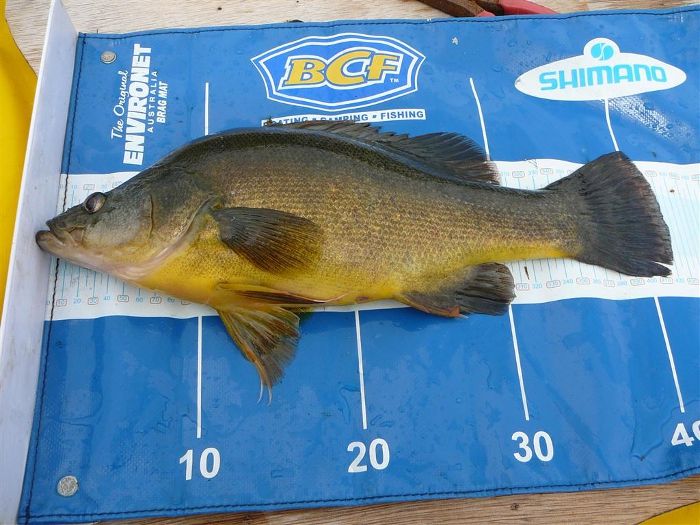 Richmond's yellowbelly.
Another way to attack the lake, and my preferred method, is to head in from the south eastern side. Here the lake is a yakkers' paradise. The water is choked with weed, only opening up narrow channels between the beds. Shallow diving lures can be cast amongst the weeds with near reckless abandon, as the snags are few (and trouble free). Every inch of the lake in this area could conceal a fishy surprise. This spot is relatively quiet and full of wildlife too, as boat props don't fare so well in the thick of it.
The three main launch sites can be seen on the map below.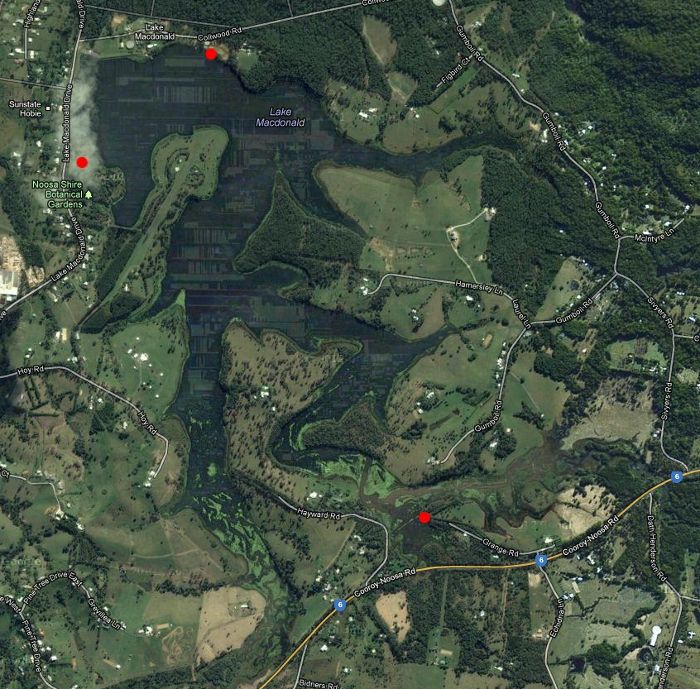 Lake MacDonald is a stocked impoundment. This means fingerlings of many of the fish species found there are released into the waters on a regular basis. A stocked impoundment permit is required to fish similar lakes across Queensland (Borumba for example), and can be obtained
here
.
The fees from your permit can be directed to your lake of choice. A stocked impoundment can also be fished any time of year, regardless of closed seasons applying to the target species' wild cousins. Lake Mac is also a petrol-engine-free zone; powered boats may only use an electric motor.

A Lake Mac saratoga.
Lake MacDonald is a prime spot if you're looking at trying freshwater fishing for the first time. Between the wildlife, the scenery, and the fishing, you're always guaranteed a great day out.
Matt (gemini)

G'day Noosa Yakkers,
I was kept rather busy over the month of November with 11 amendments to our record list. Whew! Does this mean we'll have 12 amendments in December? :)
We started off the month with Gemini putting in a claim for our first Saratoga. This fish was barely legal at 50cm, but then Matt chimed in again with another 'toga, smashing his record and nailing a lovely 72cm fish. Nice, Matt.
Richmond had a successful night trip during the month, claiming a bait sized Tailor of 42cm and he also upgraded the Mangrove Jack record to 50cm. The Jack record was previously held by Eyetag who upgraded from 46 to 49cm in the month of November, prior to Richmond's 50cm fish.
The Grassy record was another that had a few changes over the month. Jag-One's fish of 59cm was eclipsed by a great fish from Jaro at 61cm. This record didn't last long as Jimbo nailed a thumper that stretched to 63cm. Great fish Jim, how big can they get?
The humble Dusky Flathead record has also seen a number of changes this month. The record went from a 69cm Carlton fish to a lovely 79cm fish from Tiberium, to a cracking 83cm fish, also from Tiberium. Very nice flattie Izak, well done, good job on the release too.
Tiberium also upgraded his Whiting record from a respectable 31cm fish to a real corker that went 42cm in length. Big fish in anyone's book, an elbow slapper for sure.
It's all about Tiberium this month though as he scored a prized Barramundi on the troll. It's closed season on Barramundi, so this fish was promptly measured and released straight away to continue life. The Barra was measured at 72cm, not a big fish, but a bloody good one!
Well done Izak, you've had a top month mate.
That's it for November, may December be as fruitful.
Tight lines, screaming drags and may you all have a "Safe and Merry Christmas", ho ho ho.
Jeff (Richmond).

November 2012 was a great month for the Noosa Yakkers for a number of reasons.
By comparison to October's appalling weather, November's wind intensity dropped and baitfish started to appear in volume in Laguna Bay, on Sunshine Reef and in the Noosa River. As a result, the number and variety of fish landed increased significantly. Noticeably, the snapper started to come on the bite, which is considered later in the season than usual by some of the older local fishos.
We also held our first Noosa Yakkers surf skills and safety day, run by DaveyG. The conditions at Noosa West Beach on the 10th November were rough and tough to say the least. More about that later.
For the month of November last year, we recorded 10 trips with Snapper and Grassies being the major species caught. By comparison, November 2012 recorded a total of 18 trip reports and a much wider variety in the categories of either "in the boat" or "the one that got away". The variety landed included Sweetlip, Snapper and Cobia in the open water, Bass and Saratoga in the lake and BigEye, Mangrove Jack, Whiting and Flathead in the river.
Doc Dog laments his Longtail Tuna loss as shared with us in his "Lessons Learned Trip Report", only to be outdone by Gemini who was "Slimed by a Saratoga".
We also had a number of record claims during the month. For specific details, please refer to the RRR - Richmond's Record Report.
Pics of the Month.
Whilst I had a number of fish and panoramic shots to choose from, I have selected photos from our inaugural surf skills day. Take a look below, I think you get the picture.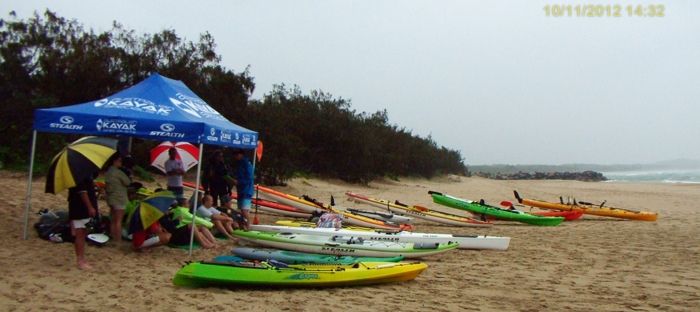 The scene. A big roll up.

A snapshot of the challenge ahead.
Here's DaveyG giving the group the pre-launch pep talk.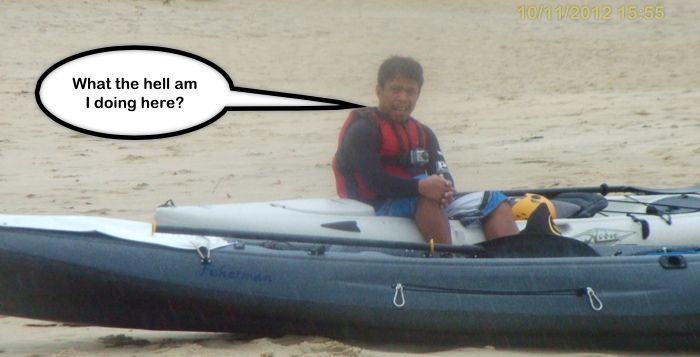 Stormin, taking a well-earned break after wrestling with the monster.
All jokes aside, everyone who attended that day agreed on the need for observing the fundamental water safety rules and to regularly practice our surf skills.
A big thanks to DaveyG from all of us for organising the first of what we hope will be a number of member days in the surf. Thanks also to the Stealth guys for attending and providing equipment.
Whilst writing this report, my wife Kerrie has just returned from an evening walk at North Sunshine Beach where there are 500+ sea birds working about 400 metres offshore. December is going to be a cracker.
Until next month,
Turtleboy.
---

Kayak Surf Day Overview
by DaveyG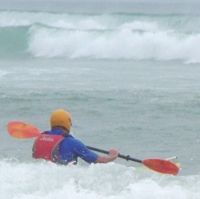 Approximately 12-15 Noosa Yakkers attended the recent surf day held at Main Beach Noosa. Conditions were as bad as they can get with a nasty 3-4 foot shoredump, raging current, heavy rain and strong wind. Despite the atrocious conditions, most yakkers got out in their kayaks and experienced what it feels like to ride a wave (or be ridden by one).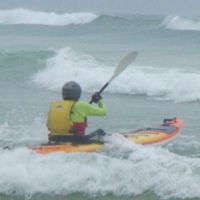 Lesson started with an overview of the day and participants were reminded of how to prepare in order to minimize the potential for risk in surf conditions. There was a focus on individual preparation (fitness, swimming ability, mental preparation, surf awareness etc) kayak preparation (de-cluttering, removing tangle hazards, ensuring no loose or broken gear etc) and pre-launch preparation (identify rips/sandbanks, check weather forecasts, assess type of waves etc).
The lesson then moved onto technique for paddling out through whitewater, breaking waves and unbroken waves and the technique of surfing back to the beach was also discussed. Key points to remember were: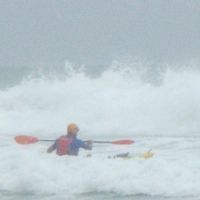 Paddling Out – locate breaking wave (impact) zone and avoid at all costs. Wait for lull in set of waves, back paddling may be required. Once committed go as fast as possible, momentum will help your kayak crash through or go up and over the waves. Keep the nose pointed directly at the wave at all times and ensure you use the paddle for balance when cresting the waves. Do not stop until well clear of breaking waves and you have reached the safe zone in deep water.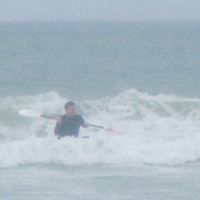 Paddling/Surfing In – watch and time the sets and ensure other water users are not in your intended path. If waves are small and rolling you can easily catch the unbroken wave and ride it to the beach by rudder steering and keeping your speed up via paddling hard. If waves are larger and dangerous try to ride the back of the last wave of the set and paddle hard to get to the beach before the following wave overtakes you. As much speed as possible will help keep the nose straight, using your paddle and rudder to steer or create drag will help you avoid broaching. In broken waves most kayaks will spear sideways at some stage, so be prepared. When this occurs lean towards broken wave and brace with the paddle on top of the whitewater. If you are in danger of getting too close to the shoredump, bail out on ocean side of kayak and swim to safe zone.
Kayakers should buddy up and keep an eye on their mates and remain with them until they are in the safe zone. Kayakers should also have a back up plan if all goes wrong – eg knowledge of first aid and access to kit, communications equipment to call for help, etc.
Some of the following exercises were completed during the surf session:
Identify safe paddle out zone
Ensure relevant safety wear is used (pfd, helmets)
Buddy up into smaller groups and proceed one at a time through surf zone
Paddle into, over and through breaking and broken waves
Paddle backwards/retreat from wave
Catch unbroken wave and rudder/paddle steer
Low brace technique
Turn around in surf zone
Capsize and remount yak in surf zone
Swim with yak in surf zone
Practice
Let's do it again next year!
DaveyG

Hi Yakkers
November is done and dusted, and the long stretch of Christmas-related mirth at the end of the year approaches. Very soon the pelagics will return to entertain us, and this is something I'm sure is not lost on our new members. This month we have had four new additions to our roster, and along with the returning Swabio, our numbers now total 77. At the current rate of additions, we're likely to see our roster swell to over 100 in 2013. Not half bad for a loose knit group of kayak fishermen!
Now, over to our new members for November…
Ross Maxwell
41 yrs old and in real estate, Ross has purchased property in Sunshine Beach and will be moving up in January. Ross doesn't have a lot of experience with kayaks, but he is very keen to sample some of our offshore fishing. As yet Ross hasn't picked a nickname, but I'm sure he'll do so soon as he really doesn't want us picking one for him... :)
Darryl Gibson (Dargib)
Darryl is 59 yrs old and lives at Springfield in Brisbane. Both Darryl and his wife Janet enjoy kayaking, although Janet isn't into the fishing part. He works in the oil and gas industry on offshore oil rigs as a Maintenance Manager. Darryl owns a Hobie Oasis, and is a member of the AKFF forums using the nickname "dargib".
Andrew Pannifex (Panno)
Andrew is 44 years old, a property valuer by trade, and has just moved here from Lake Cathie near Port Macquarie NSW. He has yet to fish offshore in a kayak, but paddles surf club skis occasionally. Andrew has a small fishing kayak he has used for bass fishing in mid-north coast rivers, but will be obtaining a Stealth for offshore here in Noosa.
Graeme Higgins (Gwicko)
Hailing from Yaroomba QLD, 43 year old Graeme is a Deckhand Boilermaker on a dredging vessel. Graeme owns a fully kitted out Viking Profish 45 (including bilge pump), and has made a few exploratory trips offshore from Coolum and Noosa already.
A big welcome to all the new members this month!
Cheers!
Matt (Gemini)
---
The Committee
(in callsign order)








From left, daveyG, eyetag, gemini, jaro, jimbo, pedro,
richmond, sunshiner, turtleboy.