PUBLISHED 1st Jan 2013.

Hi Noosa Yakkers. I hope you have had a relaxing break over Christmas as we all look forward to a safe and successful season of kayak fishing in 2013. We achieved some major milestones in 2012 in the areas of our membership, documented trip reports, skills upgrading and our ongoing regular communication on a variety of topics to our members and the public in general via the now world famous Noosa Yakkers Blog.
Apart from Australia, our readers reside in regions and countries including North America, UK, Russia, Europe, New Zealand, Singapore, Hong Kong, South Korea and Malaysia. To date we have had in excess of 24,000 hits on this site and 34,000 trip report page reviews.
At the end of this report you will also notice a new face in the committee mugshots, that of Mark ( doctor dog). This is as a result of Richmond and Mrs Richmond ( Jenny ) deciding to relocate to their property in Tasmania and with Mark offering to assume Jeff's role as keeper of the record claims.
So Yakkers, if you see Richmond on the water during January, don't forget to paddle over and wish him all the best.
Jeff, on behalf of all of the members we want to thank you for your significant contribution in creating the record fish rules and records and for being an active committee member and paddler. Your contribution and friendship will be sadly missed. Wishing you all the best and Go the Tigers 2013 !
That's it for the introduction, now sit back and enjoy the news and our special article on water video.
Happy yakking, Steve ( Turtleboy )
---

Hi Hookers, 2012 has been a pretty good year for Noosa Yakkers, no doubt about that. In fact I'd say it has been a watershed year for us. No doubt about that either.
It has been a pleasure and a privilege for me to have been involved in the implementation of the new Noosa Yakkers Record Fish list. As most of you know, I will be moving on to Tasmania and will be reluctantly giving the position of Record Officer away. This position has been filled by Mark Powell aka Dr. Dog who I'm sure will do a sterling job, good luck with it Mark. Please send all 2013 record claim submissions to Mark's (Dr.Dog) email address which is powellmw@bigpond.com
Ok, now for Decembers record changes.
We had 4 alterations to our record list, 3 updates and 1 new addition. The new addition was one of Stormin's 2 claims for December. His new record was an Australian Bonito that measured 50cm on the mat. Stormin also produced the fish of the month also with an upgrade of Richmonds Yellowfin Tuna. Stormin's fantastic Yellowfin went a very respectable 109cm. Congrats Norman, well deserved.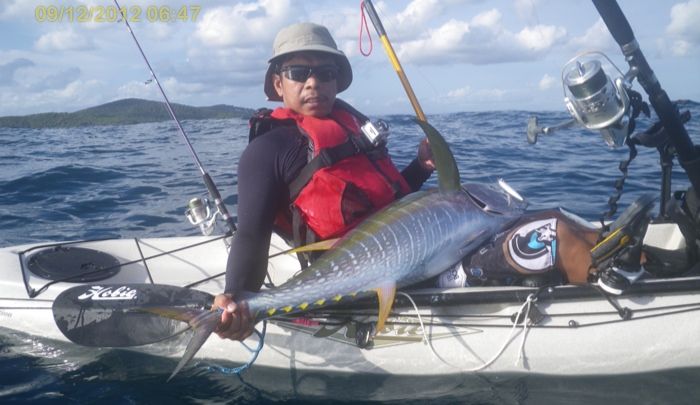 Stormin' Norman's Yellowfin Tuna. Photo courtesy of Sunshiner.
Richmond lost another one of his records, this time to Eyetag who produced a beautiful Mangrove Jack of 53cm. Nice fish Ian, great job mate. See Eyetag's Mangrove Jack photo at the end of TurtleBoy's Fishing Report.
Sunshiner thought he'd get in on the business too with his upgrade of the Spotted Mackerel record. Kev's fish was measured at 87cm which was 4cm bigger than the previous record. Well that's it for me guys, have a great 2013 and may you catch heaps of good quality fish.
Tight lines and screaming reels, Jeff (Richmond)
---

Hello Yakkers, Typically, there is an increase in membership applications in December as people turn their focus to recreational activities over the Xmas/NY holiday period, and this December has been no different. There has been five new applications for Noosa Yakker (NY) membership in the past month, but unfortunately only three of these new applicants have confirmed their initial requests for membership. In addition, two ex-Hookers who have asked to be reinstated as NY Members. This last sentence requires some brief explanation.
Shortly after the Noosa Yakkers group started, about 6 years ago, we had to develop two email distribution lists, ie, the "Lookers" who only wanted to read the entertaining fishing reports, and the "Hookers", who, in addition to wanting to read the fishing reports, also wanted to be included in the "email ring" associated with organising the next fishing trip. After the suite of NY blogs were developed during 2012, including the NY Fishing Reports blog, a separate distribution list of "Lookers" became unnecessary, as anyone (in the whole world!) could access the latter blog at any time. So in September, the "Lookers" email distribution list was deleted and the remaining "Hookers" were converted to simply, NY Members. At that time the committee also reviewed all the remaining Hookers/Members, and deleted anyone who had not participated in a fishing trip, or had not made any contact in the past 6-9 months. Inevitably, there were a small number of ex-Hookers who were deleted in that process, but have since made contact and have been reinstated as NY Members. That includes Richard Swaby (Swabio) last month, and Sam Boulden (Scater) and Iain Gibson in the following list of "new" members. We now have a total of 82 NY members.
So, to the new members for December ...
Scott McIntosh (Lazybugger)
Scott is 40 years old, lives in the Brisbane suburb of Mitchelton, and works as a tax accountant for Rio Tinto. Scott has 6-7 years kayak fishing experience and goes under the AKFF name of Lazybugger (which might give us a little insight into his fishing prowess). He has a Stealth Evolution 495 fitted with a sounder/GPS combo and he also has a VHF radio. Scott was lucky to score his first (ever) two spotty macks on his first fishing trip with NY early in December.
Sam Boulden (Scater, pronounced "Scatter)
Sam is a 31 year old experienced kayak fisho who originally joined NY as a Hooker in June 2010, but was deleted in September this year as part of our Hooker/Looker review. Sam is presently engaged as a contract teacher in Aurukun in far North Queensland, and can normally only fish with the NY during school holidays when he returns home to his family property in Cootharaba. Sam has a Viking Tempo Fisherman, however he (sensibly) uses his Quintrex tinny when fishing for barramundi in FNQ due to the prevalence of crocodiles. Sam is also a very handy golfer (has played off a handicap of 7) and is looking to return to Cootharaba permanently at the end of this year (2013).
Josh Harris
Josh is a 21 year old from Chancellor Park (Sippy Downs) and has just completed his third year as an electrical apprentice. Although a keen fisherman, Josh has only recently ventured into kayak fishing with a couple of trips out to Brays Rocks off Caloundra in his Perception Swing. Like most new recruits to off-shore kayak fishing, Josh is keen to start chasing pelagics in Laguna Bay (as are all the NY!).
Iain Gibson
Like Sam Boulden, Iain originally signed on as a NY Hooker about mid 2010, but was deleted as part of the Hooker/Looker review in September. Work assignments away from home in SE Qld over the past year have prevented him from being able to be involved in kayak fishing. However, he is now back home for a short period and is welcomed back as a NY Member.
Soren, Lisbeth & Emil Vejby
This is a great first for the Noosa Yakkers ... our first family unit membership! The Vejby (pronounced VeBe) family live in Tewantin and have a keen interest in cycling. Soren works in the building industry, and together Soren and Lisbeth own the Suncoast Foam & Rubber store in Noosaville. Soren, like me (Jimbo, 6 years ago), was interested in finding some upper body exercise to compliment his recreational/competitive cycling activities. At the same time his younger 15 year old son, Emil, was wanting to expand his interests in fishing. A casual conversation between Soren and me on a recent morning training ride must have reinforced Soren's ideas about the benefits of kayak fishing as a family pursuit. Long story short, the Vejby family have now purchased two OK Prowler Elite 4.5 kayaks together with some additional fishing gear, and Soren and Emil have already had a couple goes in the Noosa River estuary. Once the new kayaks are fitted out for off-shore fishing we look forward to having at least two members of the Vejby family out in Laguna Bay together at the next weekend/weather opportunity.
One final note ... As most NY Members would now be aware, we now utilize the Googlegroups application for group email communications. It is worth noting that if any member knows they will not be able to be involved in any NY activities in the coming months, and don't wish to be plagued with all the usual email traffic, just let us know and we can "disconnect" you within the Googlegroup application from receiving all the emails, but you will remain a NY Member. Just let us know when you wish to re-join the "email ring" and we can "reconnect" you immediately.
Until next month ... Jimbo
---
Special Article, Video on the Water -
How to prove your tall tales about the one that got away,

by Gemini
With technology becoming cheaper almost every day, it was a given that good quality waterproof cameras would one day become accessible to all. The time has now arrived where you can back up those tall fishing tales with high quality video evidence for a budget price.
It used to be the case that still cameras (capable of taking video) within a waterproof housing were the weapon of choice for water adventures, but in recent times the dedicated "sports camera" has moved onto the scene.
Sports cameras ( such as GoPro ) are designed to survive a harsher environment than your typical point and shoot camera. Bumps, drops, knocks, moisture, and high acceleration, are well within the operating scope of these devices. Designed for a multitude of high impact activities (diving in sea and air, skiing, motorsports etc), these cameras will quite happily ride along in your kayak without skipping a beat.
Positioning your camera is a matter for your imagination. Most sports cameras come with a wide range of mounting attachments, giving you almost limitless options for the taking of creative video. Up high on a pole, down low facing your person, in the water, on your body. Make it fun and exciting for your audience. Some sports cameras even have remote controls so you can mount your camera in hard to reach places.
The range in sports cameras varies a little, but most have a fairly standard feature set. High definition video, slow motion capture, still photo capture, and time lapse. Most of the time you'll be using the high definition video setting, but the other features can be useful in the right situation. A time lapse of your day out rather than segments of video may be a novel change for example. Be aware that the battery life of these devices will be unlikely to last your full day on the water. Quite often you will only sustain 2-3 hours of solid use from the device, which means you need to pick and choose your captures carefully. Additional batteries for use as spares are available, but you will need to open your waterproof casing to install them, and on the water that's not advisable. Memory size could also be a potential issue. Try to use the maximum size card your camera will hold, as memory cards are fairly inexpensive. This will ensure you always have enough storage available for your day of fishing, particularly if you plan to use the time lapse feature.
Capturing your video is just the first part of the digital fishing adventure. Editing your video is the second, but requires a far more in depth analysis than I have time for this month.
Stay tuned for more at a later date... Cheers! Matt (Gemini)
---

Hello Again,
We finished the year with 139 recorded trip reports which is up by 50% over the same period for 2011. The month of December (15 trips in total ) started with high expectation due to the large amount of bait in the bay and surrounding reefs during November.
The best days for pelagic action were the 8th, 9th and 10th where Dugout, Pedro and Wendy, Stormin' Norman, Sunshiner, Tarzan and his Dad and LazyBugger all scored. After the 10th however, things quietened down a little and although there continued to be plenty of fish on the sounders, they weren't necessary biting.
The next highlight came on the 16th December when the sand monster came out to play claiming a boat at the river mouth and making life a little interesting for our members at MG as shown below by Scater's brother.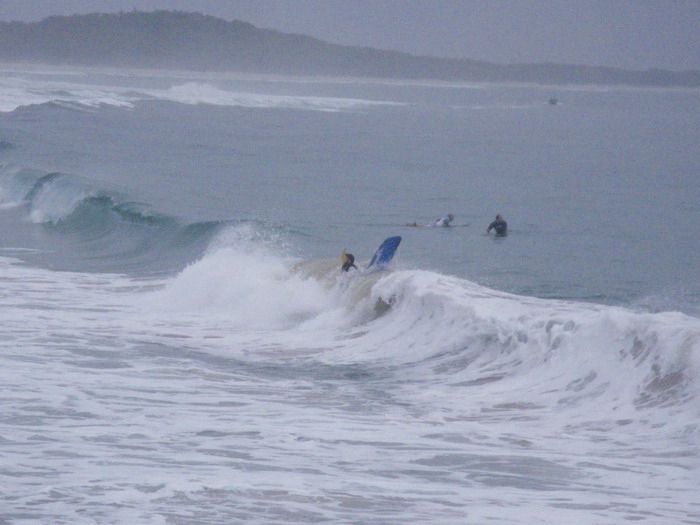 Scater's Bro faces the sand monster. Photo by Eyetag.
The final catch on the last day of year, being a 53 cm new record Mangrove Jack, was recorded by Eyetag.
Shot taken near the capture point. Photo courtesy of Fishingnoosa.
Well, that's it folks for 2012.
Until next year, TurtleBoy.
---
The Committee (in callsign order)









From top left, daveyG, doctor dog, eyetag, gemini, jaro, jimbo,
From bottom left, pedro, richmond, sunshiner, turtleboy.