Base pic: Sunshiner, Noosa Yakkers at Jew Shoal 24Feb13
PUBLISHED 04Mar13

The fishing highlight of February for me was the inaugural AKS Offshore Comp at Stradbroke Island. Its success, despite the crap weather, shows that kayak fishing in Australia has passed a milestone and is gaining greater acceptance by the amateur fishing community. Several of us from Noosa who attended had never been to Straddy before and all were amazed at the kayak fishing potential of the place, with great launch spots, beautiful beaches and access to some prime fishing grounds which rarely see anglers. While there we agreed that we would get back to it as soon as we can; just need to pick a good weather window. Travel time to the ferry is less than two hours, caravan park cabins are available at reasonable rates, and we already have the ability within Noosa Yakkers to organize such a trip. Look out for it some time this year. And start planning for the comp next year. It's a great opportunity to try yourself out in unfamiliar waters.
Our TR about the event
here
AKFF TR about the event
here
In the meantime, the pelagics are out there, and the river will offer great fishing once it cleans up so get ready to hit the water.
Kev

Hello Yakkers, Well we were all hoping for better fishing in February but unfortunately the conditions continued to "rain on our parade".
The boys (Carlton, Tiberium, Eyetag, Tunny and Panno) kicked off the month with a Friday night paddle around Noosa Sound, the Woods Bays and up into Weyba Creek. It rained pretty hard that night and although there were some large hits, no notable catches were recorded.
Gemini hosted a few tours of Lake McDonald, with Bass being the main target. A beautiful photo below of Lisbeth, with Emil in the background, courtesy of Gemini.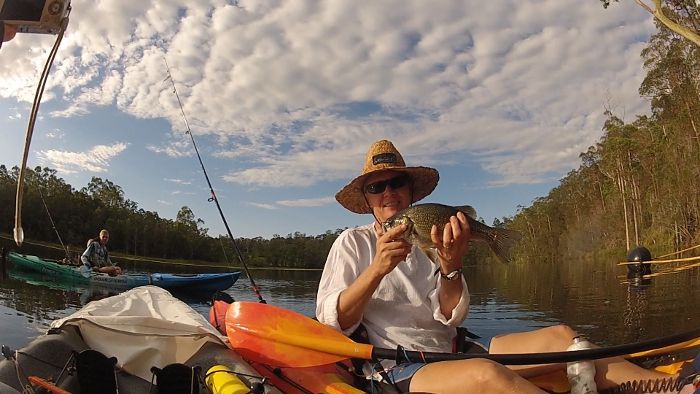 Gemini also reported a platypus sighting and managed to capture this on the video below.
For our overseas readers, the platypus is a monotreme of unique significance. Click
here
for more details.
The next major event in our calendar, whilst outside of our usual fishing grounds, was the first Queensland offshore kayak fishing competition which was held on North Stradbroke Island. Yes, it continued to rain, but that didn't stop a contingent from Noosa Yakkers heading south for the event and Eyetag from landing this fantastic spangled emperor.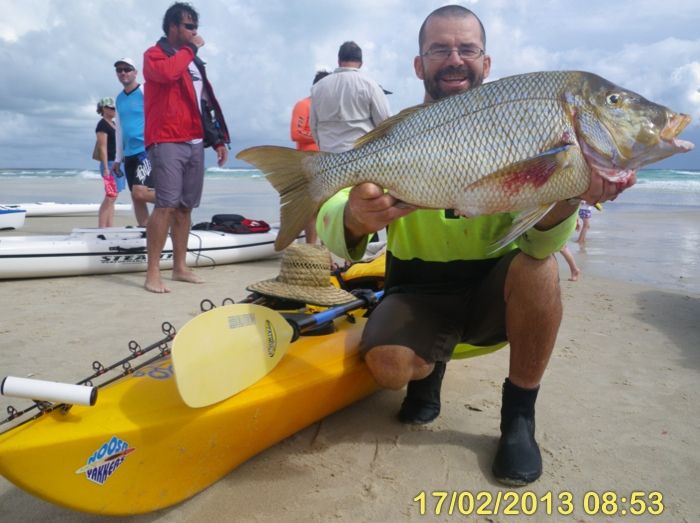 But the catch and photo of the month has to be Jaro's longtail tuna caught back home in Laguna Bay. Well done Jaro, plenty to smile about!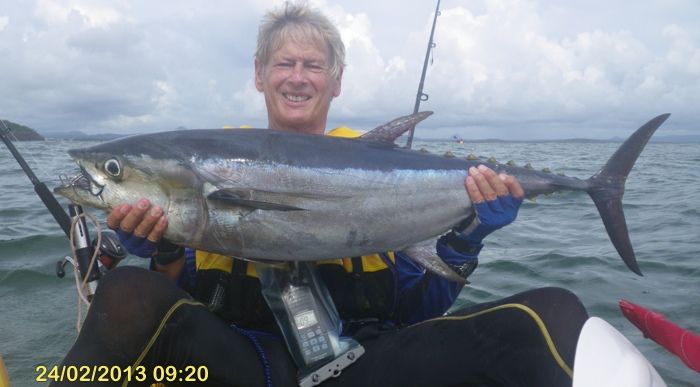 Well that's about it folks, until next month
TurtleBoy
---

Hooked up, unpleasantly
by gemini
Kayak Fishing. There are a few dangers associated with the sport, especially offshore, and taking precautions is always something each yakker must do prior to heading out. But what about those random accidents which any angler could experience, the ones we all dread happening to us one day? I am of course referring to the human hookup.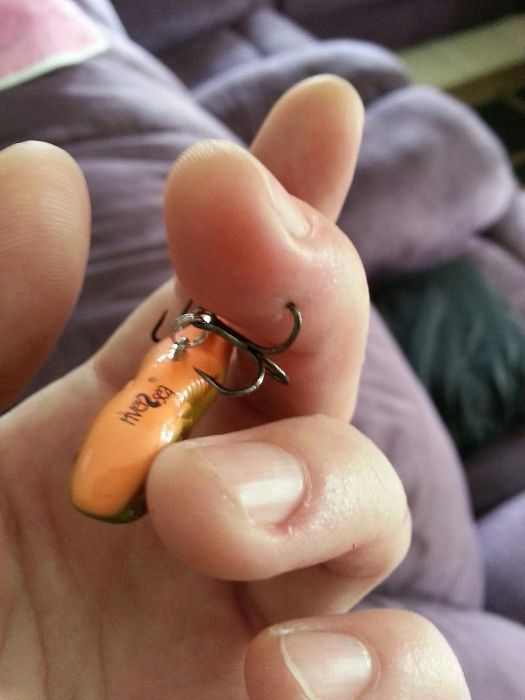 A hook penetrating your flesh past the barb is not a pleasant thing. Not necessarily painful, but uncomfortable and troublesome. On-shore things are much easier to deal with, but off-shore it could turn dangerous quickly. Imagine trying to paddle back from Halls Reef with a 5/0 treble embedded in the palm of your hand. Not a pleasant thought. Even the most careful angler could be brought unstuck by a frantic fish thrashing around with a mouth full of hooks (an excellent reason not to de-hook fish with your bare fingers).
Self-removal of a hook embedded in your body, especially larger hooks, is not advised. There are methods to go about this if the barb is just below the skin, but seek advice from an expert before putting this into practice. A lot of anglers know this trick, but I won't detail it here (mainly so you can't sue me if it all goes horribly wrong). The best thing to do is immobilise the hook once removed from your line (or fish if it's still attached). Strap it flat if possible (not always possible, but have a bandage/rag handy just in case), so it won't catch on anything as you move around. I can't comment on large hooks, but smaller ones can be rotated without much pain to position them in a better angle to manage. If it's a lighter gauge treble, it may also pay to snip off the extra barbs with pliers so you don't get further grief from it.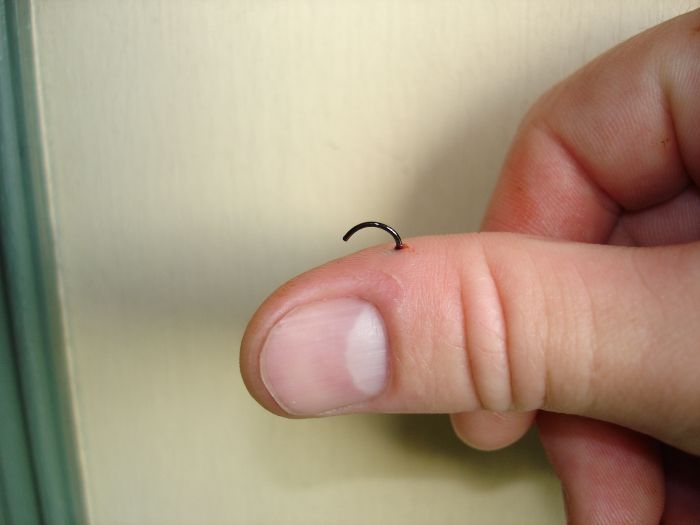 Treble barb snipped off with enough length to use for removal.
Nursing your brand new piercing back to shore needs to be carefully assessed before proceeding. Will it prevent you paddling effectively? Will it cause more damage if you roll on re-entry? Can you walk on it? Can you pack up your kayak despite the injury? It may be necessary to call for assistance if the penetration is bad enough, so have a good think before proceeding back to shore. Another good reason to have a radio or cellphone handy.
Also be aware that the smaller the hook, the more likely it will bite you. Less surface area on a small hook tip means the penetration can occur with a lot less required force than their larger counterparts… something I've found out about a couple of times now. It certainly makes you think hard about crushing your barbs after it happens!
As always, being mindful of your surroundings and taking note of where your hooks are at all times is good practice, but accidents do happen. Stay calm and swear a lot… it helps. :)
---
Is yours big enough?

The pic above clearly shows that most measure mats are inadequate for some of the fish we catch. That pic was taken on 28Sep12 at Middle Groyne. My ageing 110 cm AKFF mat (the largest I could get several years ago) proved inadequate, as it has done on several occasions over the years. Fortunately, stormin had a tape measure in his car glove box to establish the length of the longtail at 124cm, a new Noosa Yakkers record.
Noosa Yakkers and AKFF member Trevor Gynther (kayakone) is the organizer of the production and sale of a new AKFF measure mat, in two sizes, the larger being 140cm. There are several improvements to the design also. The price is reasonable and a purchase through AKFF helps it to continue its great work in acting as a world wide ambassador for Australian kayak fishing.
You can read about the measure mats
here
. If a member of AKFF you can order your choice through kayakone via that thread, and if not you can simply
email
kayakone.

Wow, how about this weather huh? Not only has it limited our fishing expeditions, but it seems to have scared away our membership applications too. With only one new member this month and a couple of losses, the total membership numbers stand at 86. I hope we didn't lose anyone due to the rain… it's not our fault, I swear!
With the change of seasons upon us hopefully the weather will settle down again so we can all enjoy getting back onto the water. More time spent on the water generates more fantastic trip reports, which in turn should generate some membership interest. So much for summer, but we still have the rest of the year ahead of us!
Now, onto our lucky solo recruit for the month…

Dave McGregor (Sprocket)
Dave is a 46 year old fencer from Yandina. An invitation to join Noosa Yakkers was extended to Dave after meeting a few of the guys at the Straddie Offshore Fishing Competition. Dave has 5 years experience with yak fishing, and owns both a Prowler Elite and Hobie AI. On AKFF you will find Dave lurking under the nickname "Sprocket".
Cheers!
Matt (Gemini)

No new records this month, understandably. Besides, I'm on a sailing boat doing a Matthew Flinders on Tasmania. Still able to receive claims, however, and should be home by the end of March.
Tight lines
Doctor Dog
---
The Committee (in callsign order)









From top left, daveyG, doctor dog, eyetag, gemini, jaro, jimbo, pedro, sunshiner, turtleboy.