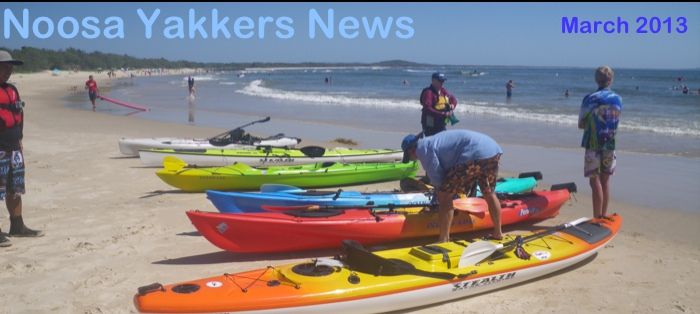 Base pic: Sunshiner, Noosa Yakkers at Middle Groyne 17Mar13
PUBLISHED 03April13

Hi there yakkers
Although I'm writing this in Sydney I plan to be back in Noosa by the time it's published, just in time for the next bout of wild weather, as gemini pointed out to me in an email today. Ah well, as I'm not planning on leaving Noosa during April, I'm trusting that the more stable weather we normally get around now will kick in and I'll get myself a mac (fingers crossed) before the month is out.
During my two day stay at Woolgoolga in late March, the flexibility and plain practicability of a fishing kayak was emphasised for me. As someone who has owned quite a few stinkies over the years I feel I can speak with some authority about how good a fishing kayak is. There we were, cruising down the highway, yak on the roof. Unlike cars with trailers attached, we had no worries about parking or whether the trailer wheel bearings were going to last the distance. Once at the Woolgoolga caravan park where we'd booked a cabin I was set up to fish within minutes. In two days I launched straight off the beach four times and was in snapper catching territory within 15 minutes or so of launching. Near where I put in there was a concrete boat ramp which terminated well short of the water's edge. Several locals used this launch facility but every launch and recovery was accompanied by a great deal of stress and stuffing around, and in some cases involved getting the wheels of some very expensive 4WDs onto the soft sand and wash on the water's edge, even with a very small surf break. Reminder to self: be very cautious about buying a second hand 4WD with a tow bar.
Anyway, I just loved dropping my yak off onto the beach, slipping it quietly and effortlessly into the ocean and paddling sedately out. Admittedly, I was passed by said stinkies once they had safely launched but the fishing results at the end of the session were very favourable for the yak. So cherish your yak and remember the old adage "Distant fields always seem greener".
Anyway, enough from me. Here's to a great fishing April in Noosa (after the first week anyway ;-).
Oh, and by the way, with this issue (the 13th), Noosa Yakkers News enters its second year. Well done to all involved, and don't forget that we welcome relevant contribution of content from anyone, even you!
Kev

Hello Yakkers, For the first month in a while we actually exceeded the previous year's number of reported trips in the month of March with 14 reports this year versus eight in 2012, with most of the activity occurring in the last week of March.
Conditions in general would be described as average and the MG sand monster certainly came out to play on a few occasions. We also had reported sightings of turtles and a sea snake. Jaro seemed to attract sharks to his bait and was often heard cursing them on his radio updates.
The range of species caught included spotties, grassies, snapper, bass, shark, cod, longtail tuna and WhaleBait's monster Spaniard, photo courtesy of Bill Watson below.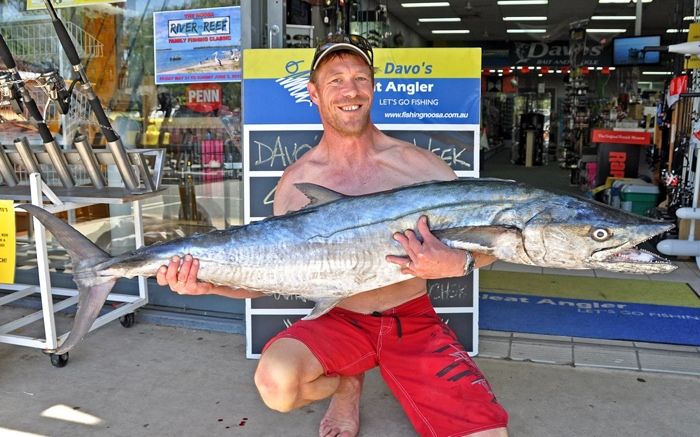 Possibly the best two days out were the 25th and 29th where Yakfinn, Jimbo, Tarzan, Soren and Emil did well.
Photo of Emil, courtesy of Soren.
Well that's about it folks, until next month...
TurtleBoy
---

Blog Stats Update
by Sunshiner
Our TR blog is well established into its second year and I thought you might be interested in finding out how much interest, world wide, it is generating.
Trip Reports Blog, Overview, as at 02Apr13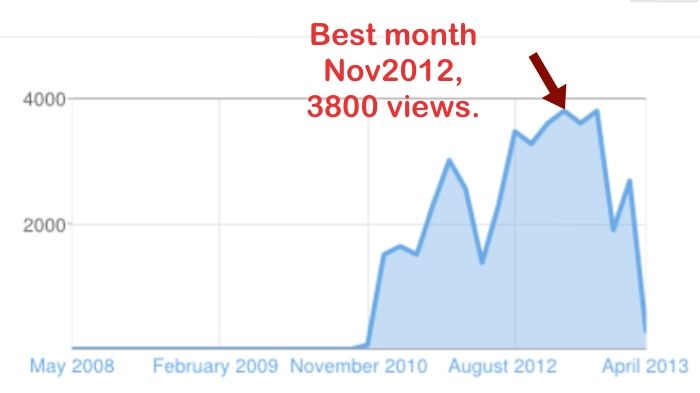 All time monthly peaks of activity, since the blog was properly established in February 2012.
More and more interesting TR = Generally more viewers.
Best months, averaging over 100 views per day
Trip Reports Blog, Audience, all time, top 10 only, as at 02Apr13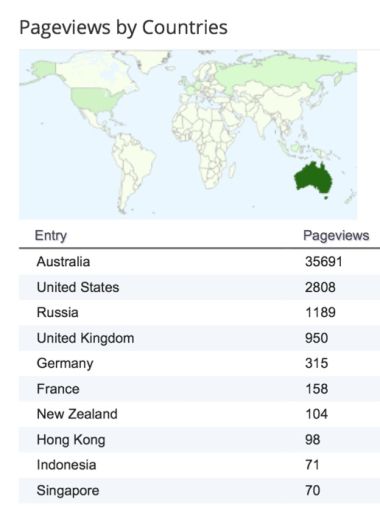 The interesting thing I find about this graph is the significant number of viewers from US and UK. These visitor numbers seem to be consistent, and possibly the same individuals coming back time after time because quite large percentages from these countries appear every month, more so in the last few months.
Noosa Yakkers Main Blog, this blog, Overview as at 02Apr13
Similar pattern to Trip Reports blog, but slightly less activity
Noosa Yakkers Main blog, Audience, all time, top 10 only, as at 02Apr13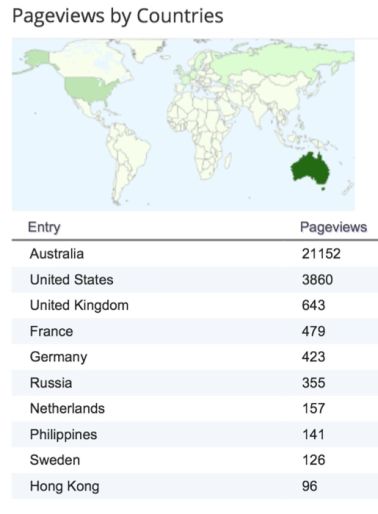 Note that visitors from the US appear at a greater rate than on the Trip Reports blog.
So, if you're not a Noosa Yakker and you're reading this, WELCOME! And particularly so if you're from outside Australia.
Kev (sunshiner)
---

Autumn has rolled into view, and with it has come some better fishing conditions. I think quite a few of us were starting to bounce off the walls from being cooped up due to the weather. When the Mrs TELLS you to go fishing, you know there's something wrong... :)
Although the weather has been improving, memberships were still fairly slow this month. Two new additions and a loss bring our numbers to a total of 87. Our latest crop of fantastic trip reports have started to circulate, so this in turn should generate some interest (hopefully before the cooler weather kicks in).
Some of you may receive an email about joining the mailing list again soon. I am doing some housekeeping behind the scenes to do with how the names are laid out in our core list of members. The system currently doesn't allow me to change the names and emails of existing members, so I have to remove the account and add it again. It's nothing to be concerned about, and you don't need to do anything, but I thought I'd best give you all a quick heads up first.
Now, on to the new recruits for this month!
Paul Anderson (Salticrak)
Paul is a 45 year old farmer from Palmwoods. He has been yakking for 13 years and owns a Prowler, Hobie Adventure Island, and a Stealth Profisha. Paul is also known as Salticrak on AKFF.
Justin Mason (Pee Wee)
Hailing from Noosa Heads, Justin is 37 years young and works for OzCare. He has a couple of years experience in kayaks, but made the switch to a 14 foot tinny some 10 years ago. Justin currently has no yak, but is very keen to come down to the beach and ogle our setups so he can make his purchasing decisions post haste.
Cheers!
Matt (Gemini)

There has been only one fish submitted to me this month for consideration as a species record and that was Whalebait's (Brian Templeton's) Spanish Mackerel.
Superlatives abound when discussing this capture so it is best I let Brian report it in his brief understated initial email which is duplicated in a post on the TR blog
here
. I saw Brian on the water five days later at the end of a fishless paddle but he still had that "Spaniard Grin" from ear to ear.
Needless to say if you inspect the Record Fish Blog
here
you will find the Spanish Mackerel record has been amended to include this beast of a fish.
I couldn't help but notice that at least one AKFF-reported snapper catch at Mooloolaba by new Noosa Yakker sprocket this month would have broken the existing Noosa Yakkers record snapper had it been properly claimed. If you are unaware of the Record Fish list perhaps it's a good time to familiarize yourself with it and the rules for making a claim. Read all about it at the link in the previous paragraph.
Tight lines
Doctor Dog
---
The Committee (in callsign order)









From top left, daveyG, doctor dog, eyetag, gemini, jaro, jimbo, pedro, sunshiner, turtleboy.