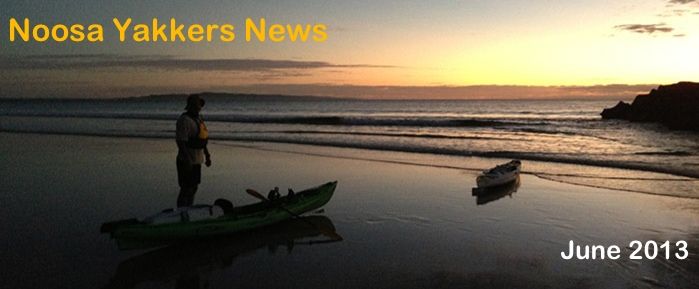 Base pic: Redwood. Winter launch, 16June13, at Middle Groyne
PUBLISHED 04Jul13

Hi there yakkers
Travel broadens the mind, they say, and there are many things I've learned on my latest trip to France. And out of all of those things there is one aspect that I think is worth passing on to Noosa Yakkers.

The lure pictured above is partly home made and is used successfully by my French friend Alain Chazot to catch meager (closely related to our jewfish) and seabass in his local area. The night I arrived at his home we sat down together and built several of them for our planned yak fishing trip the next day. We both caught meager the following day so I thought you might be interested in learning more about the lures and the techniques.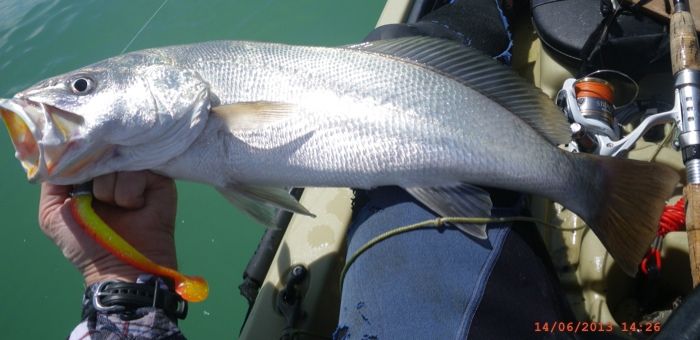 This is my first meager, and the first fish landed that day. Note the lure.
The only part of the lure that is truly home made is the lead head, for which Alain has made several moulds of slightly different sizes. There is no hook moulded into the head, only an eyelet of stainless steel wire. Bought online in bulk from a US supplier, the plastic tails are simply glued onto the flat back end of the head.
Both the treble hook, rigged as a stinger, and the main line are tied to the eyelet. As you can see, one of the trebles is embedded in the tail, mainly to keep the treble from snagging the main line while in use and to make sure that the hooks are in a good position to ensure a hookup on the fish.
We were using these lures in water up to 15m depth, but clearly they could be used in much deeper water, such as 30m at Sunshine Reef. Where we fished there was usually a tidal current, sometimes complicated by a breeze. We fished very close to the base of the piles of the huge bridge you can see in the pic below.

Now for the technique. Alain believes it is essential to get the lure right to the bottom, quickly, and keep it there, hence the weight of the heads which varied from 35gm to 53 gm (28gm = 1 ounce). So, once in position we simply dropped the lures straight down until they hit the bottom and then worked them gently so that they bumped the bottom and "bounced" along as the yak was carried along with the current/breeze. Most of the time the bottom felt sandy, but really close to the piles there were various snag hazards (fish structure) and of course these were the most likely places to hook fish, and, unfortunately, the structure. So fishing in this style does result in occasional loss of lures to structure, but I successfully desnagged my lure four or five times by manoeuvering directly above it and jiggling the lure before I eventually lost one, after many hours fishing.
Incidentally, I used the same reel I favour for snapper fishing with SPs, a threadline rigged with 6kg braid. Alain loaned me a rod similar to the one I use at home.
A couple of other points of interest. Firstly, when gluing the tails onto the heads I noticed that a strong glue smell lingered for hours afterward. On asking Alain whether he thought that perhaps the smell might deter fish he was firmly of the opinion that it didn't, and went on to prove his point by outfishing others using conventional SPs with built in scents! Secondly, as many of you know, I don't believe that colour matters at the depth we usually fish SPs so I asked Alain for his opinion (without telling him mine) and he quickly assured me that colour, in his opinion, doesn't matter, it's movement that does the trick.
Hope you found that useful. Now let's hope for some decent weather back because I have to get my snapper record back from Pedro, who knocked it off while I was absent.
Kev
---
Improving your kayaking skills
(1) Noosa Yakkers' second and already famous (FREE!) Surf Skills Day is scheduled for Saturday 14Sep this year. DaveyG will preside and the guys from Stealth will likely attend, with spare yaks for those game to tackle the waves.
Last Year's Event
was a bottler, despite the foul weather, so get there if you possibly can. Details later.
(2) Safety Day, organized in Brisbane area by kayakone
"I am organising a Safety Day for SE Qld kayak fishos on Sunday 13th October. Details
here
.
"Great for all, experienced to novice. Several major suppliers/retailers providing demo kayaks and all the food and drinks for all attendees and their families/friends." Trev

Hello Yakkers,
Well what can I say? A total of only six trip reports of which four were local and two from our own foreign correspondent, Sunshiner, on duty in France. Photo below of Alain fishing the waters of La Rochelle, France. Photo by Sunshiner.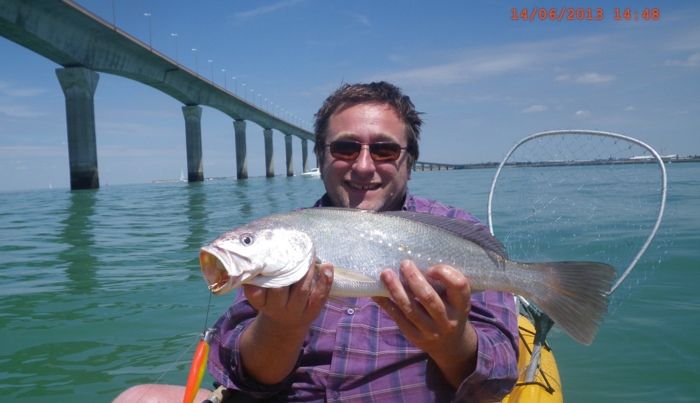 Back home in Oz, the month started on a promising note with Pedro landing a cracker of a snapper in the bay on the 6th and then Eyetag's night report of the 8th with mangrove jack, whiting and bigeye trevally.
Redwood and DC fished on the 16th producing a route pattern that resembled a kaleidoscope and IsoBar rounded out the month on the 28th with a special report on the advantages of also having a fishing SIK equipped to deal with heavier swell conditions. See action shot below.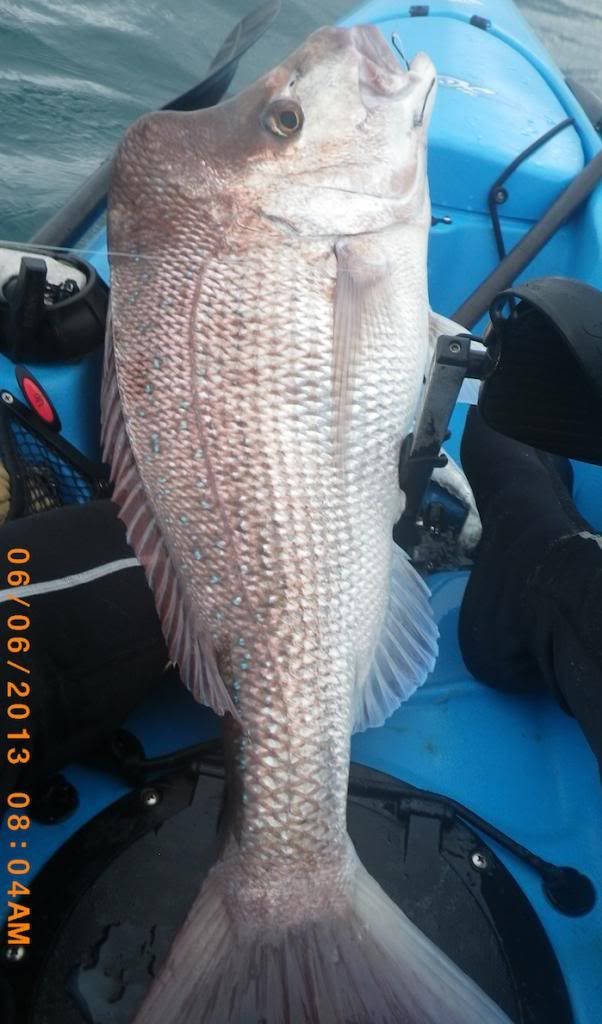 Pedro's Snapper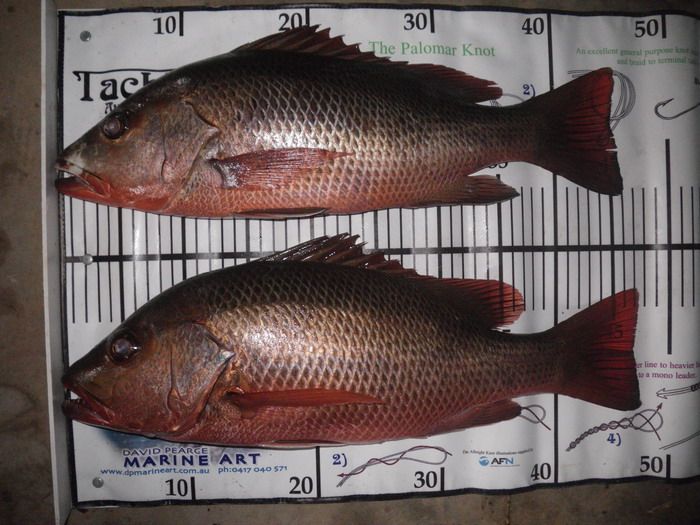 EyeTag's Mangrove Jacks.
Isobar in action on his SIK
Bomber also validated his special article from last month's report about how to rig for Jew fishing off Coolum beach with fresh mullet strips. Nice eyes.
Well that's about it folks, until next month...
TurtleBoy
---

Combination Sports
Kayaking and Ocean Swimming
by Doctor Dog
I am a relatively recent convert to the gentle art of kayak paddling. In my formative years I was a competitive swimmer and keen body surfer but when previously exposed to the opportunity to paddle a craft I struggled with the posture of sitting for exercise and suffered considerable lower back pain after even a short stint on the water. I have subsequently learned the benefits of yoga and of stretching my hamstrings to improve my posture sitting in a kayak. This has been a huge benefit to my comfort and endurance on the kayak.
My ocean swimming experiences have taken me all around the country to some fabulous water and are in no small way responsible for my combining my pre-existing passion for fishing with my newfound interest in kayak paddling.
In the early 1990s I started doing some shorter open water swims around south east Queensland with the triathlon leg at Noosa and Mooloolaba at 1500 metres as well as the Noosa Eyeline at 1 km.
I enjoyed the challenge over those distances but found that the fitter I became the further I wanted to swim. I was not winning events but was happy to be in the top 10-30% of the field. Some years I was keen and able to devote plenty of time to training so I aimed up and completed the Byron Bay Swim at 2.4 km and the short-lived Point Cartwright to Alex Surf Club swim over a similar distance.
Soren (now one of our fellow Noosa Yakkers) was responsible for getting me involved in the Island Charity Swim from Mudjimba to Mooloolaba out around Old Woman Island. At 11 km this event was my biggest swim so far -- I have subsequently done it twice as a solo swimmer and once as a support kayaker. I am this year planning to do it again on August 10 as part of a team from my current workplace.
The year Soren and I did the Island Charity Swim he made sure we were both very fit for the task and subsequently when I got to Mooloolaba I felt so good I could have turned around and swum back. This feeling sowed the seed of a niggling need to do an even longer event. With some of my family in WA involved in the Rottnest Channel Swim it was only a matter of time before I decided to give "the Rotto" swim a go.
On my first attempt I went as a dummy swimmer (I was not an official entry and swam alongside another swimmer in a wetsuit to pace myself and keep him company). For a lot of the swim I used fins but I made the distance and got a good feel for what was involved in a 20k swim in colder water than anything I had swum in previously. The Rotto swim is a FINA swim and as such only togs, cap and goggles are allowed - no wetsuits.
In 2005 I went back with a full six months of serious training under my belt and I spent two weeks training at Cottesloe in 20°C water just before the event. The temps in Laguna Bay were up to 27°C and the pool temps were as high as 32°C that February so it was poor acclimatisation for a long swim in 20°C water. I was doing 25-30 km swim training per week and it stood me in good stead as I was able to complete "the Rotto" in 5 hrs 33 mins and 3 secs. I was the 21st male swimmer and the 30th swimmer overall; I was beaten by a 13 year old girl but I made it.
In my humble opinion the Rotto Swim is the pinnacle of Australian Open water swimming and the spectacle of nearly 1000 spectator and support craft in Thompsons Bay Rottnest Island is breathtaking. Nothing beats the view from the Quokka Arms at the end of that swim and no beer and hamburger lunch has ever tasted so good.
For these long events each swimmer must have a support boat and a support paddle craft and it was the sight of these new stable comfortable plastic kayaks that got me interested in paddling a kayak.
In March after the February Rotto I nominated for a new event "Sydney Harbour Bridge to Manly" a 12 km swim in our iconic harbour. I was unable to complete that delightful harbour swim due to a massive blue bottle raft at the 9km mark just on the Manly side of Middle Harbour. Dozens of stings on my face and arms saw me haul out like a seal on the foredeck of the support kayak paddled by my dear wife Jane. The blue bottles were so thick she was picking them up by the paddle full as we struggled to get into clear water.
Last year I went back to Rotto but this time as a support paddler for legendary swimmer Chloe McCardel. Chloe came in as second female in Rotto 2012 but has since gone on to do a double English Channel crossing and recently made 11 hours into the Cuba to Florida swim before the stingers forced her to pull out. It was a privilege to paddle for her and it is not an arduous thing to do as swimming speed is slower than paddling.
So if an ocean swimmer asks you to support paddle for them give it a go I'm sure you will enjoy the spectacle and if it is a charity event like the Island Charity Swim then rest assured you will be helping raise funds for a special cause.
In my case it is for the Nambour and Currumundi Special Schools.
Read about it here
Island Charity Swim
Thanks for reading
Mark (Doctor Dog)
---

Well guys, June has been a slow old month for memberships. The lower temperatures don't help, but the foul weather isn't doing us many favours either. I am now convinced all school holidays are cursed.
We have had one new addition this month, bringing our total membership to 91. We're still on track for that century this year, and I expect the growth to increase as the weather warms up.
Now, over to our new addition…
Patrick Roach (Pi Seas)
Patrick is 61 years young, and hails from Sunrise Beach. Although yakking from his 4.3m Prowler is still a new experience, Patrick has plenty of fishing know-how from working on a game fishing boat off Hayman Island. He plans to join us offshore after he tests his kayak in the river for a time.
Cheers!
Matt (Gemini)

This month's report will be a two month effort covering May and June.
As your trusty "Record Keeper" I have been troubled only twice in the past two months and on both occasions it was the same angler.
The illustrious but ever so humble Peter Doff aka "Pedro" in May submitted his capture of a Black Spot Rock Cod. This was a new species to our list so on confirmation of its species identity I duly added it to our record list.
Here is Pedro's submission
"I'd like to submit a claim for a greasy rock cod caught on 15.5.13 at DIP on a spaniard special rigged with gar. The fish length is at 65cm. The current record list doesn't include this species and would need amending."
Then early in June Pedro submitted this report to me
06.06.2013 Pedro - Peter Doff
"Caught this snapper at Jew Shoal today and submit it for a record fish claim.
Fish 79cm caught on pilchard, bottom fishing."

So Pedro has a clean sweep of record fish for May and June - his skill and patience are talents mere mortals like your scribe struggle to emulate.
Well done Pedro.
"Tight lines" and remember if you catch a memorable and potentially record fish then please measure photograph and submit it to me via email (within 14 days of capture) preferably with a reference to a second angler for verification.
Tight lines
Doctor Dog
---
The Committee (in callsign order)









From top left, daveyG, doctor dog, eyetag, gemini, jaro, jimbo, pedro, sunshiner, turtleboy.