Base pic: Sunshiner. Noosa Yakkers at Jew Shoal, 6Ju13
PUBLISHED 04Aug13

Hi there yakkers
Take a look at Pedro's new invention publicized for the first time here (story below). Fishos in general, and kayak fishers in particular, are great innovators, I have found. Probably this is because no two rigs and situations are exactly the same. It could also spring from the fact that kayak fishing is a relatively new way of hunting for fish (in the modern world at least although there are plenty of examples of our distant ancestors making a living from tiny boats) and so there is lots of potential for new devices to be "thought up". I'd be surprised if you didn't have some individual small but important inventions on
your
yak. And the ability to pimp our boats and make unique and smart changes is another attractive aspect of our wonderful pastime.
We wish you well with your invention, pedro.
Now, the weather's looking better, so let's get out and get some fish. My freezer's empty! Incidentally, last September one of our members caught a Spaniard in September, so don't forget to hang a hard body out when you're travelling between the beach and your fishing spot (presuming you make it safely through the surf).
Take care but have fun
Kev

Hello Yakkers,
It was another pretty lean month for offshore fishing in July with the conditions dominated by high winds, big swell and rain. The rain we can live with, but the wind and swell made boating a rarity. As a result we recorded only four trips taking our tally for the year to 68.
The only recorded catches were by Pedro (cod and snapper) on Jew Shoal and Owie (flathead and bream) in the Noosa River.
Some of my selected photos below.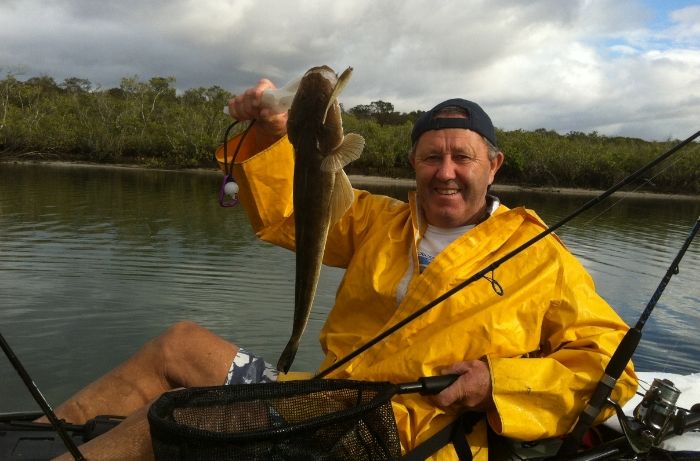 Owie's flathead

Pedro's rainbow
Well that's about it folks, until next month…
TurtleBoy
---

Pedro's Rod Bag
by Pedro
NECESSITY is the mother of INVENTION
My rod bag idea was born after four years of launching and landing through the surf zone and either:
removing the reels and stowing them, a process that takes up fishing time; or
trusting my ability to stay upright with rods with reels in the rod holders (if you get rolled this choice always exposes the reels to a dunking in sandy water, and of course the rods might get snapped).
The second option was usually my preference and the surf zone transit always got my adrenalin pumping. I had terrifying visions of getting hooked on the fishing outfits and being dragged along with the kayak, my reels filling with sand along with a danger of being impaled on the jagged ends of smashed rods.
Then I started slipping a drybag over the rigged rods from the butt end and tying it off above the reels. This provided some protection but if you were rolled, sandy water would still get in.
And so my rod bag was conceived.
This is the first prototype of my waterproof bag and it holds two 7-foot rods that are pre-rigged.
It's only had one trial run so far and performed well, although I did come in upright, which thankfully has been the norm recently. But one of these days, I know, it will get a proper test, as anyone who has launched at Middle Groyne will probably agree with.
There was some difficulty in pulling the rods out one at a time as being fully rigged they can tangle as rod tips get caught in runners and fishing line loops around anything it touches. This problem was solved by putting both rods into the bag together, and withdrawing them together also, being extra careful not to dip the reels in the water or drop one outfit as you do this (you could keep them leashed until they are secured).
That being said, I'm looking at a separation seam where the bag narrows to keep the tips of the rods apart. To eliminate the possibility of hooks puncturing the bag, a lure wrap of some sort should be used.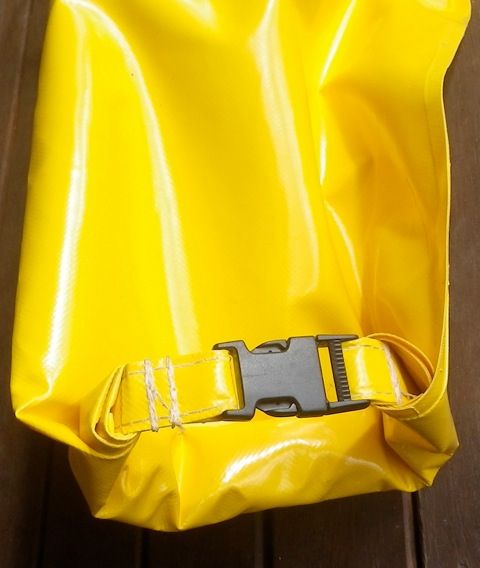 Depending on the make of kayak, the fixing points will need to vary, so the only fixing points on the first production model will be a D ring on the fold down end (butt end) and a velcro strap at the tip end. In the first pic you can see that the tip end is secured with the velcro strap by attaching it to the shock cord which holds down the front hatch cover. This velcro strap could also be used to fold down excess bag for shorter rods. I've also found this strap handy to make a large loop hung over the bow when removing rods when on the water.
In the first pic I've attached the bag in the middle with the paddle shock cord and I think that a couple of short shock cords with locking hooks just to make sure should be all that's needed to firmly attach it to the yak.
At this stage I'm talking with a manufacturer in Brisbane to give me a price on 50 units.
So I'm interested in feedback from those who may be interested in purchasing one, as well as some general feedback on the idea (suggested improvements etc.)
Cheers
Pedro
Send an email to pedro
---

Well guys, July has set a new record since I took the reins of membership coordinator. We have no new additions this month! (insert feelings of shock and horror here)… I can't really say I'm surprised, considering the poor conditions we have been subjected to, so let's just call it a minor statistical anomaly and move on…
To fill the gap this month, I'm going to briefly outline the way our mailing list works to give you all some insight into how it all fits together. It's not too scary, but there are a couple of things you may not be aware of.
The Noosa Yakkers' email list is currently hosted by Google Groups. It's a free service, caters perfectly for our small outfit's needs, and is easy to manage, maintain, and monitor. Upon signup (after you agree to all our scary conditions) I simply add your name, call sign, and email address to the list. By default I set everyone to receive all email, but there is also another option which I haven't really advertised. Some of our less active members choose to use the "abridged" mailing setting, which only sends you one email digest per day, provided that there has been email activity on that day. This reduces the number of emails you receive, and can free up your mailbox during peak discussion times. The downside is that during discussions about a trip or similar, you will be left out of the near real-time chat. If a trip is called off at the last minute, you may be left waiting, alone, in the car park. Ultimately it's up to you to choose which system to use, but the vast majority of our members are happy to receive all email, all of the time. If you would like to discuss a change, please
email
me directly.
The groups also have a running archive of all discussions we have had through the mailing list. Need to know about that useful rig Joe Bloggs used in March last year? It is there upon request, so please don't hesitate to ask!
I hope that enlightens you all a little, and here's hoping that conditions improve soon. I'm not sure if I can take too many more kayak free weekends…
Cheers!
Matt (Gemini)

Welcome to the Record Fish update for July 2013.
Hopefully the potential for offshore fishing adventures is on the improve with the outlook for early August so far being much more promising than most of July.
I have had only one submission so far this month.
Pedro has done it again. This time with another new species for our Record List.
The GoldSpotted Rock Cod (
Epinephelus coioides
) is also known as Orange-spotted Grouper, Brown-spotted Grouper, Estuary Cod, Greasy Cod or Spotted River Cod.
In his own inimitable and humble style Pedro sent me the following brief report with the accompanying photos:
"I'm submitting a claim for the gold spot rock cod I caught today 16.07.13 at Jew Shoal on two hook snelled pilchard.
The fish went 96cm. and weighed 14.5kg. On 30lb line. No NY witnesses."
Pedro's on water shot of his marvellous capture: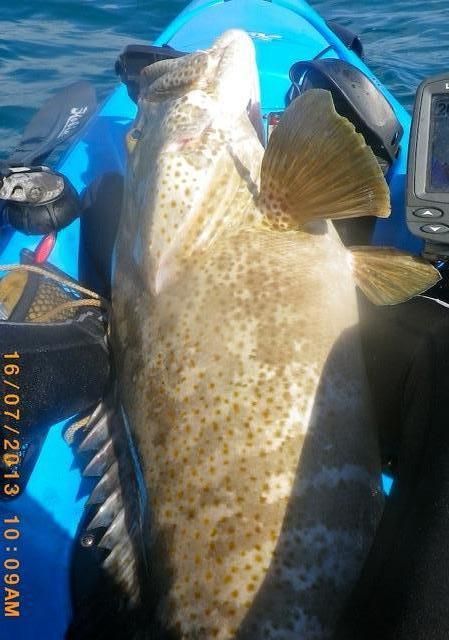 Gold Spotted Rock Cod on the tape:
Congratulations Pedro on another marvellous capture
Tight lines
Doctor Dog
---
The Committee (in callsign order)









From top left, daveyG, doctor dog, eyetag, gemini, jaro, jimbo, pedro, sunshiner, turtleboy.