Base pic: Tunny's great whale pic, taken with his new camera, Jew Shoal, 06Oct13.
PUBLISHED 04Nov13

Hi there yakkers
How's this for a nice looking lure?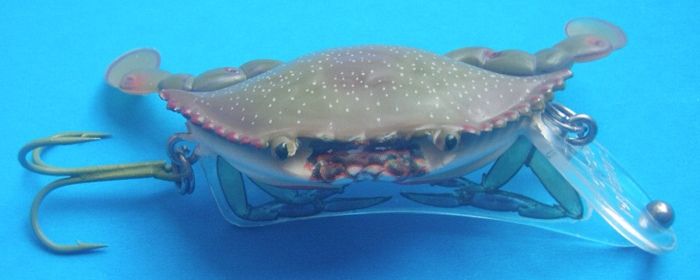 Some of you may get your hands on one to try out soon. Looks like it might be especially attractive to snapper and cobia (aka crab-eater), quite a few of the latter of which have been caught by Noosa Yakkers over the years within one kilometre of Main Beach. We have a few of these lures to hand out this month. More info later, by email, after we sort out details.
Speaking of cobia (aka black kingfish, but no relation to the yellowtail kingfish), it was good to see tunny join the Noosa Yakkers Cobia Club this month (pic in turtleboy's report below). They're a great fish to catch and to eat but at first glance, deep down in the water you may think you've hooked a shark, as their colour and big pectoral fins resemble those of many of the sharks we catch here. The juvenile specimens, under one metre long, usually have a white stripe along their flanks which fades with increasing size. Most of the cobia we've taken have been on hard bodied lures or soft plastics, but I recall eyetag nailing a nice one on a banana prawn out at A-Bay reef one October day about four years ago. On many occasions they have taken trolled hard bodies soon after the kayaker has left Main Beach on the trek to Jew Shoal. Interestingly enough they are also taken in the Noosa River from time to time. Don't forget the size limit is 75cm and possession limit is two.
As far as I can recall, Noosa Yakkers who have taken cobia from their yaks in our waters are: gemini, turtleboy, pedro, eyetag, tunny, jimbo, whalebait, jaro, and I. Hopefully we can add your name to that list this summer. If you should be on this list and I've missed you please let me know.
See you on the water.
Kev (sunshiner)

Hello Yakkers,
With lots of baitfish in the bay and the local fishos predicting a bumper season, I know that everyone is wondering when the pelagics will arrive and we can go offshore fishing!
October has been a relatively quiet month, characterised by high multi-directional wind swings and the associated choppy surface conditions. The local surfing community has also been grumbling about the conditions and looking forward to some nice glassy swell around the Laguna Bay points and on the open beach banks.
The Noosa River continued to play a supporting role producing some good evening and earning morning catches. Overnight, the evergreen Eyetag caught a selection of flathead, jewfish, bigeye trevally and mangrove jack, as pictured below, whilst Cybertech landed a little estuary cod in late September.
Meanwhile in the bay, Jimbo and Redwood tempted sharks with bonito and trailing pilchards.
But the "Fisho of the month" award goes to Tunny with his 103 cm Cobia and 68 cm Tailor landed on the ever useful small bibbed gold Bomber. Well done Tunny!
Tunny's Tailor
and his Cobia.
For Fishing Noosa photos of Tunny and Eyetag click
here
.
We also had visitors Mike and Freyr from South Africa joining in the fun with Mike catching a hairtail in the river. I am not sure if Freyr got to fish as she seemed busy being chief paddler and photographer.
Mike and his hairtail.
Well that's about it folks, until next month…
TurtleBoy

Happy November yakkers! The end of the year is fast approaching, Christmas paraphernalia is filling the shops, and the baitfish are making their way into the bay. Who will break a record this Summer? Who will capture the next Spaniard of the season? The suspense is near killing me…
In addition to our normal membership applications this month, we also had a special guest member whom we temporarily put on our email list. Mike Setterberg and his girlfriend Freyr from South Africa contacted us through our blog and asked for assistance with fishing the Noosa area while they visited on holidays. Unfortunately the weather didn't play out so well for an offshore trip for Mike, but he did manage a river outing with some of us while he was here. The trip report can be seen
here
. Mike also has a YouTube
channel
of his adventures, and I recommend having a squiz.
Memberships this month gave us one new addition, taking our numbers up to 94. I'm starting to wonder if my prediction of the magic 100 might fail me this year!
Let's see who we have…
Bruce Bairstow
Bruce is a 39 year old Project Management consultant who lives in Noosaville. He hopes to improve his fishing and yakking skills with us on the beautiful waters of Laguna Bay. Bruce owns a yellow Hobie Adventure. Welcome aboard Bruce.
Cheers!
Matt (Gemini)

Hi Noosa Yakkers
Just when I thought my record fish report would be brief or nonexistent Tunny sneaks in on the second last day of the month with a crackerjack Tailor at 68 cms caught in the Woods Bay on October 26.
This wonderful capture was made even more special by the camaraderie of Eyetag who lent the gold Bomber lure that did the damage. Read all about it if you haven't done so already
here
and
here
.
tight lines
Doctor Dog
---
The Committee (in callsign order)









From top left, daveyG, doctor dog, eyetag, gemini, jaro, jimbo, pedro, sunshiner, turtleboy.