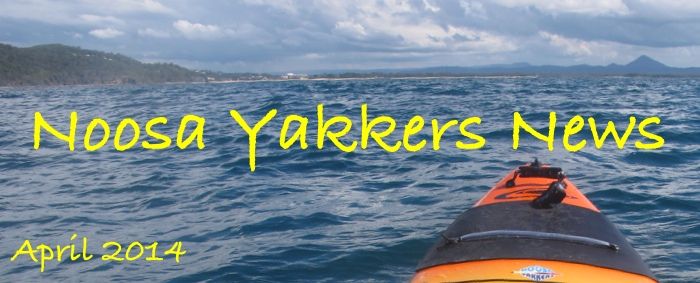 Base pic: Noosa as viewed from a kayak at Jew Shoal.
PUBLISHED 04MAY14

Hi there yakkers
Today I'd like to extend a special hello to the visitors to our blog who are not living in Australia. Most readers will likely be unaware that a sizable proportion of our total viewing audience comes consistently from outside of Australia. USA is the biggest single source of these visits but a wide range of nations appears, as can be seen by the adjacent cropped screen shot.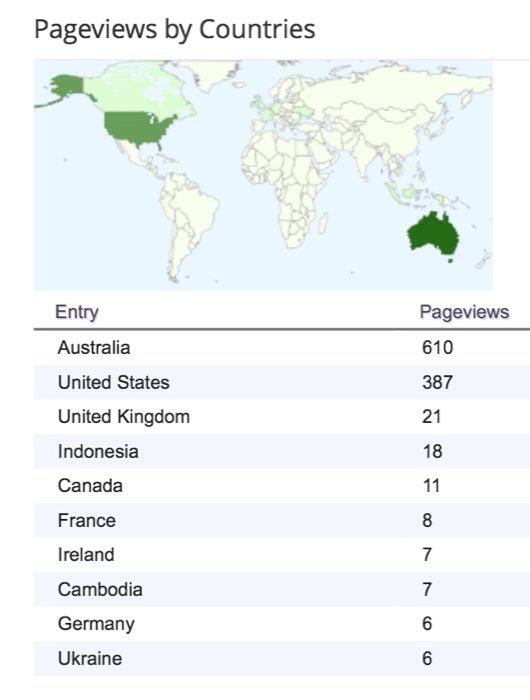 It seems that kayak fishing is increasingly becoming more popular, wherever people fish for recreation. So those people in Ukraine, or anywhere else, for that matter, please feel free to drop us a line via the "Contact us" link on this page and let us know how you fish and what you catch from a kayak in your country.
The Spaniards continue to patrol our waters, and this month two more members have popped their Spaniard cherry. Well done guys, especially sabio who had to travel all the way from Canberra to achieve this kayak fishing milestone.
~~~~~~~~~~~~~~
Legal Spaniards in 2013/14, caught after launch at Middle Groyne or Doggie Beach
in time sequence of first caught and as at 04May14
first capture 2013/14 was on 12Dec13 by sunshiner
*=first ever
sunshiner 3
jaro 1
*soren 4
*stormin 2
lazybugger 1
*salty 1
redgreg 2
*clappo 6
jimbo 1
*noddy 2
*gtrain 1
pedro 1
*scater 1 (fair chance not a Spaniard, but a grey mackerel -- 1.16m)
*swabio 1
*Aussie_stu 1
Largest so far this season was Jaro's 1.26m. Fish caught on HLP, trolled baits and slugs. All were caught in Laguna Bay.
Noosa Yakkers Record: 1.62m, whalebait, 24Mar13
If I've missed anyone or any eligible catch please contact me.
~~~~~~~~~~~~~~~~
See you on the water.
Kev (sunshiner)

G'Day Yakkers,
It's Easter time and the pelagic pickings should be getting slimmer, the reef fishing should be getting better and the winds should be abating somewhat. That's the theory, so how did April turn out?
We had 12 official trip reports up from 6 in Feb and 7 in March which suggest that the yakking conditions have substantially improved with the calmer winter weather easing in.
DC kicked it off with a stint on his favourite patch of water--Ewen Maddock Dam, landing a medium sized Bass and a noxious Tilapia which was summarily disposed of.

Tilapia are designated noxious species, as are European carp.
Gemini went rogue and hit the 'wild' waters of Yabba Creek at Imbil the next day and was rewarded with beautiful scenery, a platypus and a few nice bass.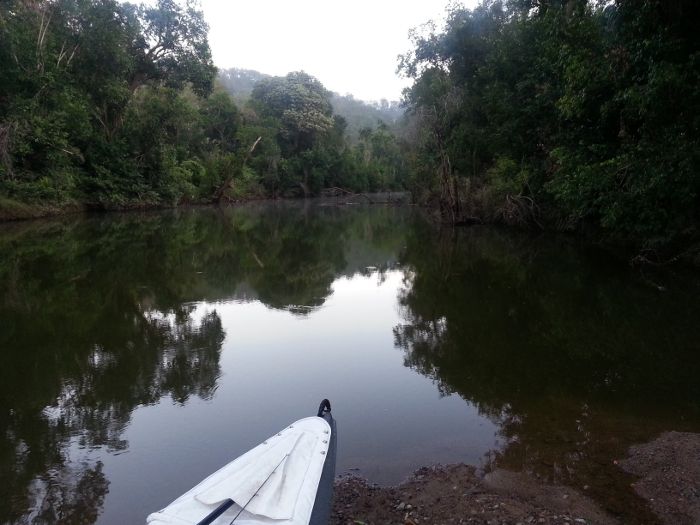 Beautiful Yabba Creek at Imbul
On the same day, Sunshiner and 4 other yakkers braved a very angry sand monster (more angry than usual) for not much return: one small shark, a small tuna that made off with Carlo's lure, a Netting Cod which was released, a couple of Sweetlip and a Snapper. Jimbo got the Sweetlip and Snapper on prawns with his pillie baits ignored.
Sunshiner has a great morning at Bilgola Beach NSW; snagging a feast of Tailor and Snapper for dinner.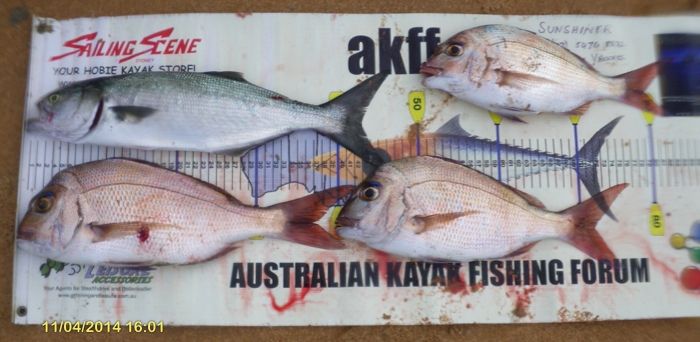 Sunshiner's dinner caught at Bilgola Beach NSW
The action in Noosa also started to hot up with a good haul of reefies for Jaro at Jew Shoal.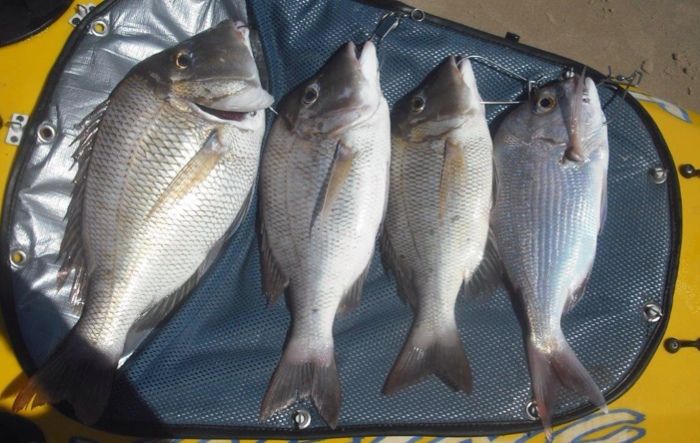 Jaro's nice little haul from JS
The middle of the month produced another good day at Jew Shoal with the 'in-it-to-win-it' yakkers boating more Sweetlip and Snapper and NY newbie Josh taking the podium with two Snapper and a very nice Spottie.

NY newbie Josh has a cracker first trip out
There had been reports of tuna busting up and leaping all over the bay as well as the boys down at Moffats doing very well for tuna. It was only a matter of time before a skilled and/or lucky NY boated one of these prized fish. Once again the dark horse Aussie Stu came up trumps with a beautiful 110cm /10.5kg Longtail. Jaro also did well with a bigger than average (for Noosa at least) 52cm Sweetlip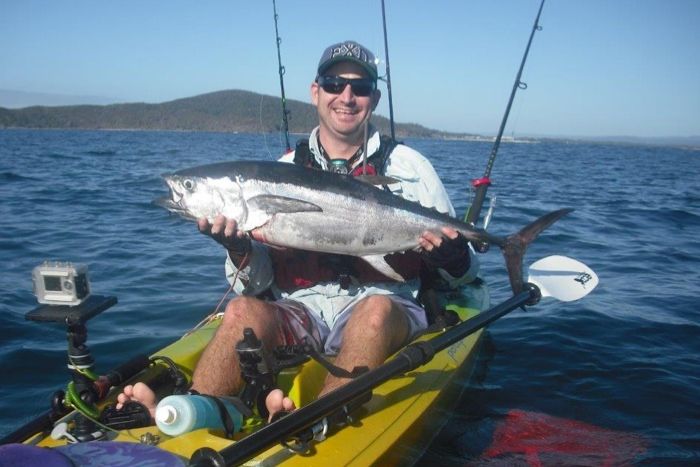 Aussie Stu (or the Dark Horse) with a beaut 110cm Longtail

Jaro's 52cm Sweetlip
Meanwhile on the fresh water, the battle was on to see who could land the biggest bass. Gemini gave it a crack on Lake Mac and came up 2cm short of the old NY record. But it was DC who won out on this occasion landing a mega bass of 49cm! A new NY record? Read Doc Dog's report to find out.

DC's whopper Bass caught at EMD
The month ended on a high note Swabio lading a very nice late season Spanish on his Battleship Galactica. The Spanish was taken on a slimey rig dangling off the back while Swabio was re-rigging his other rod.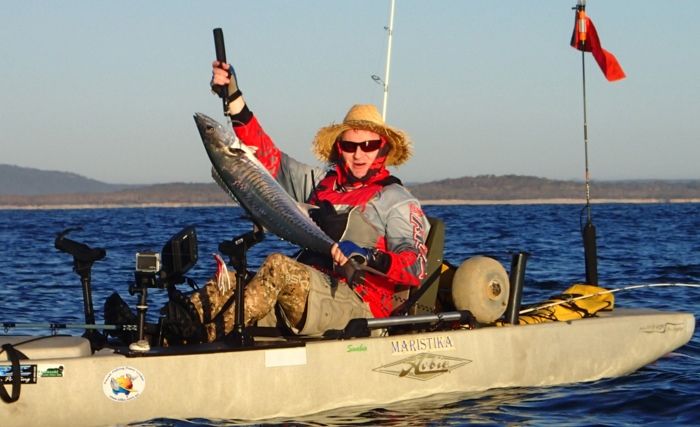 Swabio in the Battleship Galactica with late season Spaniard at JS
And... on the last trip for the month, the dark horse struck again! Aussie Stu landing another late season Spaniard. Well done Stu.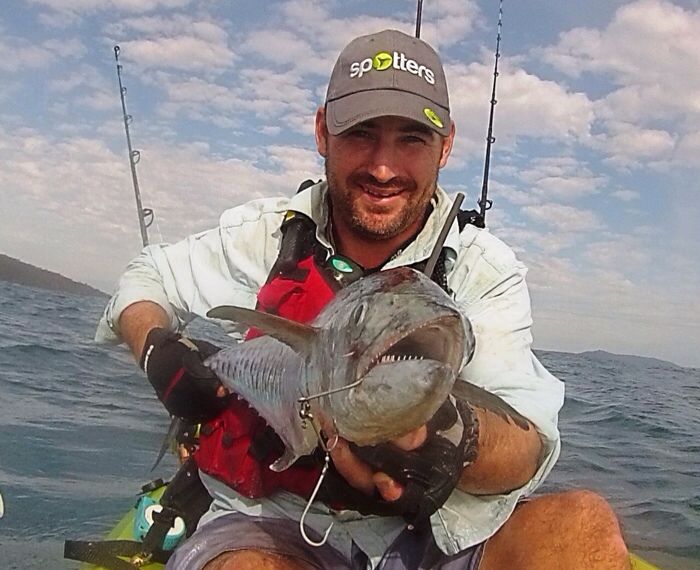 The dark horse strikes again - Aussie Stu with a toothy Spanish
There seem to be some big fish around yakkers, so go get em while you can.
That's all for April folks.
Redwood

Happy May, yakkers! April has been a little slow, bringing us only one new member. This takes us to 106 members.
Let's see who we have…
Josh Jenkins (AKFF: wouldnot)
Josh is 34, an Internet entrepreneur who hails from Castaways Beach. He has previous offshore experience kayaking around the Sydney area in his Hobie Outback. Josh has already featured in a couple of our trips for this month and as you can see has already registered his first yak mackerel.
Cheers!
Matt (Gemini)

It was a quiet month for this record keeper. Only one fisher made a submission for an updated record.
Darren Cole (Dee Cee )
in Darren's own words:
"Gidday Mark,
Can I submit the attached as a record for Noosa Yakkers Australian Bass?
Claimant - Darren Cole
Fish was caught this morning at 6.10am, 25/04/14 at Ewen Maddock Dam on a surface popper.
On the water by myself so no witnesses
Fish was released fit & healthy after a couple of quick photos
Cheers
Darren"

Darren had neglected to include the length he was claiming for the fish so after a subsequent email exchange and a check that Ewen Maddock dam was in our record claims area I gave Darren the nod for his 49 cm fish.
While I have used my "judge's call" here to award this record I would like to encourage any fishers with an eye on record fish claims to make every effort to obtain clear unambiguous photos preferably with with a witness to verify the capture. To Darren's credit he put more effort and consideration into releasing his magnificent Australian Bass in good condition than he did in claiming the record.
Tight lines and happy angling,
Doctor Dog
---
The Committee (in callsign order)








From top left, doctor dog, eyetag, gemini, jaro, jimbo, pedro, redwood, sunshiner, turtleboy.