Base pic: Selfie by tunny while being stalked by a dolphin at Halls Reef, 02Jun14
PUBLISHED 04JULY14

Hi there yakkers
Typical winter weather has arrived, as you've probably noticed. Fortunately, on these dark and early mornings the water temperature usually far exceeds the air temperature so getting a wet bum is not quite as bad as you imagine it might be. Hopefully the snapper will start showing up more frequently on the inshore reefs, building up to the peak in about December, just in time to hand over to the next pelagic season.
Lockrack
(
website
)
First impressions by me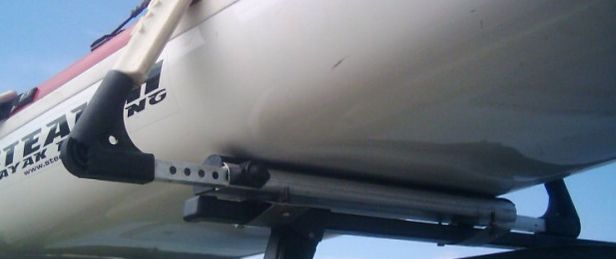 Videos and more info available on the
website
. My personal comments below.
Some of you already know that Australian Kayak Specialists have taken on this new product, imported from South Africa and now for sale in Australia for the first time. Dennis, a Noosa Yakkers member, has emailed me offering Noosa Yakkers a
12.5% discount
for a limited time. To take advantage of this discount online just enter the code NOOSA into the coupon field at the checkout. Note that my affiliation with AKS means that I get a small commission on many purchases made from the Noosa area (keeps me in soft plastics ;-), so thanks guys).
Being intrigued by its possibilities, I bought a Lockrack to try out and it was delivered early last Wednesday morning. If you are possibly interested in taking a really close look at Lockrack just get in touch with me and I'll be happy to show it to you. Here are some personal observations which I think may be useful to know.
(1) Lockrack is not intended as a roofrack in its own right, and is designed mainly to fit onto existing roofracks and will even fit onto customised racks such as the one on my Zook, which is where I will attach it after thinking carefully about the best lateral location and configuration. Now I've had a close look at it, I reckon Lockrack could easily be fitted to tradies' round or square section bars and even directly to rigid roofs (canvas roofs, nah!), as long as you're happy with drilling four holes in the roof or surface (those fibreglass half roofs come to mind). Note for tradies: a model for carrying ladders is also available.
(2) Lockrack is specifically designed to eliminate the dual problems of yak security and the time and trouble spent tying down your beloved yak so it doesn't come loose while you're hammering along at 100kph! So with a Lockrack you can safely leave your racked yak unattended without worrying about some bastard coming along with a knife, slashing your tie-downs and stealing it. You can save heaps of time at load and unload, and also happily drive to and from your launch spot without worrying about your yak accidentally and expensively parting company with your rack. It happens!
(3) Lockrack can also be customised to become an aid to loading and unloading without assistance. See the image below, in which a low cost aluminium bar has been fabricated to slot into the existing square section tube of Lockrack which holds the removable side clamps. Not sure why you'd need such a high vertical section though; I'd make mine much shorter so I could easily side load onto the extender bar.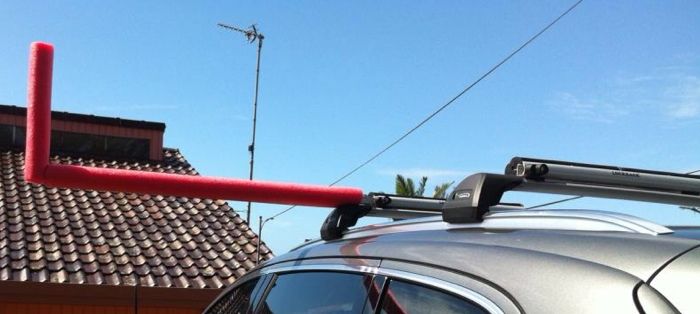 (4) Lockrack is suitable for all kayaks and many other things you'd want to secure on your racks (certainly surf and SUP boards, but probably not bikes, though, although I haven't closely examined that possibility). Note that the base comes in two different widths and there are several different arm options. Clearly the possibility arises of buying different arms for different uses; speak to Dennis if you think you need to do that. Note also that, judging from the various pics around, the rubber shrouds on the locking arms may be available in different colours. Mine arrived with black shrouds and I would imagine that this is probably the standard, with special orders only for other coloured shrouds.
(5) Lockrack fitting instructions are available online and no printed manual is provided (another cost saving measure). So if you are not familiar with using the Internet you may be in strife, but in those circumstances then you probably wouldn't be reading this anyway, I suppose.
~~~~~~~~~~~~~~
Legal Spaniards in 2013/14, caught after launch at Middle Groyne or Doggie Beach
in time sequence of first caught and as at 04July14
first capture 2013/14 was on 12Dec13 by sunshiner
last (so far) on 02Jun14 by tunny
*=first ever
sunshiner 3
jaro 1
*soren 4
*stormin 2
lazybugger 1
*salty 1
redgreg 2
*clappo 6
jimbo 1
*noddy 2
*gtrain 1
pedro 1
*scater 1 (fair chance not a Spaniard, but a grey mackerel -- 1.16m)
*swabio 1
*Aussie_stu 1
tunny 1
Largest so far this season was Jaro's 1.26m. Fish caught on HLP, trolled baits and slugs. All were caught in Laguna Bay.
Noosa Yakkers Record: 1.62m, whalebait, 24Mar13
If I've missed anyone or any eligible catch please contact me.
~~~~~~~~~~~~~~~~
Anyway, I'm keen to get my snapper score up in the next couple of months, and will be out there using up my precious Noosa time whenever circumstances permit. It's pleasing to see the steady trickle of new Noosa Yakkers members and that the over fifties (lookin' at you, pedro) are still holding their own. Saturday's looking good!
Don't forget, if you think you have something to contribute to future Noosa Yakkers News, just get in touch with a committee member.
See you on the water
Kev (sunshiner)

G'Day Yakkers,
This map from 2 July. I suspect waters would have been warmer earlier in June.
As we can see from the BOM sea temperatures map there are some warm currents hanging around and this could explain why some pelagics are still hanging around. June saw a respectable seven outings with a number of good fish caught.
Scater, Jake, Aussie_stu, Sprocket and Tarzan got us away with another successful trip up to Teewah.
The Dark Horse strikes again…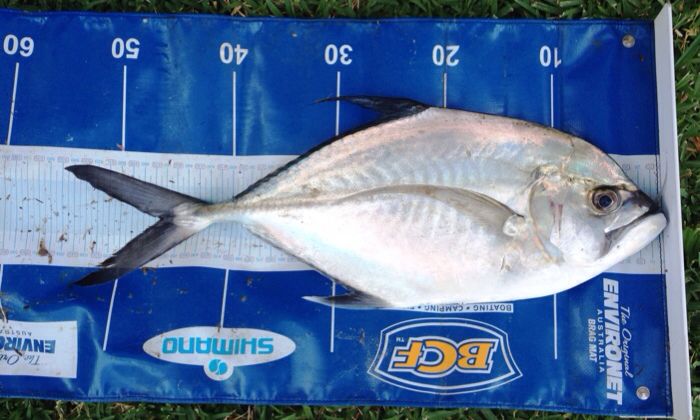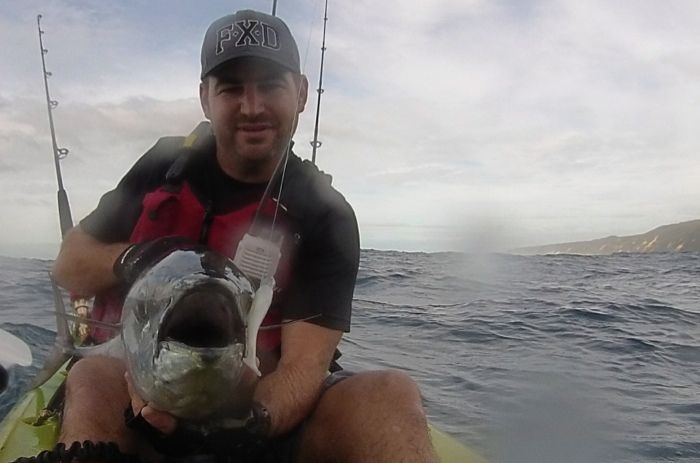 TOP: Aussie Stu lands a very nice Cobia. Thankfully it came in under Redwood's record set the previous week at the same spot ;). MIDDLE: Aussie Stu's Cale Cale surprise. BOTTOM: and to top it off a 110cm Tuna. Nice work Stu.
Check out this great video from Scater… he gets tipped out of his boat by a strike from a Spaniard. Of course, he hopped back on and still brought home the bacon. Ladies you can swoon now.
Tunny then headed out solo the next day in search of some pelagic action out wide. He trolled all the way up to Halls without a touch and was just thinking to himself that he may have missed all the action, when his reel went off and he bagged a personal record Spaniard.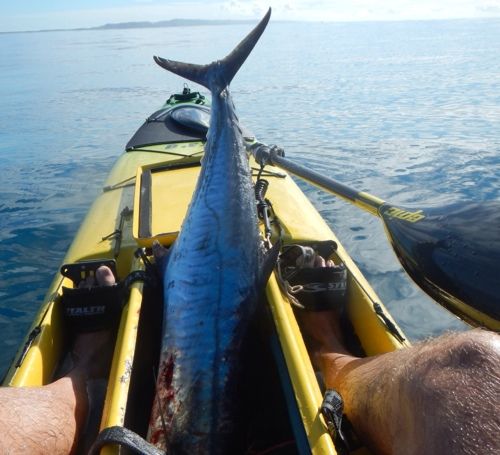 Tunny's 120cm Spanish caught at Halls.

A week later I had an uneventful trip to the Fairy Pools in heavy wind. And then on the full moon we saw the River Whisperer's return after a long injury induced hiatus. Eyetag followed the tried and tested routine and proved he's still got the magic with a catch of Mangrove Jack, Flathead and Tailor.
Flathead with Gladiator placcie hanging out the corner of its mouth.
Eyetag's full moon river catch
The middle of month saw me head out on another solo trip to JS and was rewarded with another first for me: a 60cm Slatey Bream. I also picked up a 60cm Grinner, which I thought was very large for the species but Jaro landed an 80cm one the next week. What size do these Grinners get to? The reference I saw had them maxing out at 30cm.
Redwood's 60cm Slatey Bream. Not great eating, but not bad either.
Jaro, Aussie-Stu, Doctor Dog, Stormin, Couta1 (visitor) and Sunshiner headed out to Jew Shoal on the 21st with Sunshiner picking up a very nice winter Snapper on a trailing soft plastic.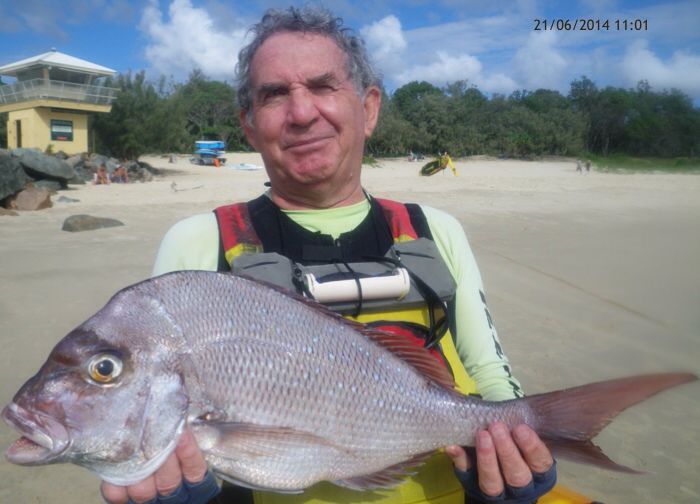 Sunshiner and his best Snapper of the year.
Jimbo, Weeksie, Diesel and I headed out to JS the next day in fairly windy and choppy conditions. There was a lot of surface action and birds diving and a lot of bait fish could be seen all over the bay. I lost something large (probably a shark), and was bitten off at the surface by what was certainly a large Spottie or Spanish. Jimbo was the only other yakker to see any action with a just legal Sweetlip and a rather cranky squid who showed its contempt by spitting in Jimbo's face!
Jimbo inked, but he certainly got the last laugh. The first time he's caught a squid.
Pedro headed out to Sunshine reef and was rewarded with a good catch. He put in the effort and caught some live Gar before heading out to the reef. Sunshiner went out a bit later and was rewarded with a doughnut.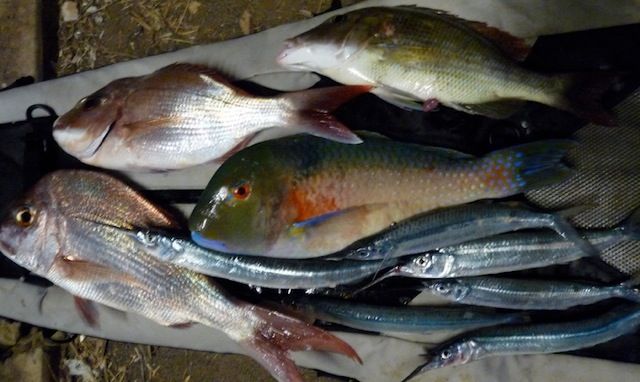 Pedro's Sunshine Reef catch, with remaining live bait Gar in the shot.
For the last trip of the month Diesel, Jaro and Sunshiner headed once again to Jew Shoal with the Snapper King doing it again and Diesel breaking his duck with a very late season Schoolie.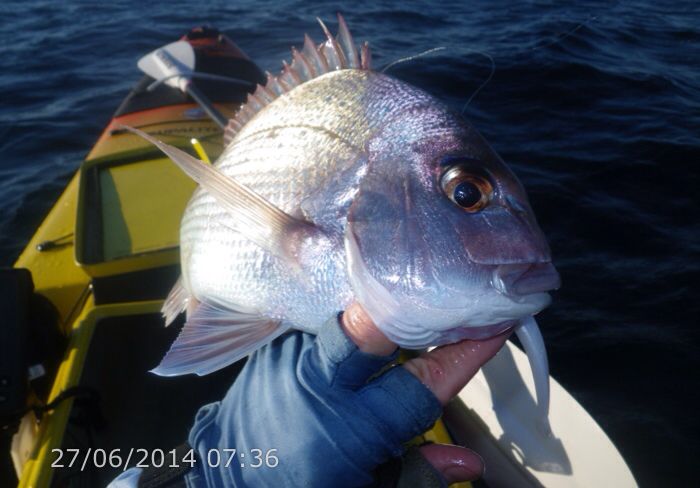 Diesel and his first fish from a yak. Congrats mate.
And that's it for June.
Redwood

July has arrived! This interesting fact might explain why I'm strolling the yard with my laptop looking for a nice sunny position to park my backside on to type this report…
The recent intelligence flowing in is telling us the reefies are well and truly on the chew, and Jimbo has once again dazzled us with a random rarely seen critter (we need some sort of scoreboard for you Jimbo). Hopefully the weather will play nice over these school holidays so I can at least get a paddle wet. I'm putting on way too much padding for my liking, and my yak is looking very sad on its stand. :(
The memberships this month see three new members added to the roster, and this takes us out to a 112 member total. Let's see who we have…
Paul Di Natale (Walnuts)
A 35 year old builder, Paul hails from Melbourne. He paddles a Hobie Revo 13, and hopes to build on his yakking skills with us when he visits family up here from time to time.
Scott Birtles (Prophet)
Scott is 34, lives in Noosaville, and studies alongside casual IT work. He is an experienced estuary fisherman, and paddles an Ocean Kayak Scupper Pro.
Christian Sonner
Christian is a 57 year old 25% retiree (however that works), and performs home renovations and maintenance for the parts where he isn't retired. He hails from Weyba Downs, and is a keen bushwalker, kite surfer, and fisherman. Christian paddles an Eco Ambush, and is very keen to enhance his skills with us.
Tight lines gents, and welcome!
Cheers!
Matt (Gemini)

Although there were a couple of new record claims in June, Doc Dog is not presently able to provide an update. It will come along next month or as a supplementary addition to this post.
---
The Committee (in callsign order)








From top left, doctor dog, eyetag, gemini, jaro, jimbo, pedro, redwood, sunshiner, turtleboy.