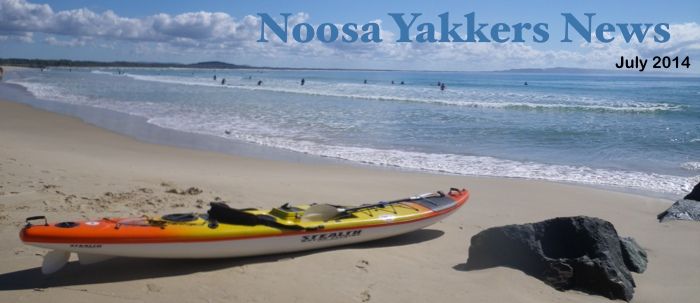 Base pic: Middle Groyne launch point in mid winter (pic by sunshiner)
PUBLISHED 04AUGUST14

Hi there yakkers
Well that was as cold a month as I've experienced in my 19 years up here in beautiful Noosa. It wasn't the absolute coldness of individual days, but the consistent, day-after-day chill which contrasted with an unusually warm June. And the fish offshore are scarce, according to our TR this month. Even so, offshore jaunts in winter are still worth the effort, I think, especially if the wind is light, as there's always a chance of fish and the physical exercise alone is beneficial, especially for us older yakkers. Take a look at our accumulated Trip Reports from the past few winters and you'll see that there's no discernible pattern in fish availability but you'll also see that every now and again a great yak fishing day is described, and some nice fish are reported. These archives teach us that the fish will turn up again and their arrival on the inshore reefs may be closer than you think. So if you're feeling reluctant to get out fishing in winter browse through the TR archive and probably you'll find yourself getting your gear organized and, who knows, you may be the yakker who finds the fish.
I see that Doctor Dog, that staunch Noosa Yakker and local well known veterinarian is next weekend braving the cold mid-winter ocean and swimming a prodigious distance for the benefit of charity. You can read about it in his article below but I encourage all readers to consider making a donation to aid the very good cause the swim is supporting. I'm sure any donation is welcome, and so easy, too. Just go online and do it.
See you on the water
Kev (sunshiner)

G'Day Yakkers,
Not a great deal to report on what's turned out to be a very slow month with six trips recorded but only a few decent fish caught. Perhaps a trend for July as last year July was also slow with four recorded trips. A lot of very nice fishing weather in July, but the fish were playing hard ball.
The beginning of the month saw five yakkers head out to a rainy Jew Shoal with a sixth, Tarzan, heading out earlier to Sunshine Reef. Of the Jew Shoal five Gemini was the only one to see any decent action and he boated a number of small reef fish and two keeper School Mackerel. The rest of us had a few hits and nibbles but didn't score. Tarzan's SSR trip paid off has he landed a very respectable Sweetlip.
Tarzan's Sweetlip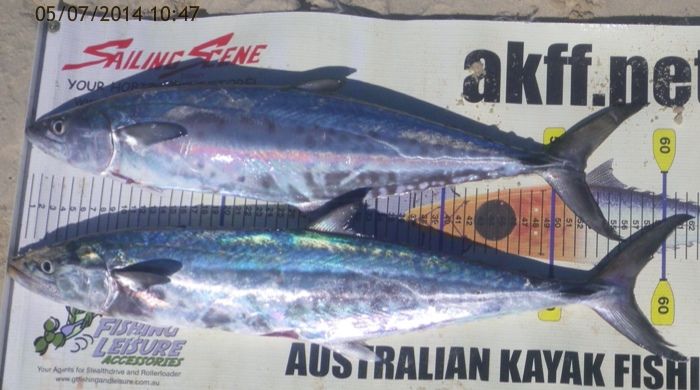 Gemini's Schoolies
The 12th saw another five head out to Jew Shoal only for all to come back fishless.
Sunshiner and Pedro got into a dead bait vs placcie duel midway through the month with bait and Pedro coming out the winner on this occasion.
Pedro's dead bait catch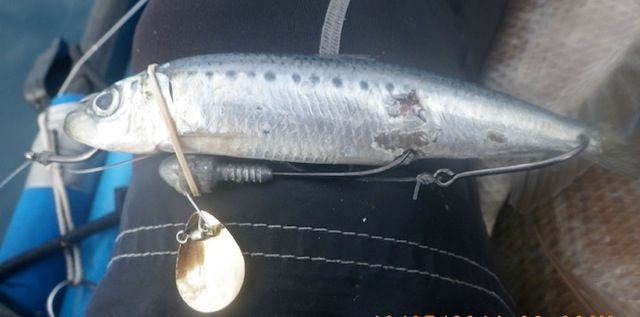 Pedro's inventive gang rig uses a jig-head as the centre piece
We then had another couple of doughnut outings before Sunshiner squeaked out a single snapper on the last day of the month.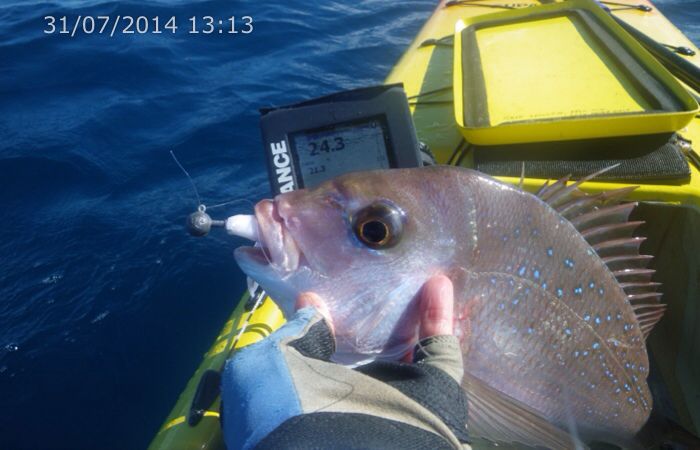 Sunshiner's 42cm Snapper caught on the last day of the month
That's all for July, people. Hopefully things pick up in August.
Redwood

Well July is done and dusted, as they say, so only one more month of this wintery thing to go! The weather may be cool, but interestingly enough we still have a steady stream of new members joining the ranks. We're now totalling a whopping 115 members, so I may have to call in a few favours and renovate the house a little faster… :)
Let's check out the new recruits.
Chris Cook (Cooky)
Chris is 44 and hails from Noosaville. He paddles an Eco Ambush which he bought his wife for mother's day (cough cough).
Paul McManus
Paul is a 28 year old Business Analyst/Management Accountant from Mooloolaba. Paul is new to both kayaking and fishing, but plans to learn all our tricks in order to test himself in his Prowler 13.
Mike Wootton (SpikeyMikey)
A Marcus Beach resident, Mike is 51 and a sculptor. He is a member of the Noosa Coast Guard, and has over 40 years experience in fishing and boating related shenanigans. Kayaking is relatively new to him, but his Hobie PA 14 should keep him out of trouble.
Cheers
Matt (gemini)

My humble apologies dear readers for my report's absence last month. I went to Exmouth, WA to swim with the whale sharks and I have been busy training for the Island Charity Swim but the real reason is I was not organised enough at the right time.
Perhaps some of you have seen my Whale Shark
video
as I posted a link to the Noosa Yakkers Face Book page Whale Shark Dive 01 July 2014. I will have more to say about the Island Charity Swim later.
Early last month Aussie Stu and several others made a trip to Teewah. As reported by Stu at the time in his
Teewah Tearaways
Trip Report
they had a very productive outing with one notable capture to trouble the record keeper.
The Cale Cale Trevally of 55cm is a new record capture for the Noosa Yakkers, well done Stu.
From Stu's report it seems the trevally fell victim to a 3 inch white paddle tail soft plastic cast to a bait school and allowed to sink to the depths where it was nailed by the soon-to-be-record Cale Cale.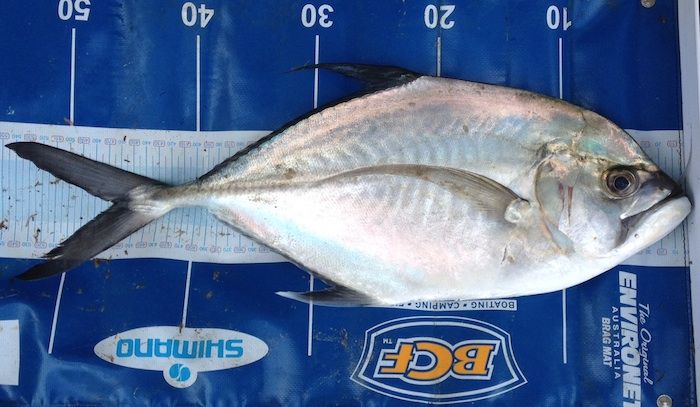 June had a second record claim: this time from Tim Nixon (Redwood) on June 15.
Monster grinner and a fish with many names 15Jun14
was the title of his comprehensive
Trip Report
.
All that is left for me to do is offer my congratulations on the Sweetlip and commiserations on the grinner. As a native fisher of this part of the world I have noted over the years that Grinners can get to pick-axe handle size in spite of Google reports of lesser maximum dimensions. Indeed some years both Hervey Bay and Sunshine Reef produce them in such plague proportions that it is occasionally difficult to catch any other species, especially if bait fishing. Their voracious feeding habits have shown them to be capable of striking at bare hooks. One notable small specimen I caught attempted to swallow the teardrop sinker on a paternoster bait rig only to have the sinker fall through his gill slit leaving him painlessly toggled on the end of my rig.
Slatey Bream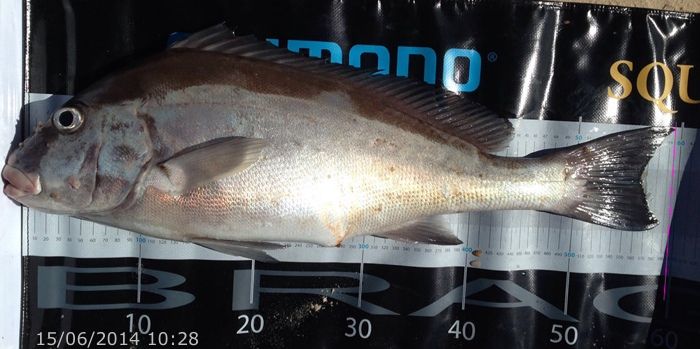 Slatey Bream caught and kept on 15 June - 59cm. I believe Redwood's Painted Sweetlip fell victim to a pillie bait.
July was a quiet month with no record fish claims being submitted to this correspondent.
Doc Dog
Record Fish Recorder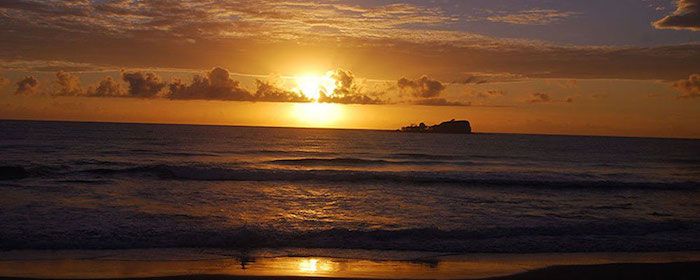 Island Charity Swim 2014
,
by Doctor Dog
The above calm vista is hopefully what will greet me and 40 or so other hardy or foolish souls next Saturday morning at 7 am. We will make our way from Mudjimba Beach out around Mudjimba Island and south to Mooloolaba in company of our personal safety paddler and support motor craft. This is an 11 km ocean swim on the wrong side of the shark nets.
We will be raising funds for the Nambour and Currimundi Special Schools in their major annual fundraising event.
The Island Charity Swim is a registered charity complying with all applicable Australian Law. Funds raised are split evenly between the Currimundi and Nambour Special Schools. A committee made up of representatives of the schools and the swim community allocate where funds are spent.
In the past with generous support from many businesses and individuals in the community the Swim has assisted in providing:
• electronic interactive whiteboards
• funds toward the building of the Currimundi Hydro-Therapy Pool centre
• tactile outdoor playgrounds
• sensory stimulus room
This year funds will likely go towards replacing one of the wheelchair-friendly school buses. The school, families and kids tell us they are greatly appreciative of our fundraising and physical efforts.
Anyone who wishes to donate can do so by direct deposit at Bank of Queensland – Island Charity Swim BSB no. 124-001, A/c no. 20629313. Please put "Mark Powell" as the reference on the donation and email me a copy of the deposit details so I can keep a tally; thank you for your generosity.
I have done the swim several times before: 2003 and 2006 solo, and 2013 as part of a team.
If you want to just cheer us on come down to Mudjimba Beach for breakfast at 6.30 am for a 7.00 am start or make your way to Pirateship Park at Mooloolaba Spit when we arrive from 10 am. There will be plenty of party foods available so come and join in the celebration.
I have not been for a kayak fish recently but hopefully all the training I have been doing will stand me in good stead when I get back ON the water instead of IN it .
Happy Fishing,
your Fundraising Record Keeper,
Doctor Dog
---
The Committee (in callsign order)








From top left, doctor dog, eyetag, gemini, jaro, jimbo, pedro, redwood, sunshiner, turtleboy.