Base pic: Macca sets up after his first Middle Groyne launch, 31Aug14 (pic by sunshiner)
PUBLISHED 04SEPTEMBER14

Hi there yakkers
As many of you probably already know, AKFF (the best Australian kayak fishing forum, in my opinion, up to August 2014) encountered an ownership crisis during August. Its domain name, www.akff.net (the internet "location" at which it "exists") was sold to a Canadian business which specializes in taking over such entities and converting them to money-making activities through paid advertising which appears on pages which forum users visit. The sale occurred without warning or consulting the volunteer admin team and members who built AKFF into what it was at the time of sale.
This action precipitated a storm of online objection from staunch forum members and the admin team who made the very good case that they preferred that they decide who benefited from their considerable effort and input rather than a profit-based company. Remember, AKFF members created the content that was displayed on AKFF. Now others, whose only motivation was profit, were reaping the benefit of that freely donated content. Advertisers are now paying the new owners to place their ads on the site. Why? Because AKFF's content attracts viewers, and AKFF was attracting viewers in spades.
The upshot of all of this is that members of the AKFF admin team very quickly created a new online forum, based on AKFF, called The Yak Shed

Click on the image to visit The Yak Shed. Note that you'll need to register (it's free and easy), in order to view the forum. When registering, I suggest you use your Noosa Yakkers' nickname as a user name, that way you'll be identifiable to other Noosa Yakkers and perhaps include in your signature that you're a Noosa Yakkers member.
AKFF still exists but is rapidly dwindling in popularity.
While on this subject, I hasten to inform you that the Noosa Yakkers blog cannot be sold off. Google allows Noosa Yakkers to use Google's software and operate on Google's servers in the hope that at some future time the creators of the blog may allow Google to sell advertising on it. At this time, the committee has no intention of doing this.
I'm away from Noosa from 12Sep to 19Oct but will still stay in touch by email. I'm hoping to see some nice fish appear in the TR while I'm away. Redwood has kindly volunteered to take over the duty of putting together Noosa Yakkers News for September. If you have anything to contribute for that issue please get in touch with him.
Speaking of contributions, check out Tunny's, which appears down the page a bit. Thanks, Tunny.
See you on the water
Kev (sunshiner)

G'Day Yakkers,
Well if July was a tortoise on valium, August was a comatose sloth in lead boots. But as we'll see when the going gets tough, the tough get their a-game on.
For half the month there seemed to be no action anywhere at all. Even the river on full moon was quiet. The general consensus is that the water was just too clean both in the river and offshore. Beautiful to look at, but not much chop for fishing. None of the inner reefs were firing and even the outer reefs were slow going.
Then half way through the month we had some unusual weather for August, a whole heap of rain. Most pundits thought that the rain would get things going again and the reefies would come out of their hiding holes to grab some washed out goodness. Judging from the late trips of the month this seems a likely scenario.
Tunny and yours truly hit the river early in the month very close to the full moon. Tunny snagged a sole Trevally and the only thing I hooked, most unfortunately, was a pelican.
Tunny in his green Mamba with full moon rising in the East
Tunny left the yak on the roof and headed out the next day with Pedro, Diesel, Mahatma and Stormin for a slow day at Jew Shoal. The only fish of note for the day was a 40cm Sweetlip picked up by Pedro.
Jellyfish soup at Jew Shoal
There was then an extended hiatus of 16 days (mostly due to poor weather) with no trips before Pedro could take it no longer and decided to head out on a windy day. However, it payed off has he bagged two decent squire and a 38cm Sweetlip.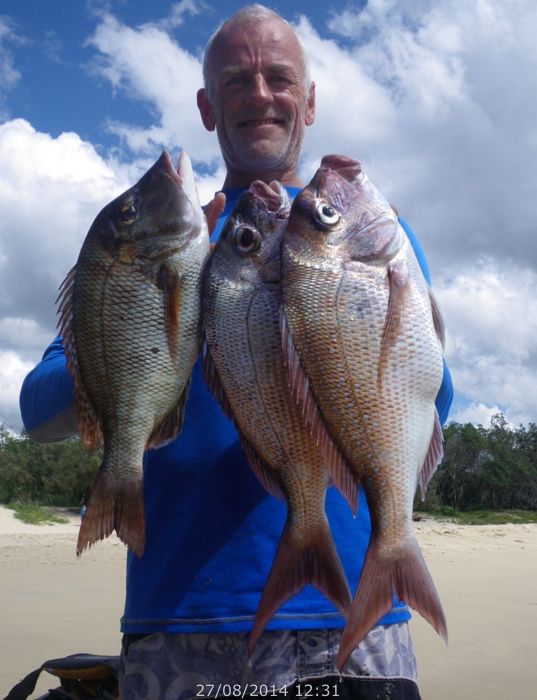 Pedro's solo misson to JS paid off - have the reefies come back in after the rain?
On the last day of the month Sunshiner and offshore yakking virgin Macca headed to Jew Shoal for another doughnut day. This was unexpected as I'd heard anecdotally that the inner reefs were firing the day before. I also went for a quick (unrecorded) spin off Double Island Point and while I got zip, the Palmy boys who were fishing the same spot earlier picked up a couple of 75cm Snapper.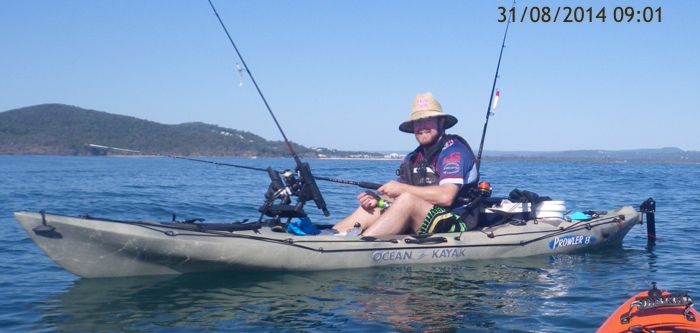 Macca on his maiden offshore voyage
So, not a great month fishing wise but the good news is that it can only go one way from here and from the first outing for September, it looks like things are on the up-and-up… but that's for the next report.
Redwood

Winter and slow fishing are making their presence felt. No new members this month.
Matt (gemini)
---

Our 2013/14 Spaniard season for Laguna Bay, as analysed by tunny
Hi Noosa Yakkers,
I put together a summary of our Spanish mackerel season as I was interested in comparing the Noosa Yakkers results in the Noosa area with the Queensland averages produced by the Department of Agriculture, Fisheries and Forestry with the aid of the "Keen Angler Program" to which our members have been contributing.
The first legal Spanish mackerel caught this season by a Noosa Yakker in Laguna Bay was on 12 December, with the last caught on 2 June. The graph below shows that January was our best month followed by December and then February. Almost 90% of the NY total catches were in those three months. March produced no fish, but this result may be influenced by several Noosa Yakkers heading off to fish the Adder Rock competition instead of fishing locally. The only fish recorded since February were two in April and one in June.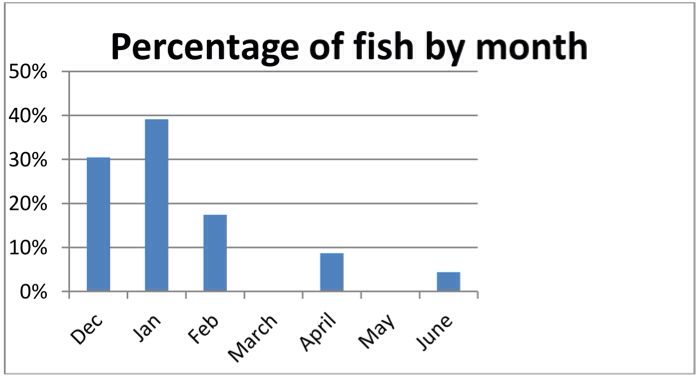 How do the fish we caught compare in size with the Queensland averages? To do this comparison I graphed our catches on a bar chart using the same 5cm class sizes as used by the Fisheries Department. The Fisheries Department analysis using over 10,000 fish shows the most common size class is 100-104 cm for both commercial and recreational fishing (graphs below). The graph below that, of the Noosa Yakkers catches, shows our most common size class was 85-89cm. Our larger percentage in both the 80-84cm and 85-89cm categories than the Queensland average is probably due to the size of the fish in the shoals moving through Laguna Bay in late January, as that is the month we caught the most fish, and that was also the month where most fish were in these size classes. Noosa Yakkers' catches above 120cm were spread out with two in December, one in January, one in February and one in June.
Jaro's first Spaniard of the 2013/14 season, just before his 70th birthday, also was the biggest recorded among Noosa Yakkers for a capture in Laguna Bay in 2013/14.
Graphs showing percentage of Spanish mackerel catches by size class (source: Qld Fisheries):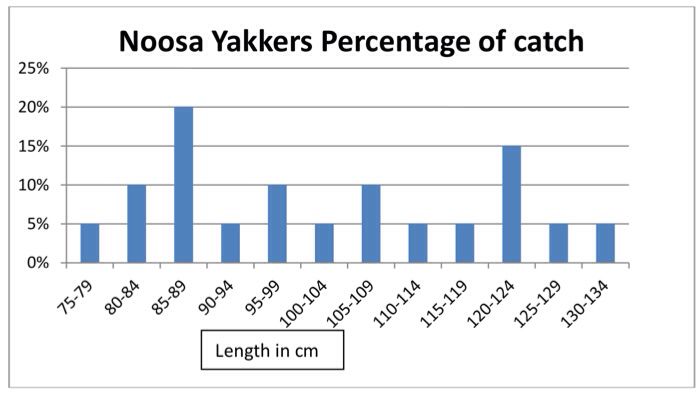 What were the ages and sex of the fish we caught? The graph below shows the relationship between age and length for male and female Spanish mackerel (source: Qld Fisheries). Our smaller fish this season were probably 1-2 years old, our larger ones probably 5-8 years old. We can't tell if we caught mainly males or females as our catches were in the size range where both are common. But we do know the Noosa Yakkers' record of 162 cm (caught by whalebait in 2013) was a female as males don't get that big. [Ed: Note that Spanish mackerel do not change sex from male to female as they age.]
Graph showing relationship between length and age for male and female Spanish mackerel (source: Qld Fisheries):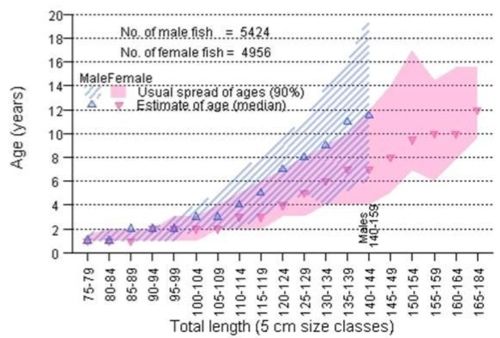 Here's hoping the next pelagic season will be at least as good.
Tunny

Understandably, given the recent fishing slowdown, no new records for August.
Doc Dog
---
The Committee (in callsign order)








From top left, doctor dog, eyetag, gemini, jaro, jimbo, pedro, redwood, sunshiner, turtleboy.