Base pic: Wife and husband team Lisbeth and Soren Vejby, Laguna Bay, 02Jan14.
PUBLISHED 04JAN14

Hi there yakkers
If you haven't yet captured a decent Spaniard from your yak, it looks to me like 2014 may be the year to do it. Take a look at our Trip Reports starting in December 2009 and through to May 2010. It seems to me that what we have now looks a lot like that mackerel intensive season. It remains to be seen whether the spotty macs turn up in numbers as they did then, but we're certainly off to a good start for the Spaniard score. I've always hoped that the spotty mac mayhem we experienced on 05May10 (go read the TR) would return before I kicked the bucket!
Legal Spaniards in 2013/14, caught after launch at Middle Groyne or Doggie Beach
in time sequence of first caught and as at 04Jan14
first capture 2013/14 was on 12Dec13
*1=first ever
sunshiner, 1@78cm, 1@86cm, 1@1.06m
jaro, 1@1.26m
soren, *1@1.06m
stormin, *1@1.14m
lazybugger, 1@1.2m
All except lazybugger's were caught on HB lure; his was on a trolled pillie. All were caught in Laguna Bay.
~~~~~~~~~~~~~~~~~~~
One thing which seems strange to me is the almost complete absence this season of mackerel tuna, which we have recorded in the past as being caught in every month of the year. I know, I know, when they're around in numbers we soon tire of them, but they are a great fighting fish and very accepting of a well-cast slug; where are they this summer?
We've picked up a swag of new members in the last year, had some memorable fishing experiences, and made new friends. I'm hoping that 2014 will be as least as good as 2013 has been.
See you on the water.
Kev (sunshiner)

Hello Yakkers,
Fifteen reported outings in December saw us finish the year at 136 trips, just 3 short of last year.
During the month a wide selection of fish were caught with Jaro, Sunshiner, Stormin' Norman and Soren taking Spaniards and snapper in the bay whilst Eyetag, Redwood and Cybertech cleaned up in the river at night with flathead, hairtail, trevally and mangrove jacks. Lazybugger also chimed in with a thumper GT.
Below is a selection of photos that says it all.
Cybertech with his Monster Flathead, released back into the river as oversized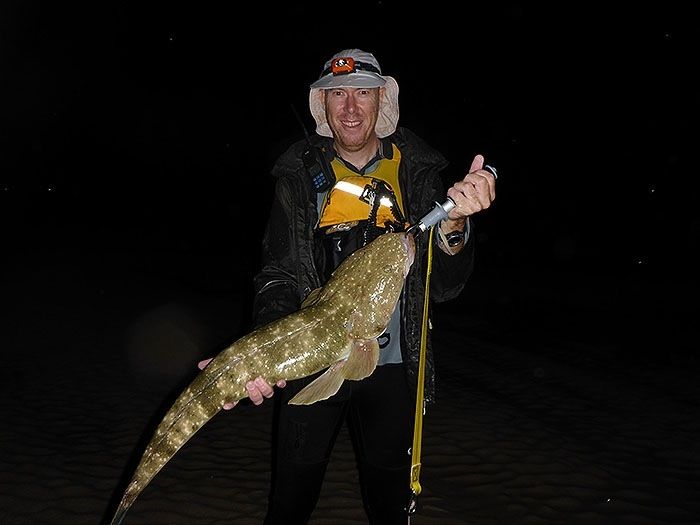 Redwood's Flathead on the same night
Jaro's Spaniard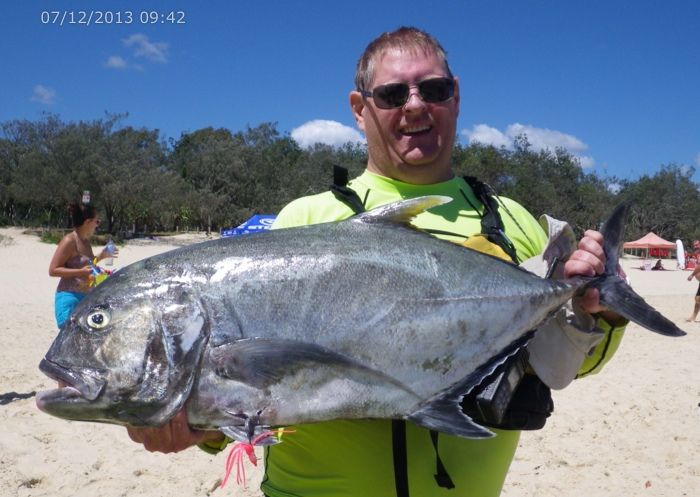 Lazybugger's GT
and, a very happy Soren
But my favourite photo of the month is of a future Noosa Yakker as posted below.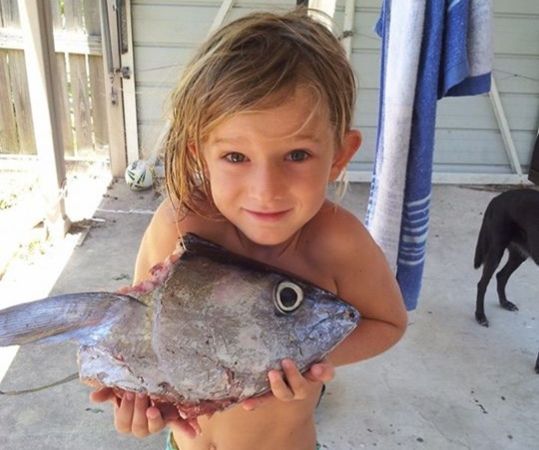 Photo contributed by Corie m-t
Well that's about it folks, except for one final comment for 2013.
I have gone back over the records for the year and tried to select the Noosa Yakker who I think has put in the most effort and made a real difference to our group.
Showing us all how persistence pays off, his photo is below.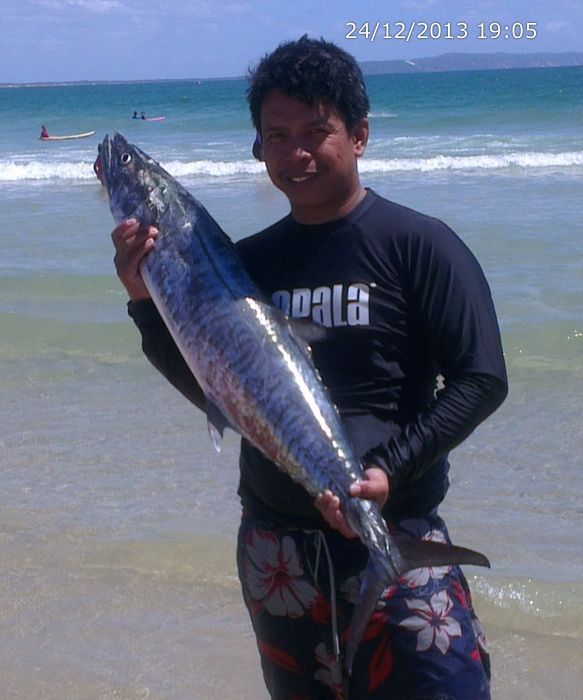 Congratulations on your first Spaniard Stormin', topping off a great year!
until next year...
TurtleBoy

Happy New Year Yakkers! 2014 is now upon us, bringing with it the chance of fresh fishing adventures, and all new members looking to catch the kayak fishing bug.
2013 was a big year for the Noosa Yakkers. Our new memberships saw us grow to the epic milestone of 100 people on the roster, and we created a Facebook page for members to interact with each other in a less formal environment. We also caught some fish, dodged some whales, and had a few wipeouts in the surf. Who knows what this new year will bring? But half the excitement is finding out, right?
December brought us two new members, taking our total up to 102. Let's see who we have...
Chris Cooper (Cav)
Chris is a 29 year old electrician hailing from Redcliffe. When he's not working for the oil or gas industry, he's paddling about in one of his three kayaks. Chris owns a black Stealth Profisha 525, Stealth 550 Fisha, and an Extreme Bandit.
Jim Holcombe (Prowler1)
Jim is a 62 year old retired engineer who now finds farming taking up his days. Jim calls Eerwah Vale home, and paddles a Prowler Elite 4.5.
I hope you all enjoyed your holiday break, however brief it may have been. I'll see you all on the water!
Cheers!
Matt (Gemini)

Hi Noosa Yakkers
December has been a month of promising conditions with only patchy results.
The patches were fantastic for those in the box seat at the time with the notable captures coming from Scott McIntosh (Lazybugger) and Tim Nixon (Redwood).
In the Stealth Comp on the 7th December Scott had barely started trolling his Slimy Mackerel on a "Palmy Army" pilly rig making it only 100 metres past the shark nets off MG before a Giant Trevally of 101 cm slammed his offering.
Great capture Scott. GTs of this dimension were once commonplace off Noosa as some of the historic photographs show but now they are more prevalent in the tropical areas.
Then in a superb evening session on the river with Cybertech, Redwood (Tim Nixon) was able to cap off a hot bite of flathead, trevally and mangrove jack with a thumper old girl of a flathead at 94 cm (released, of course).
Thanks for the detailed photographs of the dimensions. I wonder if anyone has a photo of the "Palmy Army" rig?
tight lines
Doctor Dog
---
The Committee (in callsign order)









From top left, daveyG, doctor dog, eyetag, gemini, jaro, jimbo, pedro, sunshiner, turtleboy.