Base pic: Redwood got this lovely spotty mac (Noosa Yakkers record) at Jew Shoal on 25Jan14
PUBLISHED 04FEB14

Hi there yakkers
My wish from last month's Noosa Yakkers News came to pass:
"It remains to be seen whether the spotty macs turn up in numbers as they did then, but we're certainly off to a good start for the Spaniard score. I've always hoped that the spotty mac mayhem we experienced on 05May10 (go read the TR) would return before I kicked the bucket!"
Even better was that we had 17 Noosa Yakkers out there on the day it happened, Sat 25Jan. Many members had their first experience of spotty mac mayhem in a fishing session that they'll always remember, as will I.
~~~~~~~~~~~~~~
Legal Spaniards in 2013/14, caught after launch at Middle Groyne or Doggie Beach
in time sequence of first caught and as at 02Feb14
first capture 2013/14 was on 12Dec13 by sunshiner
*=first ever
sunshiner 3
jaro 1
*soren 4
*stormin 1
lazybugger 1
*salty 1
redgreg 1
*clappo 6
jimbo 1
*noddy 2
Largest so far this season was Jaro's 1.26m. Fish caught on HLP, trolled baits and slugs. All were caught in Laguna Bay.
Noosa Yakkers Record: 1.62m, whalebait, 24Mar13
If I've missed anyone or any eligible catch please contact me.
~~~~~~~~~~~~~~~~
Also of particular interest this month is Noosa Yakkers' support of the
Keen Angler Program
. Check out our web link
here
to find out more about how you may be able to help our fishery toward sustainability.
See you on the water.
Kev (sunshiner)
---
Getting Spaniards wired
by lazybugger
Hi,
Some people have been asking about the rig used for my recent captures of a Spanish and GT.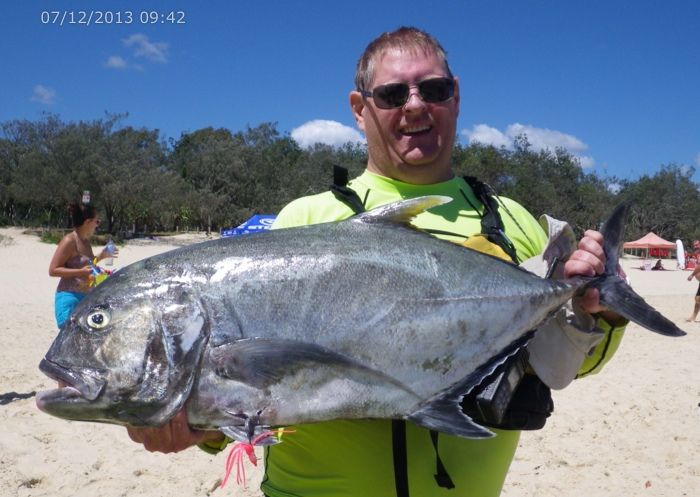 GT, Laguna Bay, 07Dec14. Pic by sunshiner
This is just my attempt at it and I am sure a lot of you can do it neater than I. Also called the safa rig, it's well discussed on AKFF. I got it from
this thread
on AKFF to which our own Kev was the initial contributor.
Tackle
27lb - 58lb single strand wire. 27lb is fine for spotties but I think some Spaniards do get through it.
Min 10kg black crane swivels
Size 4/0 tarpon or o'shaugnessy hooks (heavy duty straight hooks, longish shank)
Heavy duty 3xstrong trebles size 2-4, smaller for pillies
Rubber skirt, any colour but pink and white seem to have the higher strike rate.
You also need a 3/4-1oz bean sinker mould -- less than $20 from BCF.
I also use the haywire twist tool from dubro.
To get the lead on the hook you'll need a supply of lead and a burner. I use a cheap camping stove. You should also have some pliers, a file and leather gloves.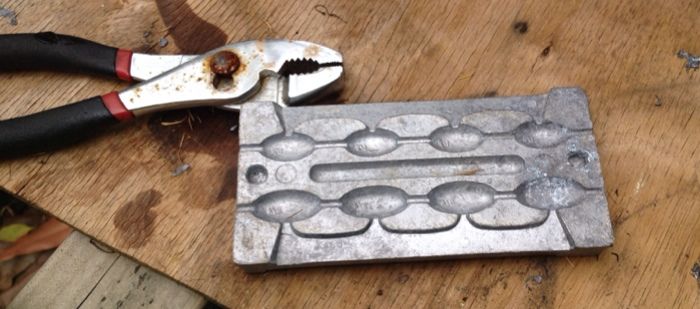 The mould
Where my setup falls down at the moment is the container for melting the lead in and pouring it. At the moment I am using half a cast iron camping jaffle iron on which I have ground out one of the corners to make for better pouring. However it is heavy at the end of the long handle and not as accurate as I'd like. If you can find something better to use than that please let us know.
It's best to work on getting the tag ends off while the lead is still hot, makes it easier. Use a file to even up both sides as best you can but I don't think it needs to be 100% perfect.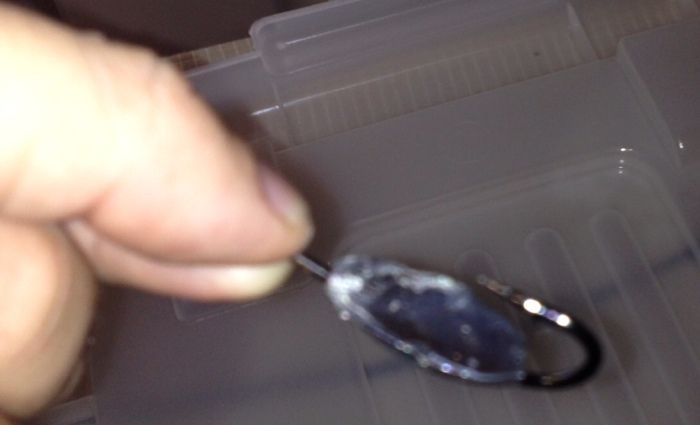 Dodgy looking but does the job.
The length of wire from the eye of the weighted hook to the treble should be a little longer, inch or so, than the bait, so there is no tension pulling the tail to one side. The one in the pic attached is a little short but you can stick it mid pilly if need be. For larger baits you could use 2 trebles, one mid fish and one at the tail. Trace length from the main line (ie above the skirt) is up to you; some say 2ft but 15-20cm should be a minimum.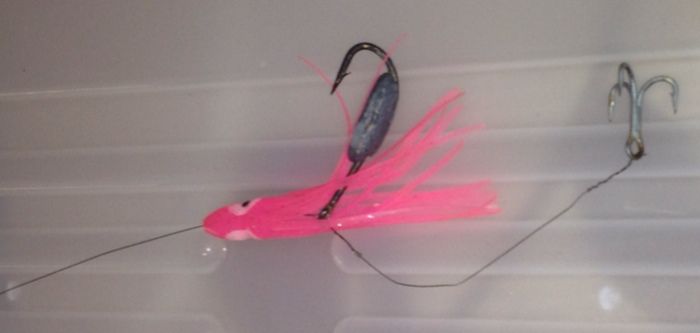 The main hook is inserted up through the lower jaw and the treble back toward the tail of the bait.
The rigs are one use only. If you get a fish or a long fight it's best to retire the rig for wire replacement later. Obviously the rest of the rig except for the wire, can be re-used.
Dennis at
Stealth
will have pulsator lures available soon which are professionally made with a bit more bling.
Hope this helps.
Cheers
Scott

Hello Yakkers and a happy New Year 2014,
January has been a cracker of a month with LazyBugger opening the batting on New Years Day by landing a nice Spaniard to welcome in the new year. Check out those teeth!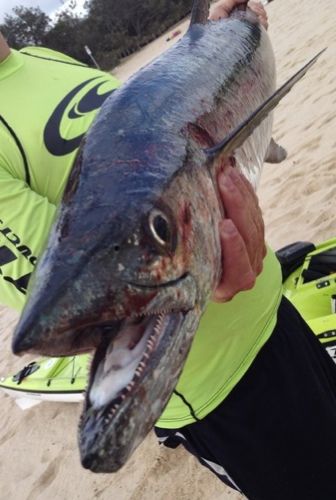 A few days later, "S is for Salty" landed a nice Spaniard as did Clappo the day afterwards.
Photo above by Salty, of Salty
Photo above by Clappo on the deck of his yak
A few days later he strikes again!
This event was followed up by another seven trips during the month being 11 in total including Redwood's night haul of hairtail, tailor and trevally and Eyetag's early morning haul. More teeth marks on the trusty Gold Bomber HBL!
Photo by Redwood
And then the action started to heat up on the 23rd and 24th with Soren, Jimbo, Clappo, Pedro, stretch, noddy and sunshiner taking nice mackerel and yellowfin tuna.
Then all hell broke loose on the 25th where we had 17 Noosa Yakkers and a few visiting yakkers on Jew Shoal, slugs flying in all directions, shouts of joy and disappointment and some serious fun for all.
This time we outnumbered the stinkies, so yaks rule!
So many photos to choose from. Here are a few of my favourites featuring a few of the new boys and a few older ones too!

Photo by Sunshiner of a boil-up off his port bow
A very happy Scater with his first spotty from a yak. Photo by Sunshiner.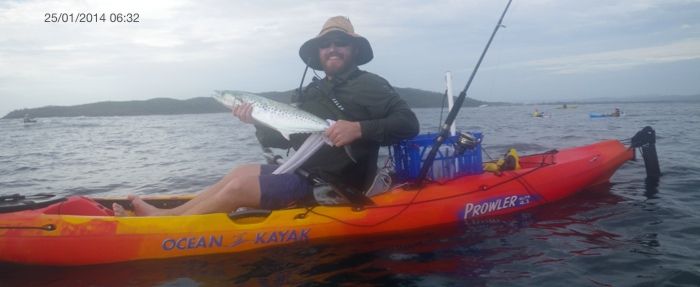 Looking good Pauley, with a few of the boys in the background! Photo by Sunshiner.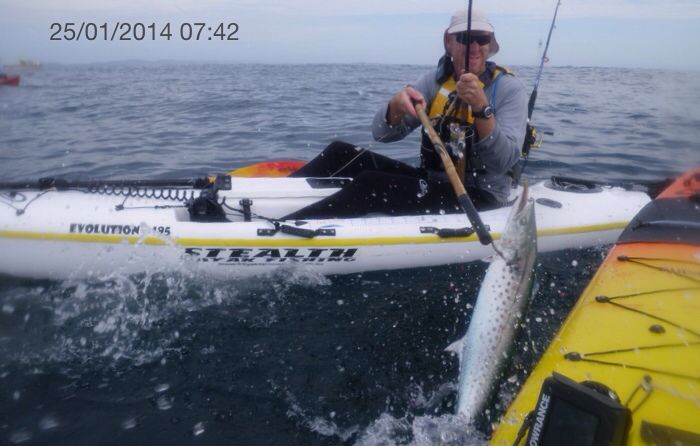 Redwood in action with a spotty mack. Photo by Sunshiner.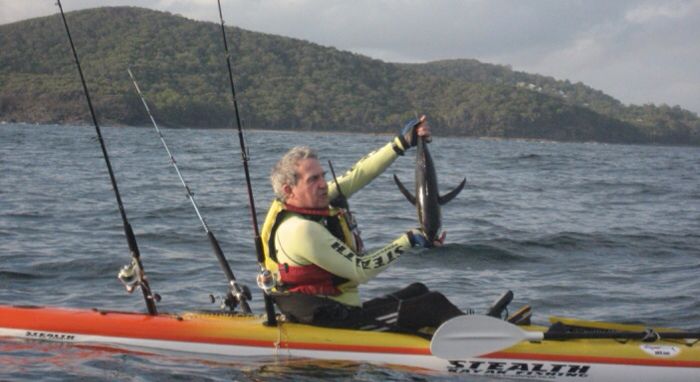 Sunshiner 2 days earlier displaying the yft pectoral fins. Photo by soren.
But I think this photo says it all!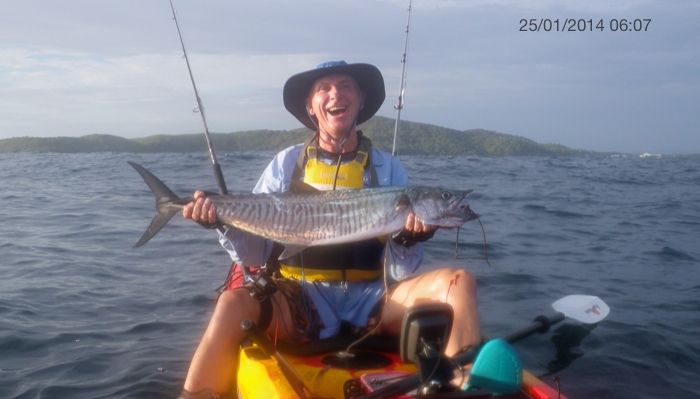 Soren and his Spaniard. Photo by Sunshiner.
Well, I have just about run out of memory for this report, so until next month!
TurtleBoy

Hi yakkers
What a blast this year has begun with. Between all the windy weather we've had we somehow managed to catch some nice fish, and set some records to boot. Hopefully we'll see some decent rain soon though, as the lakes are looking pretty sad at the moment. The fresh still needs the odd bit of attention too you know. ;)
The totals see us now at 105 members. This reflects the two losses and five gains we have had for January. Let's see who signed up this month…
Ben Bruns (Brunsie)
Ben is a 26 year old communications technician, and hails from Mango Hill near Brisbane. He has been getting about on his Hobie Revolution 13 for the last 3 years, but has yet to try a surf launch. After reading about other Hobie owners punching through the surf at Middle Groyne on the AKFF TR about the recent Noosa Yakkers Spotty Mac Mayhem, Ben decided to take the plunge and sign up for a look himself.
Stewart Hansen (Aussie_Stu)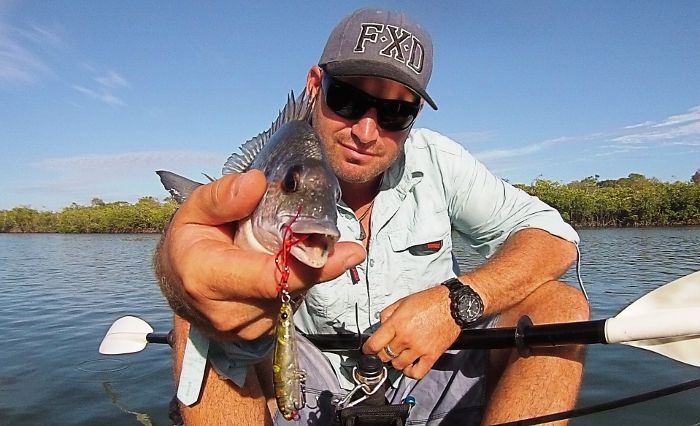 A 35 year old tiler from Tewantin, Stewart has been paddling the Noosa river in his Dreamcatcher for around eight months. He has recently acquired a Perception Swing for offshore adventuring.
Andrew Graham (G_Train)
Andrew is a 27 year old machine operator for a coal mine out at Emerald, but he calls Tewantin home. Andrew has been taking his Hobie Revolution 13 out to Bray's Rock and into the Pumicestone Passage for a couple of years now.
Rob Clapham (Clappo)
Rob hails from Bli Bli and is a 49 year old shift electrician. He has been fishing around The Gneerings and Bray's Rock on his Hobie Adventure Island and Stealth Supalite X for around five years.
Gary Morgan (Hard_Yakker)
At 53 years young, Gary is a Project Manager by trade. He lives in Wilston, Brisbane, and has one years' experience on his Perception Swing.
A big welcome to you all. I know a couple of you have already hit the water with us and taken a few nice fish home, so here's to many more great days on the water!
Cheers!
Matt (Gemini)

Hi Noosa Yakkers
I think it is fair to say that fishing for January has been a stop start affair with isolated good reports coming in intermittently and so it is also with the Record Fish Claims.
This month we have two new species added to the list. Early in January Pedro (Peter Doff) added to his already impressive list of captures with a first for this Record List of "a yellowtail kingfish at the just legal length of 60 cm caught at Jew Shoal trolling a Sebile Coolie hb with fresh pilchard attached to front hook". This is a direct transcript of Pedro's submission and as i and probably others are unfamiliar with this rig perhaps Pedro can submit a photo for inclusion with a later newsletter?
As a side note it may be of interest to readers that Jew Shoal is not named after that scaly chap known to inhabit these waters but rather it was presumably named in honour of an 1890s sea captain of that name who identified the shoal breaking in heavy weather as he sheltered with his ship and crew behind Noosa Headland. See website
here
for the background to this.
Eyetag then surprised us with a claim for a stargazer caught on Sat 18Jan2014, on a small Gladiator Prawn. There does not seem to be a legal size listed anywhere for this species and although visually unattractive to some they are reputed to be good eating and can grow to a substantial size of around 90 cm. This species luxuriates in the latin name of
Uranoscopus affinis
.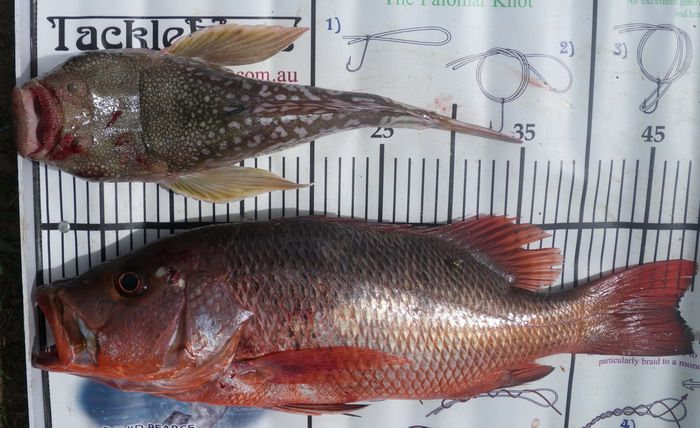 As I write this report we are several windy days short of the end of the month and our last record submission came from the day of Mackerel Mayhem but there may yet be records submitted by hardy souls braving the strong southeast weather.
Tim Nixon (redwood) landed his spotted mackerel of 99cm caught out at Jew Shoal. Sadly the photos suffered from moisture on the lens but there is no doubt that the length at 99cm eclipsed the previous record held by Sunshiner.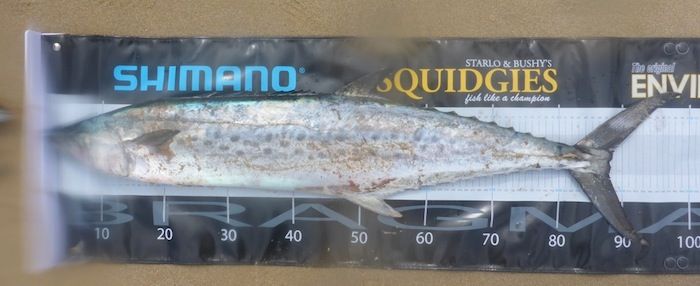 As always record your captures on a brag mat and forward to me if you think you have a record fish to skite about.
I will be travelling in NZ for most of February returning on 28Feb. I may not be able to check email for much of that time but will endeavour to catch up quickly upon my return.
Cheers
Tight Lines
Doctor Dog
---
Edible or not?

by pedro
After catching a couple of YFT recently (see TR for 23Jan14) I was intrigued as to the identity of these white blobs (eggs?) in the flesh of one of them.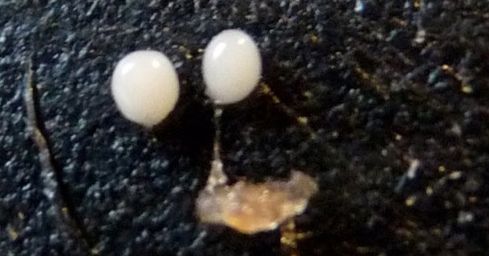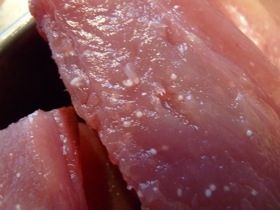 I sent some pics for possible identification to Queensland Museum and Robert Adlard kindly returned the email below and also agreed that we could publish his email.
~~~~~~~~~~~~~~
From: Robert Adlard
Date: 28 January 2014 12:18:49 PM AEST
To: "supernatural@spiderweb.com.au"
Cc: Discovery Centre
Subject: RE: Tuna with white eggs in flesh

Dear Pete,

This is very familiar to me as a parasitologist who specialises in fish diseases.

The white inclusions in the tuna muscle are very likely to be what we refer to as cysts (actually pseudocysts – but that is just scientific semantics) of myxozoan parasites in the genus Kudoa. If you had a high power microscope and burst one of these cysts onto a glass slide, you would be able to see thousands of spores shaped a bit like tiny flowers (roughly 10 micrometres across, you could line up about 12 spores across the thickness of a single strand of human hair).
I have collected this parasite from long-tailed tuna at Ningaloo Reef and from Southern Bluefin from South Australia (as well as from Queensland waters) – but have also found these types of parasites from a whole range of fish in different fish families and in different environments.

Our Queensland Museum website has some further information if you check out this link.

Your next question might be whether it is safe to eat the fish? If you are cooking the flesh you are unlikely to have any health issues from ingesting these parasites. If, like me, you enjoy sashimi I would be cutting around the cysts rather than eating them, more from a palatability point of view than anything else.

Thanks for your enquiry and happy fishing!
Rob

Dr Robert Adlard
Head of Marine Environments & Senior Curator of Parasitology
Queensland Museum
~~~~~~~~~
In further contact with Robert, he said that for a 100% positive ID, a sample would need high powered microscopy.
My personal decision was to compost the infected fish even though the expert says it's safe.
Cheers
Pedro
Pedro's Rod Bags
---
The Committee (in callsign order)









From top left, daveyG, doctor dog, eyetag, gemini, jaro, jimbo, pedro, sunshiner, turtleboy.