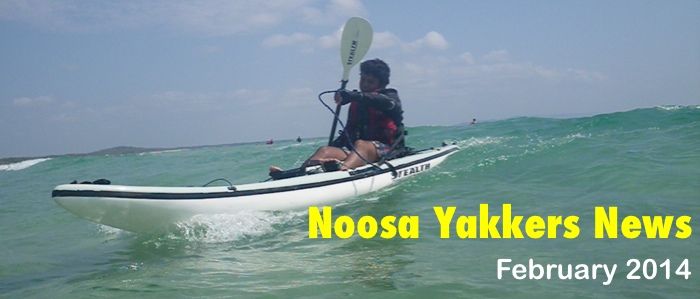 Base pic: Stormin playing in the surf, Middle Groyne, 14Feb14
PUBLISHED 04MAR14

Hi there yakkers
It's raining lightly this Monday morning as I write this. This wet season has yet to deliver and I wonder if we're going to get one at all. As I recall, the previous time we had a good run of Spaniards in close at Noosa, 2009/2010, was also a dry summer so perhaps there's a link between the lack of rain and the Spaniard catch. Certainly at this time it seems more normal to have murky water due to coastal runoff and fewer fish. Anyway, it's great to see so many kayak fishers getting their first Spaniards this season and I encourage everyone to take every opportunity to make hay while the sun shines.
You may have noticed that eyetag, usually prominent in Noosa Yakkers fishing activities, has been absent lately. Yes, his familiar Swing yak is harbouring spiders and cockroaches at the moment as its owner is laid up with a separated bicep, now in the process of a lengthy repair. Eyetag can neither work nor fish for a couple of months at least and spends a fair bit of time watching fishing videos. If you have any which eyetag might enjoy please consider passing them on to him (eyetag@dodo.com.au). We look forward to seeing you out on the water again, eyetag, hopefully before the Spaniards fizzle out.
As for me, I'll be away helping to sail a 40 footer in Bass Strait for at least a couple of weeks this month, leaving from Port Phillip Bay on Thursday 06Mar, probably. While sailing I may have occasional Internet access, flaky at best, so please bear that in mind if you wish to get in touch with me.
Good luck to all who are competing in the Straddy comp next weekend. I'll be thinking of you as we navigate Bass Strait, hopefully in small seas and fair winds.
You'll possibly notice that turtleboy isn't in his usual spot this issue. He's off on an extended road trip to Perth and back and redwood is taking over from him during his absence. Thanks, Tim, and have a great trip, Steve.
~~~~~~~~~~~~~~
Legal Spaniards in 2013/14, caught after launch at Middle Groyne or Doggie Beach
in time sequence of first caught and as at 03Mar14
first capture 2013/14 was on 12Dec13 by sunshiner
*=first ever
sunshiner 3
jaro 1
*soren 4
*stormin 2
lazybugger 1
*salty 1
redgreg 2
*clappo 6
jimbo 1
*noddy 2
*gtrain 1
pedro 1
*scater 1 (fair chance not a Spaniard, but a grey mackerel -- 1.16m)
Largest so far this season was Jaro's 1.26m. Fish caught on HLP, trolled baits and slugs. All were caught in Laguna Bay.
Noosa Yakkers Record: 1.62m, whalebait, 24Mar13
If I've missed anyone or any eligible catch please contact me.
~~~~~~~~~~~~~~~~
See you on the water.
Kev (sunshiner)

G'Day Yakkers,
With all the wind and swell around it's been a slow month outings wise with only six reported, but there was still some great fishing to be had. The lack of rain may have had something to do with it with the water being outstandingly clear even in close.
The baitfish were still around and Tunny froze them in time with this underwater pic at Jew Shoal…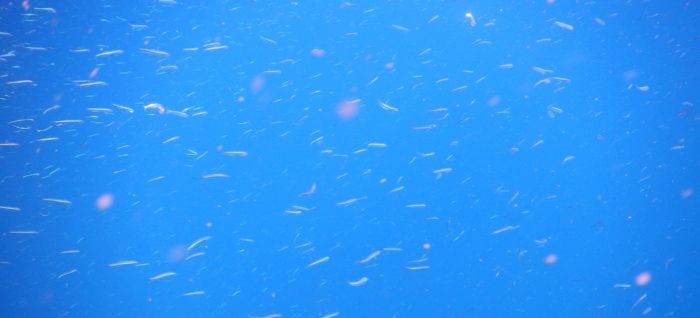 …and more on Sunshiner's sounder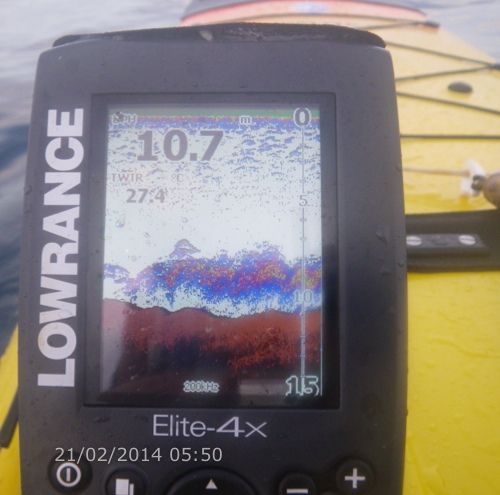 The first of the trips on 12 Feb was a fizzer, but two days later it was game on with the session of the month and some very nice fish caught including Geetrain's 16kg Spanish whopper. Lazybugger in the last monthly report had shown us all how to make the 'safa' rig with a few yakkers giving it a crack and from what I can tell, it's been quite successful. Stormin secured his second ever Spanish using the safa, whilst the dark horse Clappo came up trumps again with the first longtail of the season
on a trolled jumbo pillie,
taken in between Little Halls and Middle Groyne.
GeeTrain and his 16kg Spanish Mackerel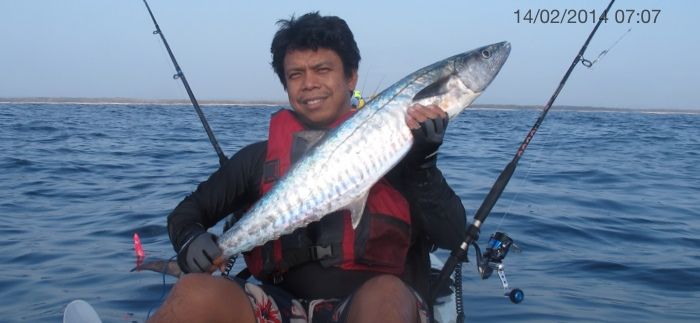 Stormin winning with the 'safa' rig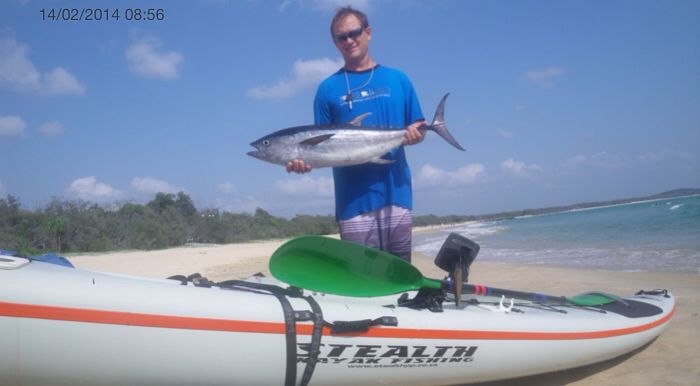 Clappo with the first longtail taken in the 2013/14 season
On a separate outing, RedGreg landed another Spanish beauty as well as a rather unusual catch of a Tiger squid which attacked his Garfish rig and was in no hurry to let it go.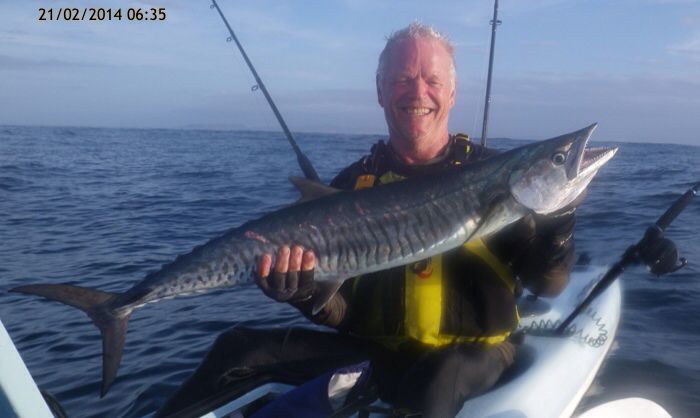 RedGreg with a cracker Spanish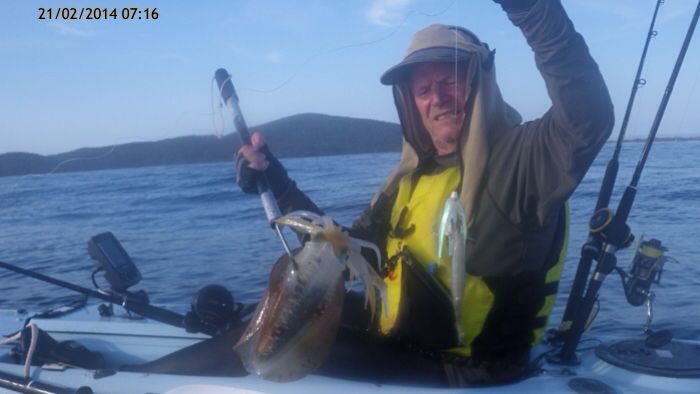 RedGreg again with a Tiger Squid
For the last trip of the month, after putting in a lot of hard yakker, Pedro finally managed to coax a large grey fish to take his 'Pedro Special'. The Spanish ran 110-120cm.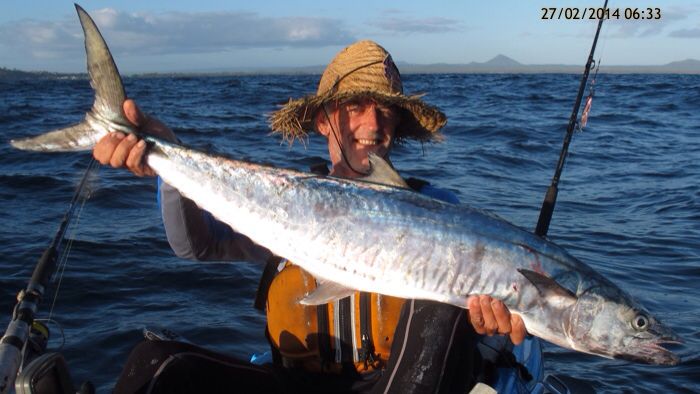 Pedro with his Pedro taken on a Pedro Special
You can find how to make the safa rig
here
.
And as for the Pedro Special you can read about in
this TR post
.
And that's it for February 2014. I'll leave you with an 'off water matter'; below shows the numbers of people who visit the NY TR blog by country. Very interesting I thought. A rising trend? Seems the Yanks are becoming increasingly interested in what we're up to.
Redwood
All time (since blog started)
Australia: 57298
United States: 8854
Russia: 1659
United Kingdom: 1469
Germany: 630
Last month
United States: 2042
Australia: 1531
United Kingdom: 146
France: 110
Canada: 45
Last week
United States: 405
Australia: 356
France: 31
United Kingdom: 24
Russia: 8

Greetings Yakkers!
Even though it has kept us weekend warriors largely off the water, the dismal February weather hasn't been enough to put off attracting new memberships for this month. With no losses this time, the total number of Noosa Yakkers is now 107! Anyone care to wager a total of 125 by the end of the year…?
Rightio, let's see who signed up this month…
Adam Keough (Keough)
Adam is a 31 year old plumber from Nambour. Adam has some offshore experience at Scarby, but has mostly hit the Pine and Brisbane rivers. A Hobie Outback is Adam's craft of choice.
Scott Brazier
Scott hails from Brisbane and works for Queensland Health. Scott tries to fish Noosa as often as his schedule allows (I'm sure it's never enough), but also finds time for Moreton Bay.
Once again, a big welcome to the new guys! Tight lines for all!
Cheers!
Matt (Gemini)

No record fish this month but some nice fish caught anyway.
Cheers
Tight Lines
Doctor Dog
---
The Committee (in callsign order)










From top left, daveyG, doctor dog, eyetag, gemini, jaro, jimbo, pedro, redwood, sunshiner, turtleboy.